I watched most of the Jon and Kate finale last night and while I'm not "team" anyone, I'm definitely leaning toward Kate as the more responsible parent. Ultimately it's in the kids' best interest that the show is finished and that the most dramatic moments of their childhood are no longer captured for our entertainment. I came away with the definite impression that it's Kate who is the level-headed parent who will work to treat them with compassion while planning for their futures. Sure she's a drill sergeant in her way, but Jon seemed more like a petulant teenager than a parent. TLC has an axe to grind with Jon as he put a stop to their most lucrative show, but it's not like they forced him to look like he'd just got off a three day bender or to go on at length about his lost youth and new girlfriend. The difference between Kate and her careful words and well coiffed appearance and unshaven Jon in a dirty t-shirt couldn't have been more striking.
Kate started crying while talking about the end of the show. She said it was too soon and that "I feel like it's been taken from us" and "the kids are already missing it." (We don't have that clip here but you can watch it on Radar Online.) She said several times that Jon will always be her children's father and that she would work not to say negative things about him to the kids. She also said that he was always going to be a part of their lives and that she would welcome that. Jon, on the other hand, mostly went on about himself and how everything affected him. He barely seemed to talk about the kids at all. During his filmed custody time, on a trip to sell lemonade to raise money for volunteer firefighters, he got annoyed with his nine year-old twins, Mady and Cara, and told them they had to stay home. He was really short with them, and seemed vindictive, saying things like "you're done. Goodbye. See ya!" The thing that seemed to set him off was one of the twins saying "I like stuff we do with Mommy." Daddy has a hangover and he's not taking any back talk.
Here's some of the stuff Jon and Kate said separately on the final episode of the fifth season of their reality show. (Not all the quotes are in order.) There won't be more episodes of "Jon & Kate Plus 8," but Kate will surely be back on some kind of show. Jon will probably continue hanging around low-class events like one of those sucker fish on the side of a neglected home aquarium: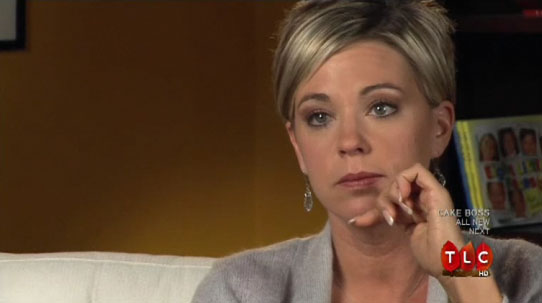 Kate on the end of the show
This is a very bittersweet goodbye for me, because the kids are already missing it. He's still their dad, and they love him… they need to see him. Our show has provided opportunities that we wouldn't otherwise have. I feel like it's been taken from us, from me and the kids…

I feel like it ended so suddenly, and I feel like it's been taken from us, from me and that kids.

I never had a clear picture of how it would end, but I think it's too soon.

On her feelings about how the series came to an end.
It's sad, it's needless, it's useless, it was totally avoidable…. I basically could go to work and my kids could go with me, is how I saw it…

Our show has provided the opportunities for us to travel and do and see, that we wouldn't otherwise have.

Jon on how he supposedly changed
I think I became more educated about myself… I gotta stop being a kid, I got to grow up one day and take initiative and be a man. I think what might have happened was I got divorced and never had the sense of freedom. I got married at 22, so maybe I reverted back to 23, because I never had that freedom…

Kate on her goals for herself and her kids
I think through all of this scrutiny I wish that people could see that maybe I've been thrown in the same boat with Jon, but the truth is I'm in a completely different boat going in a completely different direction… my goals have not changed… I want the best for my kids.

Jon on his bachelor life and "work" in NY
NY was a big eye opener for me. I kind of just picked a place to live and started living there. Now I know like where I hang out and stuff like that is totally different… it's three hours from my house and where my kids are, which means it's like work, it's like I have work again. Although I live there, it's not like I'm at my house and work's at my house… I couldn't leave. Now it's like I have a place to go.

When I get sick of the city and all the press and the media… I go back to my country place and I'm chill. So it's like I got the best of both worlds right now.

Kate on how she talks to her kids about Jon
The kids ask a lot of questions… I need them to see a hardworking parent that is… not just saying they want the best but really I want the best for my kids. They come to me with questions and I answer them… matter of factly. When a behavior is unacceptable I'll tell them that, but I try not to do it in a disparaging way. I don't want them to look back and remember me as tearing their father apart who they love.

Jon on how he is going to change
The biggest thing I've learned is you make these mistakes, you learn from them and you move forward… I know what I have to do to save our family from being resolved [sic] and I know what I have to do to be friends with Kate and I know what I have to do to continue my relationship with Hailey and move on. There's like a whole bunch of things going on, but they kind of all tie together.

Kate on Jon's girlfriends
They don't know about girlfriends at all. That's just too warped for them. It's too unhealthy for them to know. They're learning at this age by watching us what it's like to be an adult and that's the last thing I want them to know.

I really just think that relationship… [Hailey is not mentioned by name] is just a symptom of the real issue. So I don't envision a future there involving my kids at all.

Kate on Jon always being her kids' dad
They love him and they need to see him. My goal has really been to remain neutral, state the facts, not say negative things about them. It is what it is. He's still their dad and I will never discourage him from being with them.

Kate on if any good has come out of the last eight months
I'm a lot stronger than I thought was ever possible… I can tell you who my true friends are. I have never known how much I would need people around me and friends to support me, to get me through… that there are people who will listen and listen and give advice and never grow tired. Those are lifelong friends.

Jon again on how he's going to change
I'm going to have to take initiative for myself and do the best I can as a father, and I'm always going to be there for my friends. No. Matter. What…

It's unfortunate our marriage failed, but our family shouldn't have to fail.
[Transcribed from final episode of Jon & Kate, aired 11/23/09]
For all the things you can say about both Jon and Kate, they seem to be honestly trying to do what's best for their kids. Kate hasn't said anything about Jon that we don't already know, and she's been very reserved in her criticism of him. It looks like they're about to reach an agreement in their divorce, and Jon even brought Kate roses in some kind of dual attempt at conciliation and positive press. Even if their divorce is settled amicably, it's not like this story is over. Jon is being sued by TLC for breach of contract and that case is set to go to court next month. We're sure to hear more explosive details in this family circus. Not that much would surprise us at this point.