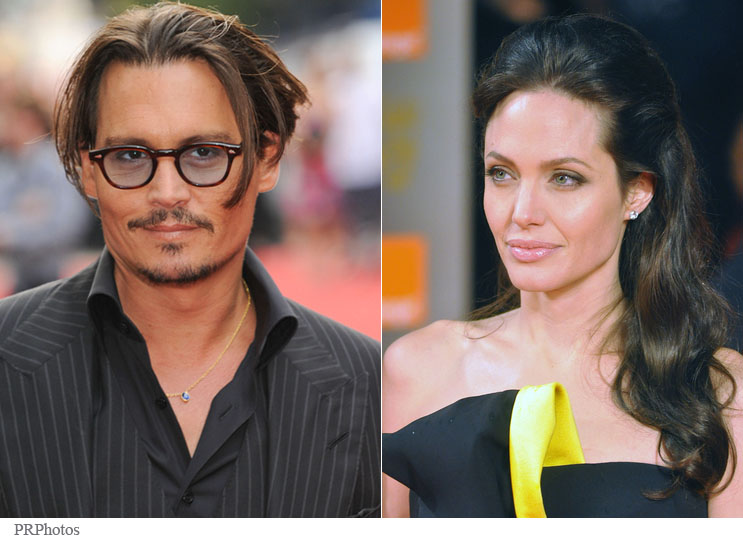 PopEater has an early, hilarious preview of Life & Style's cover story this week. Apparently, Angelina Jolie and Johnny Depp got the cover, and the story is all about how they're going to be working together next year on The Tourist, which is some kind of action-thriller set in Europe. I'm actually not sure if Johnny Depp has signed on for real, but I think at this point, he's probably doing it. I'm a little sketchy on the plot of the film – I think it involves Depp's character being on the run, and Jolie's character chasing him or something. But Life & Style got their hands on the script for The Tourist, and they're making it seem like the movie is full of sex. Hm… sex… with Angelina and Johnny. Damn. Now, just beware – this excerpt from Popeater reads like a romance novel/fan fiction of their characters' sexual relations. It's good stuff, too!
In what could be one of the most obscenely hot movie match-ups in history, Angelina Jolie is reportedly set to get hot and heavy with Johnny Depp in 'The Tourist,' and according to screenplay snippets given exclusively to PopEater by Life & Style, there might be a whole lot of steam and skin to gawk at. Want to see the juicy love scenes that are sure to burn up the screen?

The stunningly sexy Jolie and PEOPLE's newly-crowned 'Sexiest Man Alive' are set to lock lips (and from the sound of it, a lot more) on screen in 'The Tourist.' The screenplay goes into vivid detail about love scenes between the two.

"The outline of her naked body is visible in the shower … Frank walks to the shower and opens the glass door. Walking in, he lifts Cara against the glass, clutching at her slithery body, kissing her frantically. She kisses him back with ardor, wrapping her dripping legs around his back."

And that's just where things get started in the 'Tourist' screenplay, written by Julian Fellowes. The screenplay goes on to describe a scene in which Jolie's character of Cara "turns abruptly to Frank and presses her body against his … They exchange a long, passionate kiss."

Later on, the sexual desires continue, and one scene goes as such: "Their lips meet. They kiss. And kiss. Like drinking from a fresh spring in the desert … Gently, careful, Frank slips his hands into Cara's cleavage. Surprised, Cara starts to pull back — but Frank puts a finger to her lips. She hesitates, looks at him questioningly. But she doesn't protest as his fingers move toward her bra."

Jolie has had her fair share of love scenes on screen, including some with her current boyfriend Brad Pitt, who she became romantically involved with after they met on the set of 'Mr. and Mrs. Smith.' At the time, Pitt was married to Jennifer Aniston, but they divorced shortly after.

While Depp hasn't been officially inked for 'The Tourist' just yet, 'Harry Potter' and 'Children of Men' director Alfonso Cuaron is set to direct the film.

Below is a photo of the screenplay with a sexual snippet blown up. For more info on the steamy Jolie-Depp, pick up this week's Life & Style, on newsstands today!
[From PopEater]
Am I gross for admitting my nipples are hard? I apologize. These are some good scenes. Mm… shower sex. And the idea of Johnny Depp putting his fingers anywhere near Angelina's lips is good stuff. But the subtext of all of this is that "Homewrecker Jolie will steal away famously unmarried but partnered Depp when they film their exhaustive, hot, steamy, shower sex scenes where Johnny nails Angelina to a glass door and then some." So, basically "Vanessa Paradis should watch her back." Which I don't think is totally right – I mean, who's to say Brad shouldn't watch his back? Johnny could fall for the Jolie, too. But he won't, people! Johnny loves Vanessa. Angelina loves Brad. Everyone is a professional. Fingers crossed. Plus, the scenes will be hotter if Johnny and Angelina don't consummate anything. Mmm… consummate.
This week's advanced Life & Style cover & script image courtesy of PopEater.