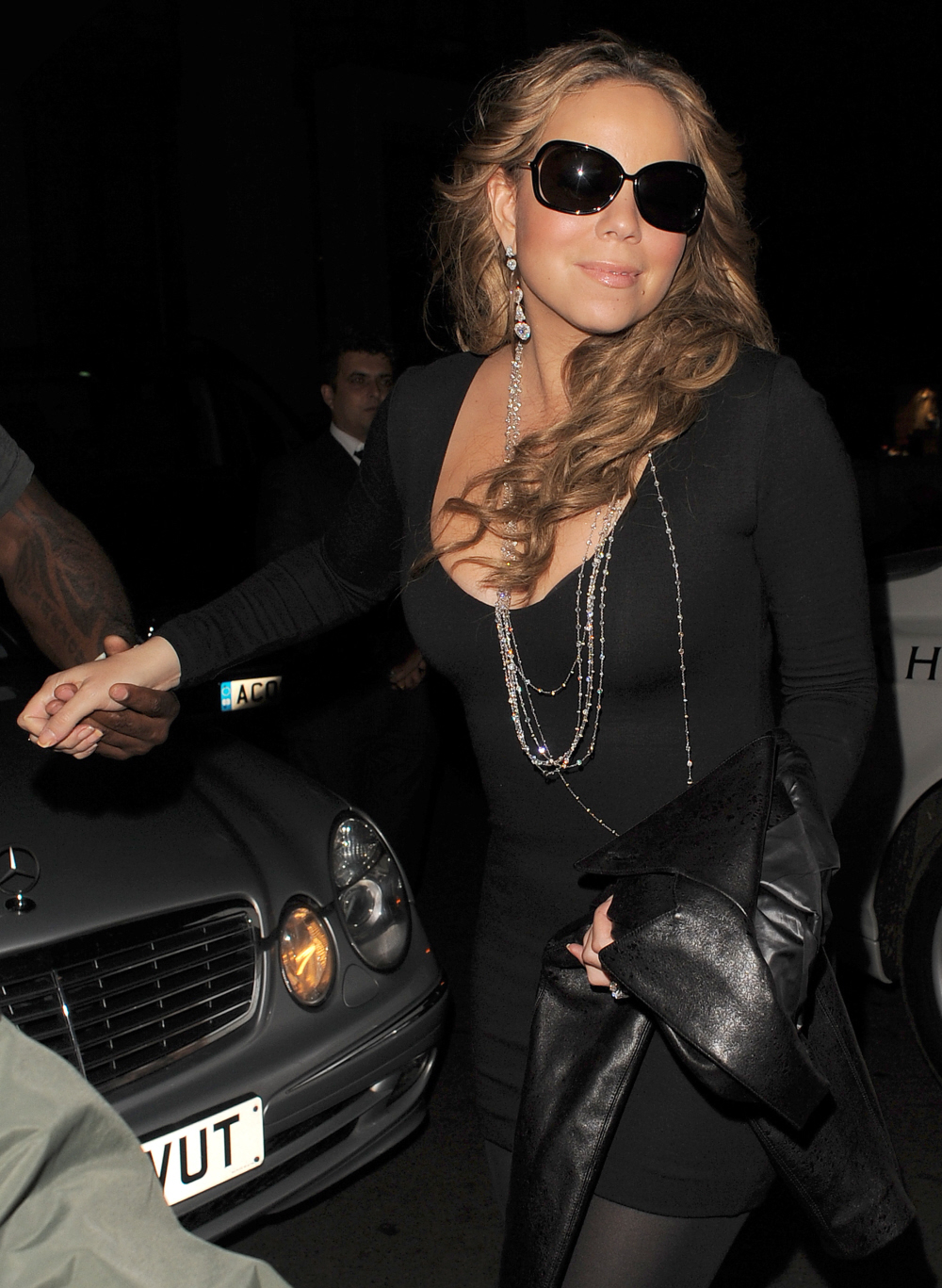 When Mariah Carey was in England last week, she gave an exclusive interview to GMTV, which is like England's Good Morning America. Mariah did the interview with Kate Garraway, who in turn gave an interview to New Magazine about Mariah's backstage diva antics. The Daily Mail has excerpts from Garraway's interview, and this stuff is hilarious. Now, Mariah has denied that she's a diva, over and over and over. And yet… she continues to show up late, demands snow-white kittens and doves, and she's not able to walk on her own two feet, Mariah is wonderful about this stuff. The rumors persist. Probably because she's a f-cking diva. Personally, I love her this way, just because it's funny to imagine. Anyway, my favorite part is that Mariah can't even sit down by herself – she needs two people to lower her onto a couch:
She insisted on bringing her own butterfly-shaped confetti to the X Factor and left the normally affable television host Phillip Schofield furious with her tardiness. And now presenter Kate Garraway has revealed more of Mariah Carey's diva-style behaviour following the singer's appearance on GMTV.

Miss Garraway, 42, said the star – the world's best-selling female artist – stunned producers by having two people to lower her on to the famous GMTV sofa.

She said the singer also had an entourage watching to ensure she was being filmed at her best angle and brought her own toilet roll to the studios.

The blonde host, who has this month returned to work on the ITV breakfast programme after having her second child, son Billy, said: 'We had Mariah Carey in the GMTV studios last week, where she was pre-recording an interview with Lorraine Kelly. I've heard a lot of rumours about her being a diva over the years and guess what? It turns out it's all true!'

Miss Garraway added: 'While Mariah was very nice, the amount of people she had in her entourage was hilarious. They outnumbered the entire GMTV crew! She had two people to lower her on to the GMTV sofa, in case her dress got crushed, one person to walk in front of her backwards at all times in case she fell over and several people behind the camera making sure she was going to be filmed from the right angle!'

'Have you ever heard anything like it? Oh, and she brought her own toilet roll as well.'

The presenter's claims come after Miss Carey, 39, and her management made a host of demands to open Westfield shopping centre's Christmas Wonderland last week. More than 14 million watched as the star performed her new single, I Want To Know What Love Is, on the X Factor on Sunday night.

Some viewers questioned whether Miss Carey, who had pre-recorded her performance, was singing live. However, an X Factor spokeswoman insisted that Miss Carey had sung live as well as using a backing track. The star recently claimed she is not a diva, despite admitting her dogs have their own entourage.

The singer said she had insisted on having assistants on hand for her Jack Russell pooches Cha Cha and JJ while filming a recent commercial, insisting: 'My puppies are starring in this ad with me, too. I had my team with me but the pups had a mini entourage of their own, of course! And why wouldn't they? It was a big shoot and even my entourage had an entourage – my stylist had an assistant, my security had extra security. The shoot was based on the fact that some people think I'm a demanding diva. I have no idea why people have that impression!'

The 'Fantasy' singer has previously admitted to feeling baffled by her 'demanding' reputation.

She said: 'I am baffled, shocked and appalled when I am called a diva. I've never done one diva-ish thing in my life. The actual definition of a diva is a woman who sings well. The secondary definition is a woman who is difficult to deal with. I hope I am the first, but I really don't think I am the second. I don't believe I am truly nasty and act in a bad way.'

Miss Garraway was not in the studio at the same time as Miss Carey and her entourage. However a source close to the presenter said: 'Kate got in shortly afterwards and the place was abuzz with what had happened. It was not so much Mariah, as she points out – but her entourage.'

Miss Carey's spokeswoman called Miss Garraway's claims are a 'clear, gross exaggeration'. She said: 'With regards to the "entourage", every star of Mariah's calibre is surrounded by a working team and Mariah doesn't actually have any more people working with her than any other major star.'

The interview with Kate Garraway is printed in New! magazine, which is out today.
[From The Daily Mail]
Maybe I'm getting jaded with Mariah's diva antics, but I don't think the toilet paper thing is that outrageous. Mariah obviously has a very sensitive and precious ass. She doesn't want any crazy budget toilet paper touching her precious junk. I'd really love to know what kind of special-order, butterfly-shaped, gold leaf toilet paper Mariah brings with her. I'm honestly surprised no one has tried to sell Mariah some kind of special cashmere toilet paper… *thinking*… maybe that's how I'll get onto Mariah's entourage!
Mariah Carey arriving back at the Dorchester hotel at 2.20am in London, on November 20, 2009. Credit: WENN