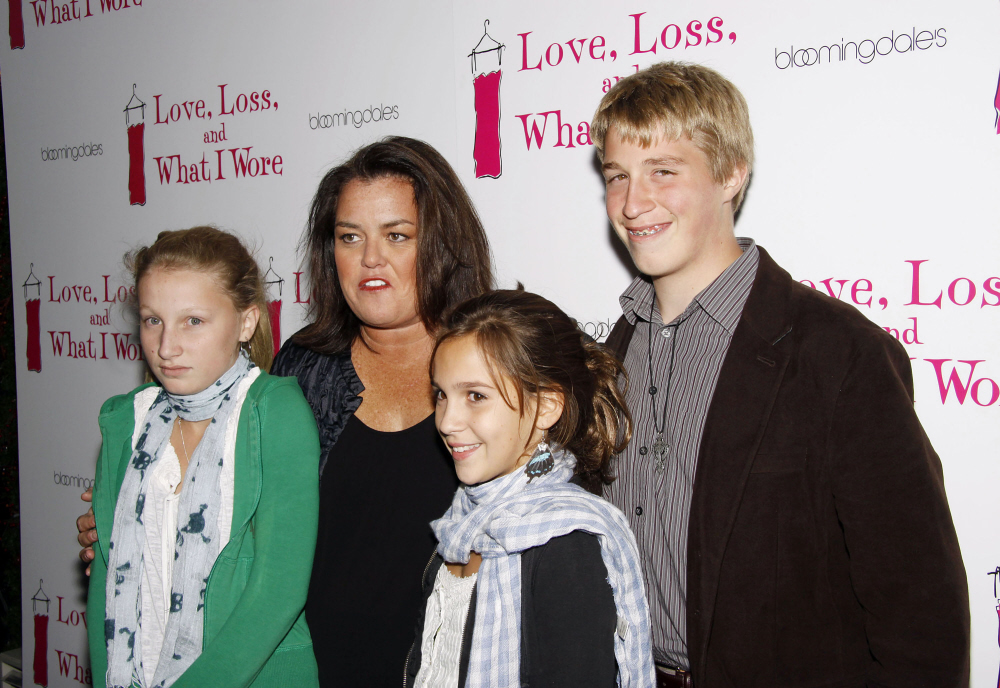 These are photos from last night's Broadway Extravaganza event, which is Rosie O'Donnell's charity for Broadway. The blond teenage boy is her son Parker! He's all grown up. He's a cutie, too. Chelsea is the little one making a "I hate you all" face, which she probably gets from Rosie. I'm so glad to see Parker, though. He really is growing up well.
Anyway, in all of the randomness and over-the-top tabloid stories coming out about Rosie O'Donnell and Kelli Carpenter's split (two years ago), one salient detail had slipped my mind: Rosie is single now. Oh, God. She's back on the market! When People Magazine cornered Rosie at her Broadway Extravaganza event, Rosie admitted that being single again sucked big time.
Living single is less than rosy for Rosie O'Donnell.

"I'm not [enjoying the single life]," O'Donnell told PEOPLE Monday at Rosie's Broadway Extravaganza annual gala. "But on we grow, so to speak."

Earlier this month, O'Donnell revealed on her SIRIUS Satellite radio show that her longtime partner Kelli Carpenter had moved out two years ago.

Accompanied at the gala by her son Parker, 15, the former View co-host side -stepped other questions regarding her personal life but says that through everything, her four kids are doing "very well."

Her friend Judy Gold says O'Donnell waited two years to let the public know of the split because of her children. "She has the kids," said Gold. "I think she's entitled to her private life and that's what it is, private."

Although O'Donnell may not enjoy being single, Gold said that "Ro" is getting by just fine: "She seems happy and grounded. She's in the drivers seat here."

O'Donnell's annual Broadway Extravaganza, held in New York City, is a fundraiser for her arts education organization, Rosie's Kids.
[From People]
I feel for her… but I'm sure there's someone out there for her. I'm being serious too – I'm not saying Rosie's a catch, but I'm sure she'll be able to find someone nice and decent. Her friend Judy Gold told OK! Magazine that Rosie isn't ready for us to fix her up, though. Gold said: "I don't think she's probably ready. You have that marriage, you have the kids — it's a long process. I have no idea. [With the split], I think it's her choice and I think she has kids… I think she's entitled to her private life, and that's what it is — private. I think it's great that she's in the driver's seat here." Aw… poor Rosie. I want her to find someone nice, but quirky. Last night Natasha Lyonne and Queen Latifah were at the event… maybe they want to date Rosie?
Header photo is Rosie O'Donnell with her kids Chelsea and Parker and "a friend" at Rosie's Broadway Extravaganza event in New York, November 23, 2009. Additional photos of Rosie with Natasha Lyonne (who has gained a lot of weight) and Queen Latifah, who looks amazing. Credit: WENN.