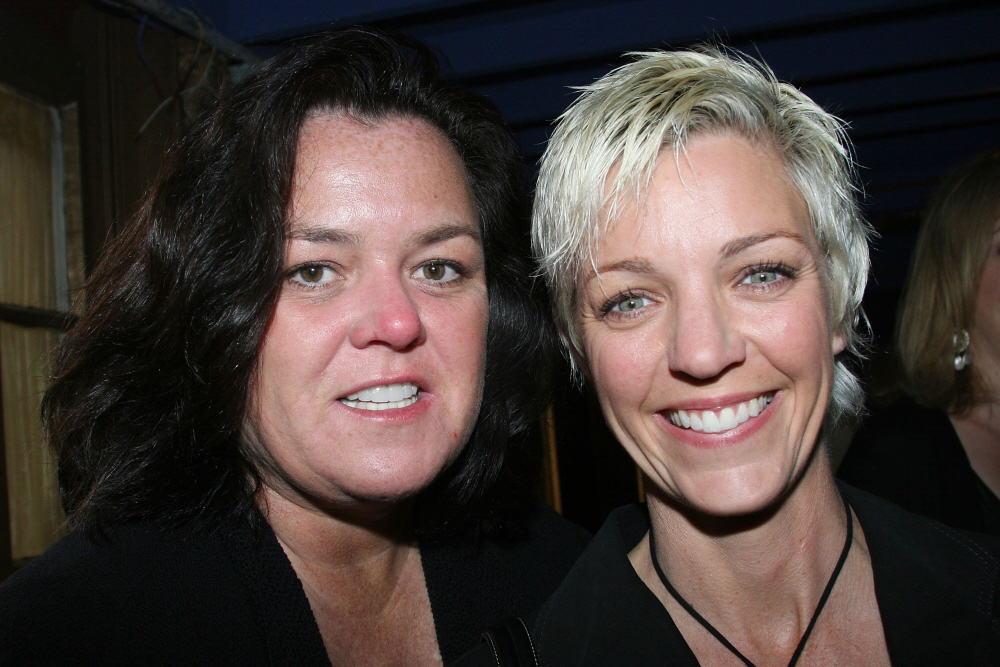 For the past month or so, Rosie O'Donnell has been confirming stories about relationship trouble between her and her wife/partner Kelli Carpenter. At first, it was a tearful confession to USA Today that she and Kelli were facing problems, but Rosie promised that she would not be speaking to the press about it. After that, Rosie went on Howard Stern's show and talked about how the "trouble" in their relationship didn't involve sex, but she also seemed to confirm that she and Kelli were totally done. In the weeks that followed, there were claims that Rosie and Kelli had been over for months, that a nasty custody battle was looming, and that Kelli left because she thought Rosie was a "monster" to live with.
Now Rosie sort of let something new out of the bag when she was talking to a pet psychic on her Sirius radio show. When Rosie began talking about her long-haired Chihuahua (which I hope isn't a euphemism), Rosie said she got the dog two years ago "when Kelli moved out". Interesting…
Rosie O'Donnell may have said last month that she was done commenting on breakup rumors dogging her relationship with her partner of five years, Kelli Carpenter, but that changed Friday.

On her Sirius Satellite radio show, O'Donnell suddenly admitted Carpenter had moved out of their home two years ago. The reason for the big reveal? A pressing psychic and a long-haired chihuahua.

"Where did you get her from Rosie? Because she says she came from somewhere. And she said she's happier with you," pet psychic Sonya Fitzpatrick said of O'Donnell's dog Misty. "She's so spoiled and she loves to burrow."

O'Donnell confirmed: "She does! She burrows in the bed right next to me."

And, when asked who "sometimes looks after her," O'Donnell explained her four children all fight over caring for the pup, which she got three days after Carpenter left. "What happened [was] when Kelli moved out two years ago, I got the dog. Because I wanted another child or something to love. And I got the dog."

On Oct. 20, O'Donnell told USA Today, "We're a family, we remain a family … Kelli and I love each other very much, and we are working on our issues. Those are the only words I am ever going to say. Ever. And that is something that has been agreed upon by all parties."

Seems puppy love changes everything!
[From People]
What sort of pisses me off is that this means back in August, Rosie pretty much blatantly lied to several media outlets when she claimed that National Enquirer's report about her split with Kelli was totally false. Now it looks like the Enquirer was actually being conservative in their estimate. By the way, the last time Kelli and Rosie were photographed at an event together was May 2008 – one and a half years ago, not two years. Is Rosie rounding up? Did Kelli move out two years ago, but they were still putting on a brave face?
Rosie and Kelli are seen at the PS 122 Spring Gala 2008 in New York City on May 15, 2008 and at the New York City Center's production of 'No, No Nanette' on May 12, 2008. These pictures are from a year and a half ago. Credit for both: WENN.