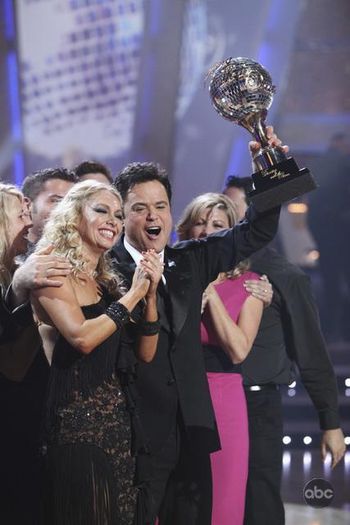 Donny Osmond and his partner Kym Kym Johnson won "Dancing with the Stars" last night, beating out singer Mya and reality personality Kelly Osbourne in the final. This was Kym's first win on the show. I feel guilty when I cover TV shows I've hardly watched, so I asked my mom, a former DWTS fan, what she thinks of this season. She said she hardly watches it now because the results show is on at the same time as "So You Think You Can Dance." In my mom's opinion all the younger kids are watching SYTYCD, and she thinks Donny must have clinched the vote from the older ladies. There's much more to his win, of course. Osmond was a good dancer with solid scores and he was also highly likable. While Mya was a much better dancer overall, many viewers complained that she was overconfident. She even bragged on Monday "that trophy is mine." Compare her statement to Donny's that "I want to win this mirrorball so badly," and you can see why he earned more votes than cocky Mya.
Kelly Osbourne was also highly personable and improving greatly on the show, and many fans identified with her. She fell during the freestyle competition on Monday, though. Kelly seemed very grateful for the opportunity and said Monday that "every single dance we've done so far in this competition has been such a learning process and an adventure for me."
Here's part of a recap from The LA Times. The article is much longer, as the show lasted a full two hours and included two performances by Whitney Houston:
After overcoming long odds, ups and downs, fever dreams, a sparkly leprechaun green jacket, a fumbled tango routine and a dip to the dark side, lifelong showman and avowed professional Donny Osmond beat out fellow competitors Mya and Kelly Osbourne to emerge as Season 9's "Dancing With the Stars" champion. And true to his Mr. Congeniality roots, the star wasn't content to hoard the coveted Mirrorball trophy and tell his sister — the reason he came on as a competitor on this show in the first place — to stick it where the sun don't shine. No, a win for Donny was a win for everybody, and he magnanimously brought up his wife, his large family and his sister Marie out on to the dance floor with him to celebrate.

What's more, congratulations to Donny's partner Kym Johnson as well! The pro has come so close to the "DWTS" crown herself as the runner up with Season 4's Joey Fatone and Season 7's Warren Sapp, so it's nice to see the always-lovely Australian make the third time in the finals the charm and finally nab that title. Not only that, but she's become an honorary Osmond in the process. (What's another Osmond when you've already got so many in the bunch?) Win and win!

Well, as one is awarded a sparkly disco ball and showered with confetti, there are two others who go home empty-handed. And this season, the less-than-coveted title of also-ran was handed deigned to Mya and Kelly Osbourne. There was no talk about close contests like there was last season between Gilles Marini and Season 8 champ Shawn Johnson, so one can only imagine that Donny had this competition in the bag and tied up with a nice, glittery little bow from the get-go. Mya clearly had the technical precision and the musicality; could that slight fumble with the freestyle cost her the trophy? Though Mya was the best dancer of the bunch and Kelly the resounding studio audience favorite (can't remember how many times the crowd erupted into cheers of "Kelly! Kelly! Kelly!"), both accepted their second- and third-place finishes graciously.

Or maybe at that point they just wanted it to be over and done with. Because after 10 weeks of competition and innumerable dances, those two excruciatingly long hours of results filler seemed to stretch into a small eternity.
[From the LA Times]
Congratulations to Donny and Kym! I would have loved to see Kelly win, but I think she's happy enough just to have made it into the final. Mya was really talented from what I've seen, but you also need to win over the audience and Donny surely did.
Donny and Kym's Freestyle

Mya and Dmitri's Freestyle

Kelly and Louis' Freestyle