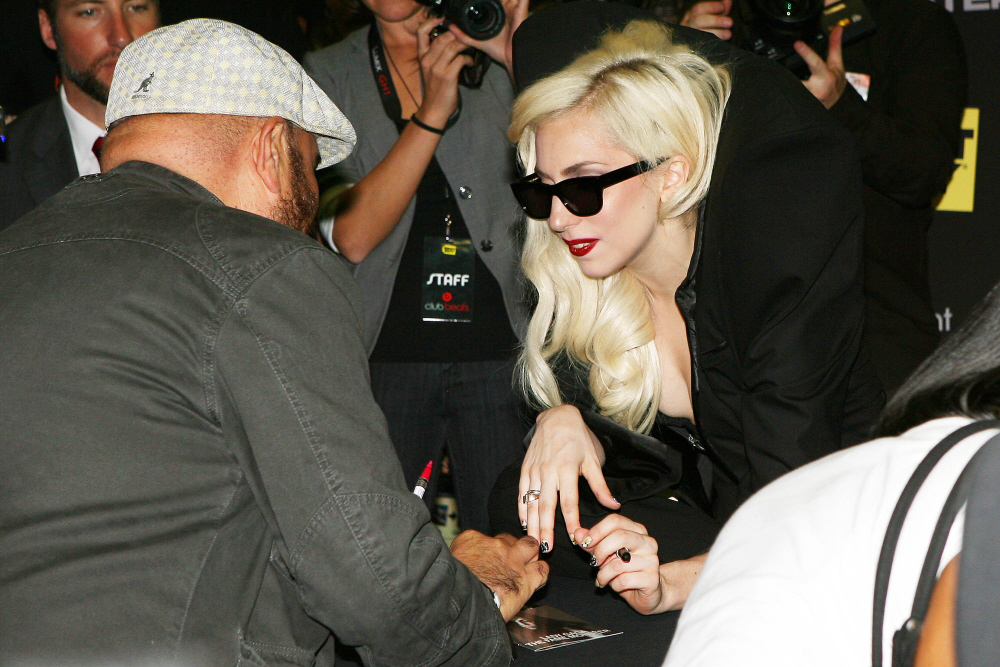 Lady Gaga wants us to know something really obvious – that we can be freaks in front her. Shocking! Gaga told Ellen DeGeneres that she wants her fans to know that it's okay to get their "freak" on, wherever and whenever, she's not judging. Now, I'll give this to Gaga – I think she means it, and I think she really does love and appreciate her fans. Those freaks! No, I'm joking. I'm sure there are some really confused teenage boys who want a Lady Gaga ensemble for Christmas and don't know how to ask Santa for it:
Outcasts, misfits and the forgotten of society, rejoice: Lady Gaga is doing it all for you.

"I didn't fit in in high school and I felt like a freak," she tells Ellen DeGeneres in an interview to air Friday. "So I like to create this atmosphere for my fans where they feel like they have a freak in me to hang out with and they don't feel alone."

"The whole point of what I do – The Monster Ball, the music, the performance aspect of it – I want to create a space for my fans where they can feel free and they can celebrate," the singer, 23, says.

It's all about letting people who don't fit in know that someone out there is fine with who they are – and that other people have gone through the same thing, the fan-loving musician says.

"This is really who I am, and it took a long time to be okay with that," she says. "Maybe in high school you, Ellen, you feel discriminated against. Like you don't fit in and you want to be like everyone else, but not really, and in the inside you want to be like Boy George – well, I did anyway. So I want my fans to know that it's okay. Sometimes in life you don't always feel like a winner, but that doesn't mean you're not a winner, you want to be like yourself. I want my fans to know it's okay."
[From People]
As Jaybird mentioned in the links yesterday, Gaga did another cool fan-appreciation thing the other day – she bought them pizza. She ordered 80 cheese pizzas (at a cost of $1000, plus a "generous" tip) for her fans, who were waiting her autograph outside of an LA store. Gaga tweeted: "Sending all my little monsters little pizzas for waiting all night for me at Best Buy. I hope you're hungry… eat up I love u! To all my beautiful fans, I love you more than anything. Thank u 4 making the fame monster number 1 on itunes. You are the only reward I need x gaga." Aw… sweet. Gaga is growing on me, y'all. She seems like a … (gasp)… nice person.
Lady Gaga signing copies of her new album 'The Fame Monster' at an LA Best Buy on November 23, 2009. Credit: WENN