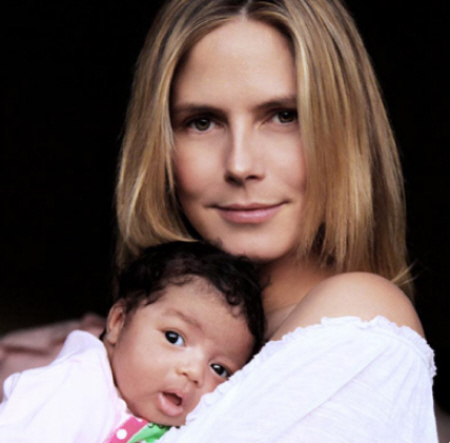 These are new photos of Heidi Klum and Seal's 7-week-old daughter Lou Sulola. Heidi put them up on her website rather than selling them to a magazine. Lou has a lot of hair, doesn't she? She's a little cutie. Alleged, I came out the same way – my mom always said that I had a full head of black hair, and for months it stood straight up. On her website, Heidi included photos of herself with Lou, Lou with Seal, one of Lou solo, and one of Heidi and all of her children: 5-year-old Leni, 4-year-old Henry, and 2 and a half year old Johan. Heidi also noted on her website:
It´s difficult to imagine loving another child as much as you love your existing children. Anyone who has a family will tell you this. Where will one find that extra love? If you love your existing children with all of your heart, how then can one possibly find more heart with which to love another?

On Friday October ninth 2009 at 7:46pm, the answer to this question came in the form of our fourth child and second daughter. Lou Sulola was born and from the moment she looked into both of our eyes it was endless love at first sight. She is beautiful beyond words and we are happy that she chose us to watch her grow over the coming years.
[From Heidi Klum's website]
Lou and the two boys are Seal's biological children. Leni's biological father is Flavio Briatore, who has never had a relationship with Leni from what Heidi has said in the past. Heidi and Seal got together when Heidi was pregnant with Leni, and Seal has always raised Leni as his own child, unconditionally. I'm Not Obsessed noted that, according to Heidi's dad, Seal wants to formally adopt Leni, and that it will likely happen before Christmas:
Seal wants to adopt Heidi Klum's daughter before Christmas.

The 'Kiss From A Rose' singer is keen to take legal guardianship of five-year-old Leni – his wife's daughter from her relationship with Formula One boss Flavio Briatore – and has already begun the legal proceedings.

Heidi's father Guenther said: "Heidi, Seal and the kids have always been a happy family – in everyday life and in their hearts. Then they should also be happy on paper."

Seal – who has three children with Heidi, Henry, four, Johan, three, and six-week-old Lou – has been given the go-ahead by Flavio to adopt Leni.

Seal has always thought of Leni as his own daughter, even though he did not father her, as he got together with Heidi while she was still pregnant with Leni. Speaking soon after Henry's birth, Seal said: "Leni is my first child. Just like Henry I saw her take shape and move in Heidi's body. And I was present at her birth, too. Leni is my daughter and Henry is my son. I am happy to have two healthy children and that Henry will soon be saying papa to me just like Leni does already."
[From I'm Not Obsessed]
I love this family so much. Part of it is that I just think they're for real. This isn't just some media strategy or staging. This is how they really feel about each other, and how they feel about their family. Sigh… if we were all so lucky. Beautiful kids, beautiful parents, beautiful love.
Baby photos courtesy of Heidi Klum's website.