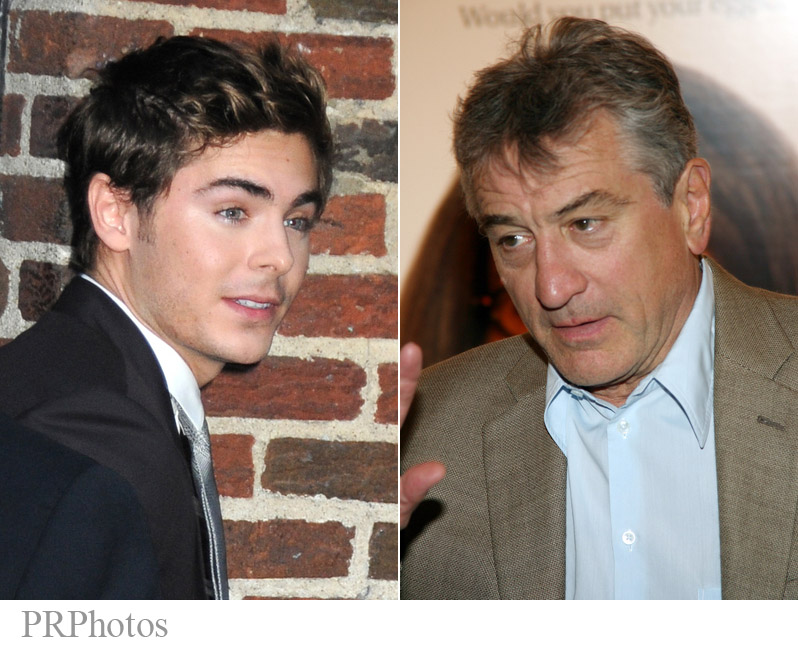 Zac Efron has a new interview in the London Times and it's pretty unremarkable apart from the end. The journalist went back into the restaurant bathroom after finishing the interview and saw Efron getting all fan boy with Robert DeNiro. The 22 year-old told DeNiro all wide-eyed that he loved his work and DeNiro rolled his eyes and looked at the journalist like "who the hell is this kid?" I wonder if he was finished doing his business yet or if Efron accosted him at the urinal.
There's also an interesting revelation from Efron where he says he's embarrassed for claiming Leonardo DiCaprio told him "if you really want to screw things up, do heroin." Efron seems to have been joking and he sort-of admits that DiCaprio never said that. I had to re-read that passage a couple times though as it's worded ambiguously. I can't tell if Efron is admitting he made up that quote from DiCaprio, or if he's saying that he shouldn't have repeated it out of context:
On not wanting to be typecast as a heart throb
"I'm rewatching Leo's transition, from my perspective," Efron says. "He is the best barometer for me. It's amazing to see actors who have been able to sustain this for so long and keep positive, still focused on the work, still trying to make their best film."

On Leonardo DiCaprio telling him not to do heroin – he was joking
He admits he's still completely star-struck, although he cringes when he remembers meeting Leonardo DiCaprio. He later told a journalist DiCaprio had told him: "There's only one way you can mess this all up. Just do heroin."

"Oh my God, I can't believe I just did that to him," Efron recalls feeling when he read the story. "It was a joke, it was meant completely in sarcasm, but it came across so differently in print. I was devastated. I tried to call Leo and say, 'Dude, I'm so sorry, that's not at all what I meant to say.' It was the worst feeling in the world."

When he meets Robert DeNiro in the bathroom
After Efron and I have said goodbye, I wander out to my car, but double back to use the loo. To my surprise, Efron is in there, gesticulating towards an older man who looks incongruous in a tweed shooting cap, thick glasses and a long brown raincoat. The older man seems taken aback by the attention. "I just love your work," I hear Efron gushing. The older man, who looks vaguely familiar, mumbles a thank-you, raising an eyebrow to me as he leaves. He seems to have no idea he's just been accosted by one of the most famous young stars in the world.

"Oh God," Efron says after the man walks out. "I can't believe I just did that. He must think I'm so ridiculous. Did you see who that was? Oh my God."

I rattle my brain. Why, I realise, that was Robert De Niro. Zac Efron and I have just met Robert De Niro in the gents
[From Times Online]
Efron really isn't the brightest bulb and he doesn't seem able to play it cool with Hollywood bigwigs. He's making up quotes from Leonardo DiCaprio and accosting Robert DeNiro in the men's room. The kid is really trying to shake his heartthrob image, but there's something so goofy about him. JayBird covered an interview with him last week in which he said his silliest moment was pranking his school friends with a mannequin hand. When he retold the story though it was like he still thought it was funny and clever.
He's only 22, and he has time to mature. He keeps talking about how he's trying to work toward a career with longevity. It could work out for him, but I doubt he's cut out to be Scorsese's muse like his idol. The article reminds us that Efron turned down $10 million to star in the Footloose remake, which he explains by saying "I felt it was something I had done before." We'll see how he feels in five years.
Efron is promoting his his role in Me and Orson Welles, also starring Claire Danes. It's out now in limited release in the US and will be out in the UK on December 4.