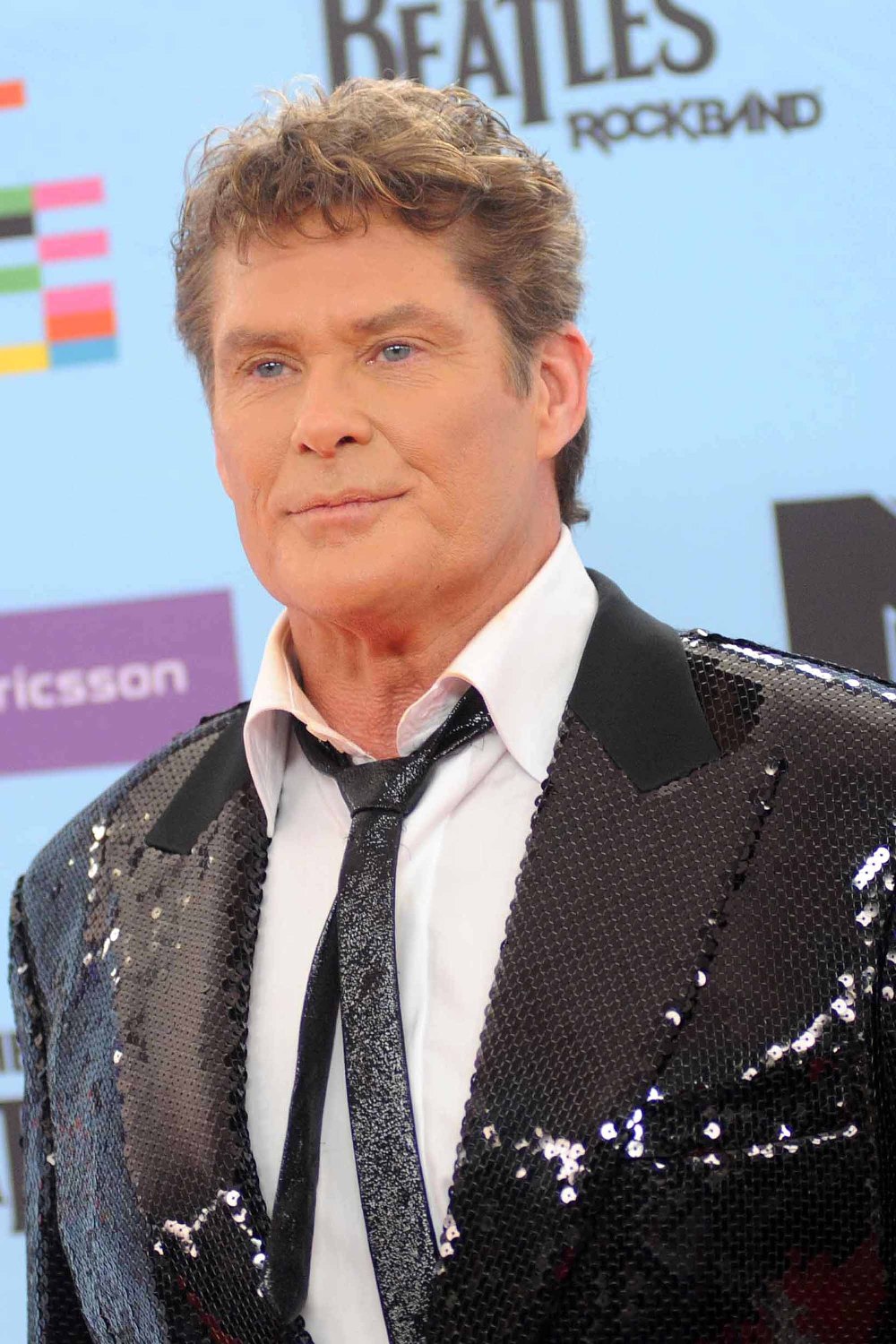 On Friday, David Hasselhoff was hospitalized for seizures. While the Hoff's people want us to believe that was the only reason, according to Radar, David was hospitalized yet again as a result of his alcoholism, after going on a several-day bender. Many news outlets are reporting that the Hoff was actually held under California's involuntary psych hold. He was released today, but this is just the beginning – or continuation – of his problems.
David Hasselhoff has denied reports he was placed under involuntary psychiatric hold after he was hospitalised over the weekend. The Baywatch star spent two days at a Los Angeles hospital after reportedly suffering 'a seizure' at his Encino, California home on Friday morning. His lawyer Mel Goldsman said: 'David is home now and he's fine. I'm not sure where that information is coming from.'

The 57-year-old actor's daughter Hayley called emergency services after he fell ill at the home. While his representative declined to give a reason behind Hasselhoff's hospitalisation, he did deny the actor had been placed under psychiatric hold. RadarOnline.com alleged Hasselhoff had been held in hospital under the California Welfare and Institutions Code 5150, which allows authorities to take into custody those they believe may be a danger to themselves or others, are gravely disabled or suffer from a mental disorder.

A neighbour, named only as Christian, is quoted as claiming on the US website: 'I asked one of the paramedics how David was doing and he told me his eyes were rolling back into his head, he was drooling and that he'd had a seizure. 'This isn't the first time this has happened to him.

The 57-year-old has a long history of alcoholism. He had allegedly been drinking in the last week and saw one of his personal doctors on Wednesday after returning from a trip to Canada. Last month, Hasselhoff was admitted to rehab amid reports he accidentally hit a doctor during an alcohol binge. He has also been hospitalised on two other occasions this year, reportedly suffering from alcohol poisoning.
[From the Daily Mail]
Radar followed the story all weekend and reported on Friday that Hasselhoff had been on a several day bender, both before and after he saw his doctor. They also claim that family members want him to enter a locked-down rehab facility, since his problem is obviously very extreme.
As if that weren't enough for his teenage daughters, their mother, Hasselhoff's ex-wife Pamela Bach, was arrested for DUI over the weekend! She claims she was consoling her daughters over dinner, and throughout the course of the evening had several glasses of wine.
According to TMZ, Bach was pulled over after she spent an emotional night trying to console her daughters, who were apparently shaken up by Hasselhoff's hospitalization. During their dinner, TMZ claims she had "a few drinks," and was later pulled over and registered blood-alcohol levels of .14 and .13 on subsequent tests. The legal limit for driving in California is .08.

This is Bach's second DUI arrest, and should she be charged, she faces mandatory jail time under California law. She pled no contest to a prior DUI in March of 2009.

Bach released a statement saying that she is "remorseful and mortified," about the incident, and that she and the family are "going through a really difficult time between David being in the hospital and dealing with the divorce."
[From Popeater]
Their poor daughters. Whenever I've seen Hayley, 17, and Taylor, 19, interviewed, they seem genuinely nice and sweet, and they appear to have a close relationship with their dad. I've never seen them with their mom, so I can't comment on that. Pamela told TMZ she was on her way to an AA meeting last night, though I doubt that makes everything better. Talk about just piling crap on top of more crap. I really hope the Hoff gets help, but his alcoholism is soooo extreme that it's hard to really think he will. But he's the kind of guy you genuinely root for. He doesn't seem like he's got a bad bone in him, but is definitely at the mercy of his addiction.
Here's David Hasselhoff at the 2009 MTV European Music Awards in Berlin on November 11th. Pamela is shown at the Chochi Fiamengo Designer Fashion Show in Hollywood on November 21st. Images thanks to WENN.com .