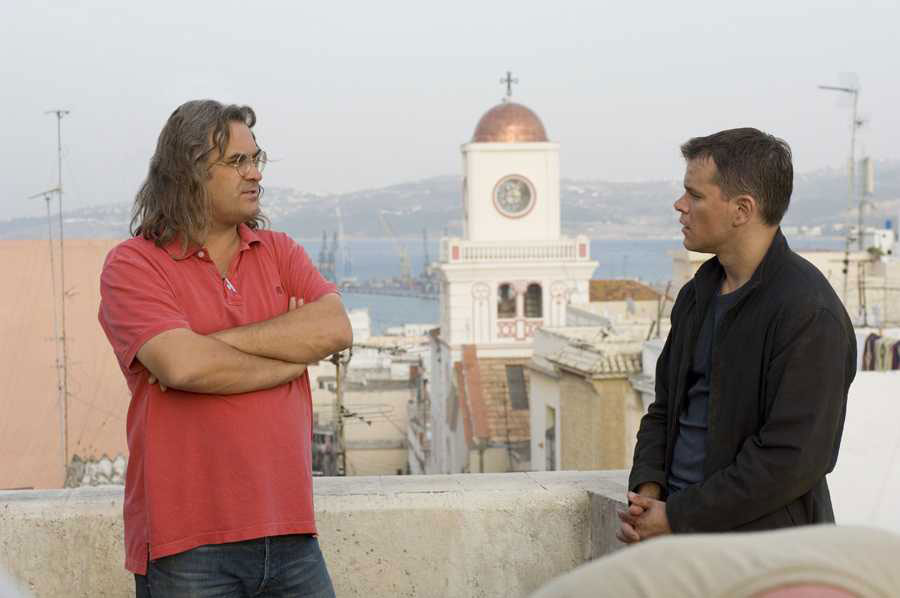 I found it surprising that Matt Damon was supposedly up for another Bourne movie, because he hinted while doing promotion for the third one that he was through. When asked if he would play Bourne again, he said "When I did the first movie, I was 29 years old. I am 37 now, and after a tough fighting scene, the next day you wake up and feel your body more. That's just the way it is."
Now there's news that Damon was probably on board for another film in the incredibly successful action series, but that the director has quit and this brings his participation up to question. Director Paul Greengrass, who worked with Damon on the last two Bourne films and recently completed that Iraq war thriller Green Zone starring Damon, has reportedly resigned due to differences with Universal studios. Greengrass has a kind of free-wheeling exploratory approach to filmmaking and this can get incredibly expensive for the studio. Green Zone is rumored to have cost a whopping $150 million to make.
The Playlist reports that Greengrass has withdrawn from the fourth film after Universal tried to get him to reign in costs. They also supposedly hired another screenwriter without consulting with him first and still don't have a completed script. I've never heard of this blog The Playlist but their story is convincing and they claim to have a source that says that the director has all but left and that Universal is trying to keep it quiet. It's possible Universal and Greengrass will work things out, though, as there's a ton of money at stake:
We honestly figured someone like Nikki Finke would be breaking this before us (and our source was a little surprised as well), but she's been a little AWOL of late which leaves the door open.

Sources and friends close to the project tells us that Paul Greengrass has quit "Bourne 4" and walked away from the project. This actually happened more than a week ago, and we've been getting our ducks in a row before publishing this report (and again, we're shocked Finke or the Wrap didn't get wind of this yet and way before us).

If you've been following our Bourne reports of late, you know we've been hinting towards trouble on this project for some time now, but it's not hard to discern even as an outsider.

Two scripts have been written for the project, which is not exactly a vote of confidence. One penned by George Nolfi (who co-wrote 'Bourne 3' and is currently busy working with Matt Damon on "The Adjustment Bureau"), and a few months ago, Universal hired another scribe, Josh Zetumer, to write what they are diplomatically calling a "parallel" script. Zetumer has been a Black List favorite for several years, and has "The Infiltrator" in development with Leonard DiCaprio's company, Appian Way, and wrote Peter Berg's "Dune" — he is hot to say the least.

A small part of the problem? Greengrass, who has been busy toiling away on "Green Zone," was not consulted by Universal in the hiring of a new writer. This obviously did not make him happy, but that's only part of the issue that's been ongoing for some time (meanwhile, no one seems to love Nolfi's version).

Matt Damon has already said that "Green Zone," another Universal film that Greengrass directed, cost $100 million to make. But the price tag of this Iraq War-set thriller is actually much closer to $150 million — Greengrass has reshot several times (gets expensive) and has been tinkering away in the editing room for months spending Universal's money and testing their patience. This was supposed to be a smaller movie that Greengrass made in between 'Bourne' films, something Universal let Greengrass make to keep him happy and part of the Uni/Bourne family, but you can bet when he said, "(expensive) Iraq War thriller," the studio wasn't exactly jazzed, even if Matt Damon was the star.

Going further back, "The Bourne Ultimatum" was a huge hit, obviously, but again was made in a similar fashion: very expensive and lots of reshoots because no screenplay was finished. Greengrass is now infamous for "finding the movie" or "figuring it all out" during the middle of production. As in, shooting lots of various things and letting the story naturally and organically come to the surface. He's fine with continuing that approach on "Bourne 4," but after the "Green Zone" expense, the buttoning-up of budgets across the board and the major overhead of 'Bourne 3' (that had to be a huge hit to be successful), Universal does not want to take that risk once again and the studio and director have been butting heads on that point ever since. Considering everything Greengrass did with the Bourne franchise, he hasn't been happy how he's been treated on "Green Zone" and how hard the studio has been riding him. It seems like the straw has finally broken the camel's back.

So right now, they're citing "creative differences" and we expect this to hit the trades at any moment.

There's chatter about this all around CAA, and Universal surely doesn't want word to get out. The conventional wisdom is that Greengrass and Universal can kiss and make up and in a few months they could be right back at it, but as a rather famous director said this weekend, "So, I guess they're looking for a new 'Bourne' director, huh?"

What's Matt Damon's take on this? He's "loyal to Paul" which means he's likely not going to star in any "Bourne 4" film without him. Or at least not without his blessing and even then, it would have to be a spectacular script (and right now one of those doesn't exist, but Universal has been exploring other options….).
[From The Playlist, thanks to Kaiser for the tip]
There's more at the source, including the news that Comcast is planning a buyout of Universal. Supposedly Comcast called Damon's agent to see if he was doing another Bourne film as that factors into how much the deal is worth.
I really enjoy the Bourne movies and I would love to see another one, but with so many issues it doesn't seem likely. Even if everything gets worked out amicably between Greengrass and Universal, filming isn't likely to start for another year and a half. Damon's heart isn't in it, either, or he would be making more positive statements about the series. It's kind of sad, because there's no other action franchise that's half as smart or entertaining as Bourne.
The good news is, I just watched the trailer for Green Zone and it's like Bourne goes to Iraq. A loyal fighter discovers that the organization he's working for is the real enemy and ends up trying to take them down. I'll definitely be watching this one. Green Zone is out in the US on March 12, 2010.
Update: Greengrass has confirmed that he's off the project, and issued a statement that reads, in part, "My decision to not return a third time as director is simply about feeling the call for a different challenge. There's been no disagreement with Universal Pictures."
Here's the trailer for Green Zone:

Here are Damon and Greengrass on the set of The Bourne Ultimatum. There are also some stills from Green Zone. Pictures via AllMoviePhoto