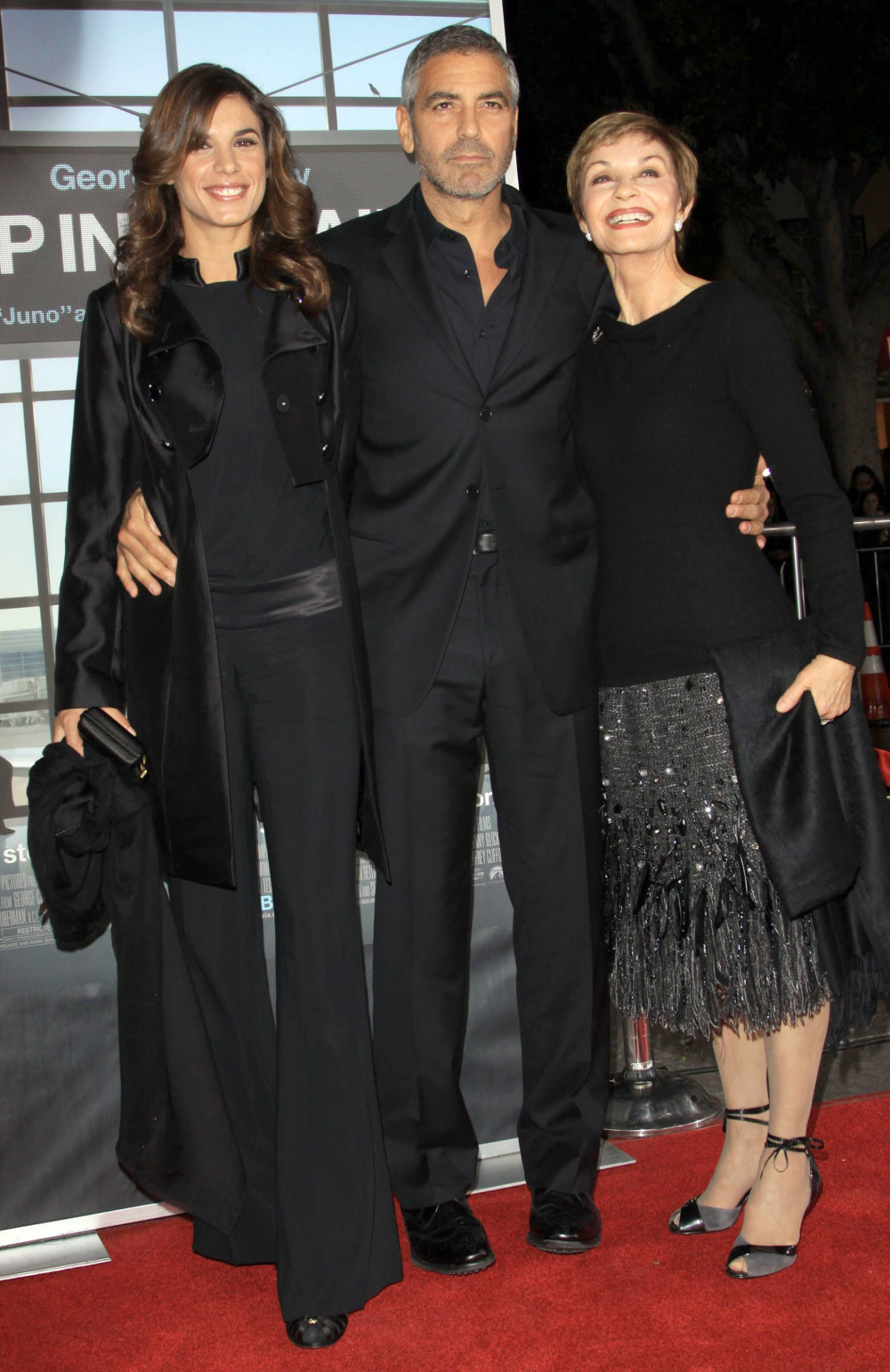 Well, hello Sailor! George is looking good to me for some reason this morning. I like that he looks a little dirty and scruffy. It's working. Clooney brought his girlfriend Elisabetta and his mom Nina to the Los Angeles premiere of Up In The Air last night. Everybody wore black, like it was a Johnny Cash theme night. Clooney often wears all black, because he loves the monochromatic look, but I expected more from Elisabetta. She doesn't look like a kinky, gold-dogging, trophy girlfriend! What the hell? She looks… dare I say… respectable. Elisabetta, is that even you?
On the red carpet, Radar caught up with Clooney and they even got him to "crack" a joke (video here):
George Clooney's reputation as a jokester was solidified on the red carpet in Los Angeles Monday night at the premiere of his new film Up in the Air.

"I'm up in the air on mostly on the crack that I'm on right now," the ever so dashing Clooney exclusively told RadarOnline.com.

Should we be worried about this? Is the most gorgeous man in Hollywood going to be checking into rehab?

"Rehab is the woosy way, that's the new Hollywood way," he explained to us. "We go the old way, which is just party through it!"

Also on hand were his good friends Cindy Crawford and Rande Gerber, fresh from their Mexican Thanksgiving vacation with George and his lovely Italian girlfriend Elizabeth Canalis, who took pictures with George but did not walk the carpet and answer questions.

So we had to ask, is Clooney up in the air about marriage too? "Exactly," he charmingly told us.

In Up In The Air, Clooney plays Ryan Bingham, a jaded man whose job is to fire people from their jobs. When his boss hires arrogant young Natalie, she develops a method of video conferencing that will allow termination without ever leaving the office – essentially threatening the nomadic existence Ryan loves.

Determined to show Natalie the error of her logic, Ryan takes her on one of his cross country firing trips, but as she starts to realize the disheartening realities of her profession, he begins to see the downfalls to his way of life.

Up In The Air opens Friday, December 4.
[From Radar]
My mom wants to see this already. She's a sucker for any movie where George wears a suit. And I'm being completely serious. But Up In the Air is getting solid reviews, despite it's somewhat crummy subject matter. And many critics have Clooney on the Lead Actor Oscar shortlist, up there with Daniel Day-Lewis in Nine and Colin Firth in A Single Man. Methinks Elisabetta has her eye on the prize – walking down the Oscar red carpet.
Here's the trailer for Up In the Air:

George Clooney, his mom, and his girlfriend Elisabetta Canalis at the LA premiere of 'Up In The Air' on November 30, 2009. Credit: WENN.com/FayesVision