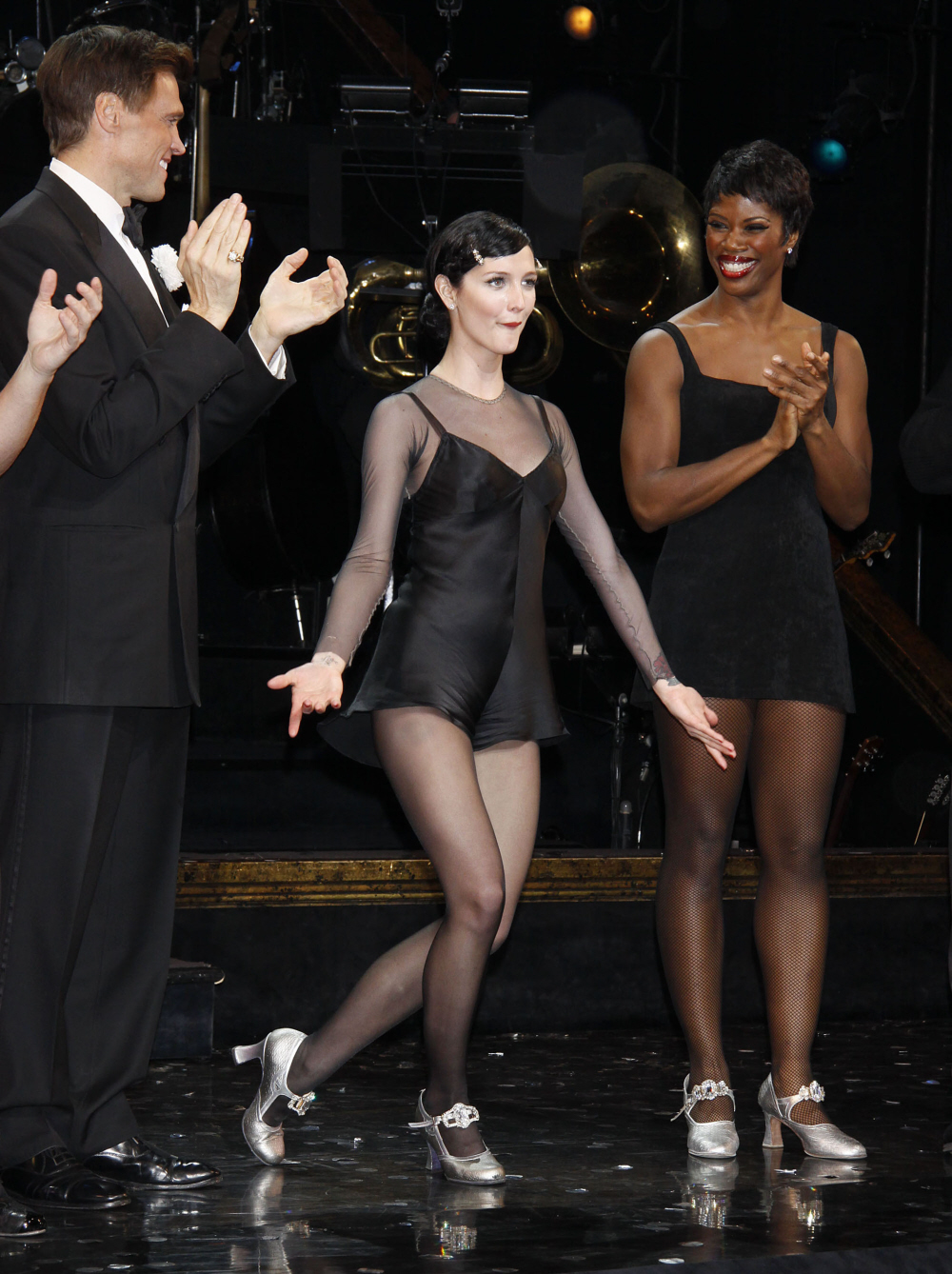 Last night was Ashlee Simpson's big Broadway debut in Chicago. You couldn't pay me to sit through it, but Ashlee seems to be getting average to solid reviews, and she seems to have bounced back from being publicly and rudely dumped off of Melrose Place. People were also noting how thin Ashlee looked on stage, and in life. Especially compared to sister Jessica, who showed up for her sister's big debut. Jessica wore a cute little sequined mini-dress that showed off her epic curves – so, yeah, comparisons were made, but I won't get into that. I think they both look fine. Twitch… okay, okay, Ashlee should eat a sandwich. That's all I've got.
Ashlee Simpson will be doing Chicago for a 10-week run that ends February 7, 2010. Jessica praised her sister on Twitter, writing "Roxie was all Heart! Watching her up on that grandiose stage made me the proudest sister in the world. I love ya honey, I love ya!"
Monday night's performance of Chicago at the Ambassador Theatre in NYC might have marked Ashlee Simpson's Broadway debut, but it wasn't the former Melrose Place star who was overwhelmed by anxiety — it was her big sister Jessica!

Before the curtain rose last night, Jessica admitted to her mom Tina — who sat between Jess and her dad, Joe — that she was a bag of nerves.

"She kept turning to her mom and saying she had butterflies," one onlooker at the theater tells OK!. "It was very cute. She must have said it five times after she took her seat."

And it looks like those butterflies might have been genetic, as Tina was overheard admitting to a friend sitting nearby that, "We're both going to cry… We brought Kleenex."

With only moments to go before the show, Jess even sent a frantic text to a friend saying, "She's about to go on!!!!!! Pray!!!!!!"

Jess also sent a text over to Ashlee's husband Pete Wentz, who was only a few seats away, presumably to offer last-minute moral support to the Fall Out Boy bassist.

According to the witness, when Ashlee took the stage as the wily Roxie Hart — a role she'd already portrayed onstage in London — Jessica gripped her mom's arm.

At the intermission, Tina quickly left her seat, saying, "She asked me to go backstage — I always do."

Meanwhile Jessica was beaming over Ashley's big moment playing a part made famous on the silver screen by Renee Zellweger. "I love that she's her own Roxie — she's done it her own way."

And when Pete came over to gush about Ashley, he revealed his own tactics for beating the nerves.

"I'm a little drunk," he confessed, leaning in very close to Jessica. When she asked him if he was still nervous, Pete replied, "No. I just need to pee."

Although it was her little sis' evening, Jess did take a moment to reflect on other matters — those toned dancers!

"Doesn't this show make you want to work out?," Jessica asked a friend. "Watching those girls, I'm like, 'I need to get in shape.'"

Meanwhile, she said that Ashlee looks "so skinny" on the stage.

When the final curtain came down and the Simpson family had finally finished their standing ovation, Jessica could no longer contain her emotions.

"I'm always so proud of my sister," a weeping Jess confessed to OK!. "I think she frickin' nailed it!"

Tina Simpson put her hand on Jessica's arm and said: "She always cries!"

Now where are those Kleenex?!
[From OK! Magazine]
Aw, Jessica is so cute. But you notice that Jessica kind of made Ashlee's night about her, right? Jessica and Ashlee's relationship is so complicated – but I guess that's what makes them sisters. It was cool of Jessica to show up to support her sister, especially after the lashing Ashlee took in the press after being fired from Melrose Place. Now, let's hope that Jessica can convince her sister to stop wearing that God-awful black wig. That thing is hideous.
Ashlee Simpson-Wentz at the curtain call for her Broadway debut in the musical 'Chicago' at the Ambassador Theatre in New York on November 30. Pete Wentz, Jessica & Ashlee Simpson on the red carpet for the 'Chicago' after party. Credit: WENN.