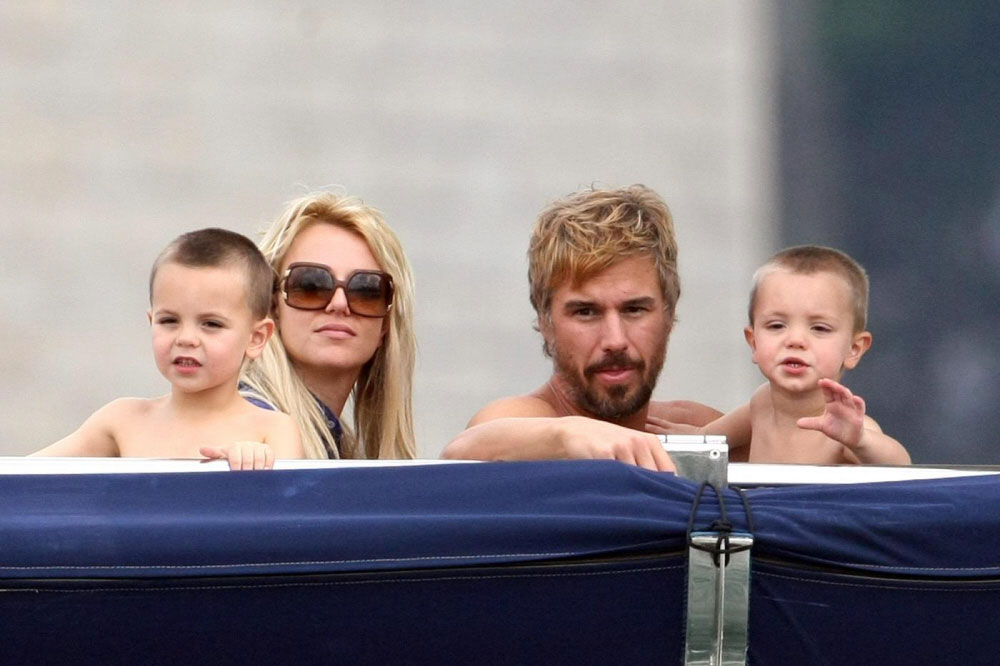 A "source" close to Britney Spears' has categorically denied reports that Britney spooked her on-again boyfriend, CAA agent Jason Trawick, with an unsolicited marriage proposal. We've heard rumors for some time that Britney is either gunning for an engagement or is already engaged. She's also been seen out with engagement-like rings on her significant left ring finger several time. Last week's OK! Magazine claimed that Britney and Jason were getting married and that she got her young son's blessing as if preschoolers are regularly consulted in such life-changing decisions. OK! has also had multiple fake Kristen Stewart and Robert Pattinson covers, so you can't put much trust in them lately.
Another tabloid reporting an "engagement" story this week is In Touch, which claims that Britney is pushing Jason into proposing partly because she's hoping to escape her father's conservatorship. In Touch also claims that Britney of course wants to pin Jason down. They quote a "source" who says "She's already reading bridal magazines… She likes having Jason in her life and wants to keep him around… Her biggest fear is that he will leave her."
An Australian gossip rag seems to have taken the engagement rumors a step further by claiming that Britney proposed to Jason during her tour there and that he flat out rejected her. I wasn't able to verify the exact origin of this story, but I think it's from News.com.au. (They just as easily could have picked it up somewhere else and run it without sourcing it.)
People reports that a "source" has denied this story, and says there was no proposal and that Britney and Jason aren't engaged. Britney and Jason are said to be "very happy" though, and the source explained that although Jason left Australia before Britney he "spent more time in Australia than originally planned."
I tend to believe the rumors that Britney would love to get engaged and that she's either subtly or not-so-subtly dropping hints about it to Jason. She posed for paparazzi photos several times in which she held out her hand to show what looks like an engagement ring. That kind of behavior probably extends to her personal life too.
These two do seem happy as and while they did go through a rough patch they're probably committed again now. You often seen Jason out with Britney's sons. He seems like he really adores them. I don't see him proposing, though. He may be into Britney but she's not the most stable person and that's got to be in the back of his mind.
Britney is back in LA after completing her tour of Australia. Her tour went off really well, with only one arguably minor lip syncing controversy. She has no further tour dates lined up, so we're sure to be treated to plenty of photos of her out to dinner and shopping. I wonder what else she'll get up to.
Here is Britney at LAX on 11/30/09. Credit: Fame Pictures and WENN.com. She's also shown out with Jason on 11/16/09. Credit: Pacific Coast News.