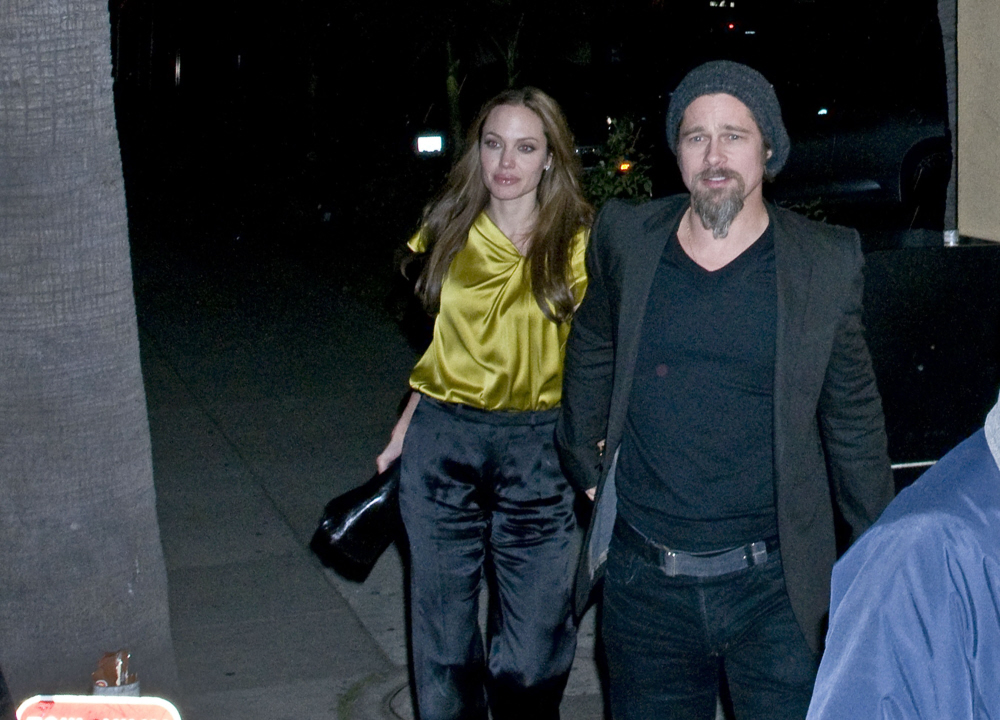 Here are new photos of Brad and Angelina leaving La Dolce Vida last night – God, I hate that blouse on Angelina. Why does she insist on wearing colors like that? Yuck. Anyway, Over the weekend, The New York Post ran an exclusive excerpt from Ian Halperin's book Brangelina: The Untold Story of Brad Pitt and Angelina Jolie. It comes out today, so all of the H8ers can stand in line at Borders. As many know, I feel very strongly that this guy is a hack, a fraud, and simply a sh-tty entertainment journalist. The Huffington Post already detailed some of the errors in Halperin's reporting, but since people love (or love to hate) all things Brangelina, I bring you some highlights from Halperin's book, provided lovingly by the NY Post. The complete excerpt is here, and these are the basics:
Sex brought Brad and Angelina together: It was the electrifying love-making that brought Brangelina together, says Halperin. "Brad had never had such incredible sex," Halperin says. "My sources say that they sometimes spent 18 to 20 hours a day in bed. But sex eventually wears off."

Brad has gone downhill in the relationship: Now, Halperin claims, the couple "argues like cats and dogs — everything from politics to clothes the kids wear and Brad's 'atrocious habit,' which includes pot smoking and alcohol. I talked to several people in Brad's family who wished they'd break up today. They're scared for Brad's safety and his well-being," he says.

Brangelina's fights: A limo driver who drove Brangelina frequently witnessed them "going at it in the back seat" twice and saw a "U-turn" in their relationship in 2007. "I was more worried about his safety than hers," the driver says. "She really flew off the handle, threatening him and lashing out at him. I can't imagine how anyone would want to be with her every day, no matter how sexy she is. She has a temper like a cobra."

A woman who worked with Brad on Troy, before he even met Angelina, claims: "There are apparently screaming matches, usually with her doing the screaming. Nobody really witnesses that part of it — they just see him leaving in a huff. But then he ends up coming back again, and nobody knows what happened to bring him back."

Brad could have cheated on Angelina: The most persistent story that crops up time and again involves Pitt and a beautiful Sudanese model, Amma, whom he met at a benefit for Darfur at the 2007 Cannes Film Festival. He was seen with her at least one more time. Jolie has allegedly accused Pitt of cheating on her on more than one occasion, which is one of the reported sources of tension between the two, Halperin writes.

Jennifer Aniston get paranoid when she's high: Another tension is Pitt's pot use, the book states. According to a well-known Hollywood journalist, "[Pitt and Aniston] spent much of their married life stoned. But whereas he was chilled out, she could get pretty paranoid."

Angelina will blame Brad's drug use when they split: A woman who works for an industry publication says his drug use will give Jolie an easy way to explain their split, when it inevitably happens: "They'll be split within 18 months, probably sooner," she told Halperin. "And here's how it's going to play out. They're going to split amicably, work out some kind of arrangement with the kids, and everything will be very civilized. Then you're going to see unidentified friends leak stories how Angelina couldn't put up with Brad's partying and drinking and his pot smoking. She's worried about the kids, and she's afraid it's not the right environment for them. Maybe he'll even take part of the blame and go along with that.

Angelina is the devil: Halperin claims that Pitt's biggest problem with Jolie is her controlling nature. "She won't let [Pitt] out of the house alone," he said. "She's very guarded about him. I don't think she's evil, but she's manipulative, deceiving and cunning."

Jennifer Aniston miscarried twice while married to Brad: She was thought to be pregnant twice during her marriage — both times ending in miscarriage, in 2003 and 2004, according to Halperin. Pitt and Aniston even built a dream nursery at their Beverly Hills mansion. She had already designated a large, light-filled space in the corner of the couple's Beverly Hills mansion as a nursery for their expected baby, Halperin writes. Aniston supervised its transformation from beginning to end during the extensive renovation process. "It wasn't just a room where you'd stick a crib and a mobile," a contractor said. "It was quite elaborate, and she had very specific ideas about it. They never decorated it as I saw, though," explained the contractor. "We're talking 2003. Maybe they were waiting to know whether the baby would be a boy or a girl."

Angelina employs nannies: Jolie and Pitt employ a "multicultural" team of nannies to care for their young brood, Halperin writes. In fact, the children often spend more time with those nannies than they do with their parents, who spend weeks at a time shooting films and on goodwill trips, sometimes with a child or two in tow but never with all of them. A hotel employee at the Dorchester Hotel in London once overheard 3-year-old Shiloh refer to one of her nannies as "Mommy," Halperin writes. The employee also observed celebrity efforts to broadcast an image of a happy family. "There's sometimes as much of a production involved in avoiding the wrong shot as there is in making a movie," she confided. "Stars will never allow the nanny to be photographed with their kids. . . Sometimes you'll even have the nanny crouched down in the back seat of a car. It's quite comical."
[From Page Six]
Halperin was also interviewed by PopEater to promote his book, and he even did the interview with bedazzled glasses on. God, this guy is a tool. The full interview is here, but once again, I just want to do the highlights – here are some of the best/worst quotes from Halperin:
"Each era sort of has this one golden couple, and that's what Brad and Angie are now. I respect them now immensely. I think the book is sympathetic, I'll say that. The media, some say it's a hatchet-job, but I really balanced it in a sense that I don't think she's evil, but she's definitely manipulative but she's definitely scheming. She's an amazing deflector of criticism in the press. She knows how to do amazing spin doctoring. She's also a very talented artist who's lasted well over 10 years in showbiz, which is my barometer for respecting anyone in the media. Anyone who lasts 10-15 years plus, I take my hat off to them."

"I spoke to people who worked on 'Mr. & Mrs. Smith,' and they said there was fireworks between them from the first day of shooting. I think Angie had a plan to get Brad. She knew he was the most desirable man in Hollywood."

"When I was undercover as a paparazzi at the Chateau Miraval in 2006 when she was giving birth to the twins, I was able to befriend several people working for them. Everyone was at the hospital at Nice while Angie was in there, but I stayed behind."
[From PopEater]
And that's where I've got to end it. With that last quote, where Halperin can't even get a basic timeline correct. It wasn't 2006, it was 2008. Angelina was pregnant with twins in 2008, and she and Brad didn't begin renting the Chateau until 2007, so what the f-ck is up with the 2006 reference? I could go on and on about this a-hole's f-cked up work, but I won't. This a-hole doesn't deserve the added attention.
Brad and Angelina photographed last night leaving La Dolce Vida in Los Angeles. Credit: Bauer-Griffin. Also seen at the Inglourious Basterds premiere on August 10, 2009, at the Cannes Film Festival May 20, 2009 and at the Oscars on February 22. Credit: WENN