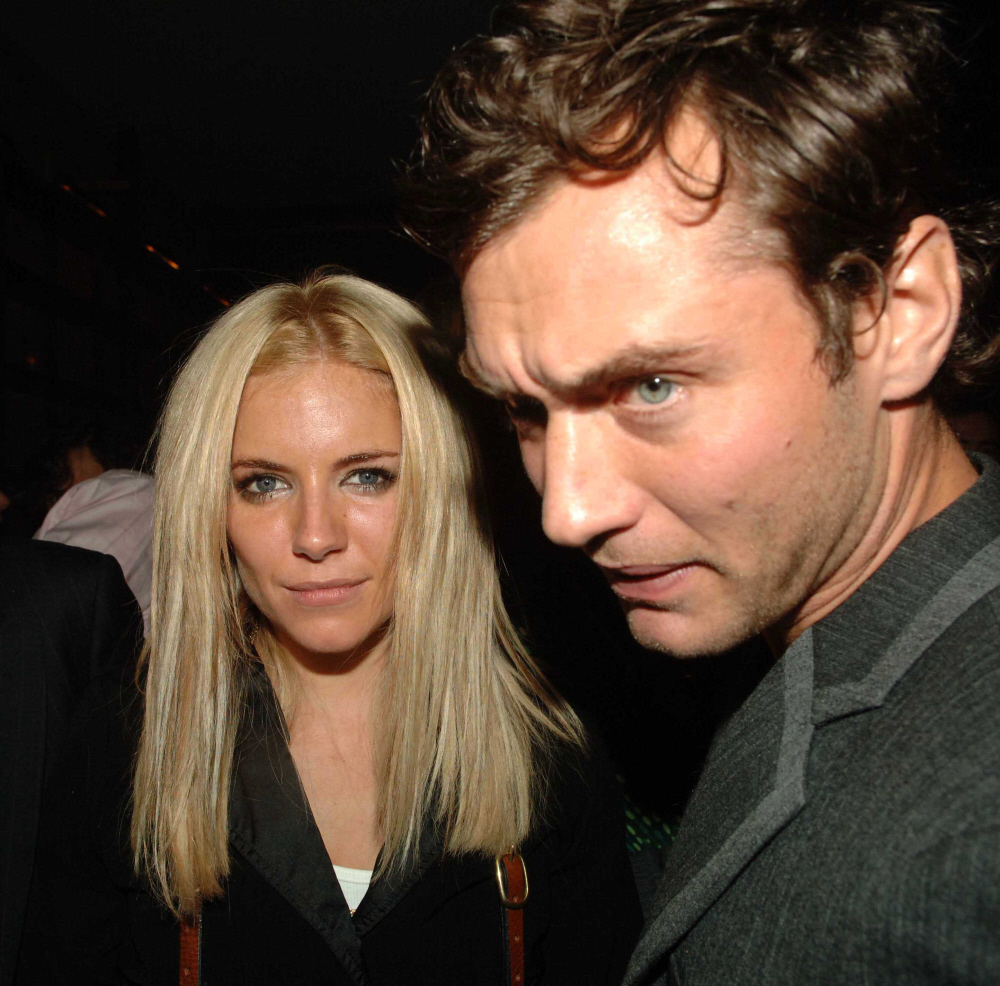 Last week, the New York Daily News ran a report detailing how Jude Law and Sienna Miller are probably bangin' again. They're both on Broadway right now – in separate plays. Apparently, they've been seeing each other, reminiscing, getting drunk, and you know, getting busy. The two were once engaged, for those who may remember. They got together in late 2003/early 2004, got engaged around Christmas 2004, and then the nanny thing happened in 2005. After that, they were on and off for about a year. By all accounts, they did remain friends, and Sienna brings Jude up in pretty much every interview since. Now Star Magazine has a report that Sienna and Jude spent Thanksgiving together… getting pizza. There better be turkey on that pizza!
Turkey wasn't on the menu for Jude Law and Sienna Miller during their dinner date on Thanksgiving — but pizza and PDA were!

The Brits, who are both living in Manhattan while appearing in roles on Broadway, celebrated the American holiday together at the Italian restaurant Emporio in the Nolita section of New York City.

Arriving just after midnight on Thursday, Jude and Sienna — who are starring in Hamlet and After Miss Julie, respectively — took a table, where they ordered pizza — and a $350 bottle of wine.

"They were offered a private table in the back, but Jude and Sienna turned it down," an insider tells Star. "They had no problem flaunting their love right in the middle of the restaurant. They definitely looked like they were head-over-heels for each other."

Although their reps denied recent reports that they'd reconciled, the couple — who broke off their engagement in 2006 following his cheating scandal with his kids' nanny — didn't skimp on public displays of affection.

"They came in holding hands and kept touching each other and kissing throughout the entire meal," says the insider. "They only had eyes for each other!"

Jude picked up the check — leaving $100 tip — and they left together in the same car.

The actor also recently made headlines when model Samantha Burke, whom he briefly romanced last year, gave birth to his daughter, Sophia, in September. Several weeks after the baby's birth, Samantha told a British magazine that Jude hadn't travelled to Florida to meet the child, nor had he sent any presents.

He has three other children with his ex-wife, Sadie Frost.
[From Star Magazine]
Yeah, speaking of Jude's fourth child (that we know of), he will eventually meet baby Sophia, right? I mean he can't keep making excuses about it, can he? I realize he doesn't want a relationship with Stalker McBaby-Mama, but he could pop into Florida and spend two seconds with his child. Instead, he spends all of his free time filling in for Balthy Getty. Jude's better than that! But not by much.
Older photos of Sienna and Jude in London, on October 4, 2006. Credit: INF.