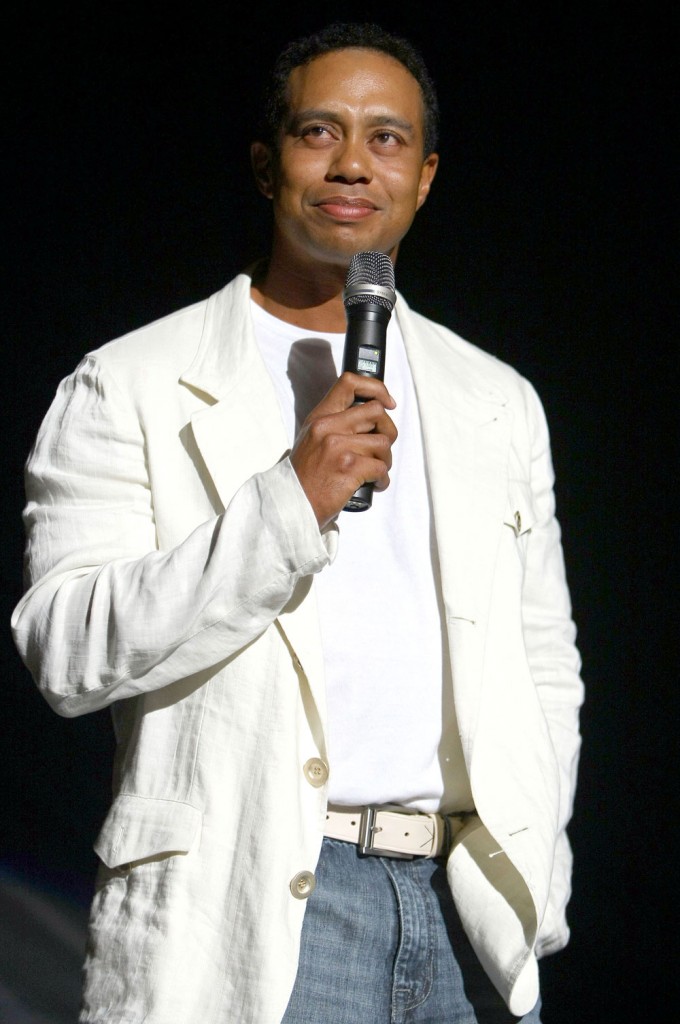 There's still a lot of buzz over Tiger Woods' car accident, particularly concerning the fact that he has yet to speak with police. Tiger canceled three separate interviews with state police, probably at the advice of the high profile criminal defense attorney he's hired. On one hand Tiger was in a minor car accident which may or may not have involved a domestic incident. He didn't hurt anyone except himself, his car, a tree and a fire hydrant. On the other hand Tiger was possibly driving under the influence of prescription drugs and may have been involved in a fight with his wife over his alleged infidelity.
Tiger is the most accomplished and popular golfer in the world and is among the most beloved sports stars. Before this incident he had a pristine reputation with a propensity to curse and fart being his worst character traits. He has tens of millions of dollars in endorsements at stake, and apart from a kind of vague statement he issued he hasn't said anything, not even to police.
Tiger has backed out of a tournament he was scheduled to host this week, The Chevron World Challenge in California, citing injuries from his car crash. It's likely that he just wants to avoid scrutiny over his car accident for as long as possible. This was his last scheduled tournament for the year, so he'll probably be laying low and buying his possibly abusive wife some really expensive presents.
Several of Tiger's corporate sponsors have voiced their support for him at this difficult time in the media. Both Nike and Gatorade issued positive statements on his behalf, although other sponsors like AT&T, Tag Heuer and American Express have yet to comment.
There's more news about what a famewh*re Tiger's alleged mistress is. We've already heard that 34 year-old Rachel Uchitel is also rumored to have hooked up with married actor David Boreanaz. Uchitel denies a relationship with Tiger and has retained fellow fame-seeking attorney Gloria Allred. The National Enquirer stands by their story that Tiger was cheating with her since this summer, as told by her friends.
The NY Daily News has more on Uchitel and in today's installment they dig into her past as a promoter for various nightclubs. It was her job to attract celebrities to the clubs and she did it well, but she wasn't an ideal employee. She's described as a "drama queen" and a "firestarter" who regularly fought with her employers. She was once sued for ditching an employer to go work for the competition.
Uchitel sure knows how to meet celebrities. The Daily News reports that she went out with Will.i.am, and Radar has photos of her in a bikini on St. Barths with Ryan Seacrest. In one photo it even looks like Seacrest is checking her out. You know those pictures were staged.
As for Tiger's accident he has ten days to meet with the state police or he'll be fined a whole $200. He's sure to lose tens of millions in endorsements if he doesn't handle this right, though. As it is, the longer he stays quiet and refuses to speak with police the more the rumors intensify. If he doesn't emerge for a couple of months many people will assume the whispers were true. He may as well admit that he's human and made a mistake and the press will move on. Many PR people are issuing him unsolicited advice to come clean about his affair and subsequent accident. It will only be more painful for him if he tries to wait it out.
Tiger Woods is shown on 5/16/09 at his "Tiger Jams" benefit concert in Las Vegas. Credit: Judy Eddy/WENN.com