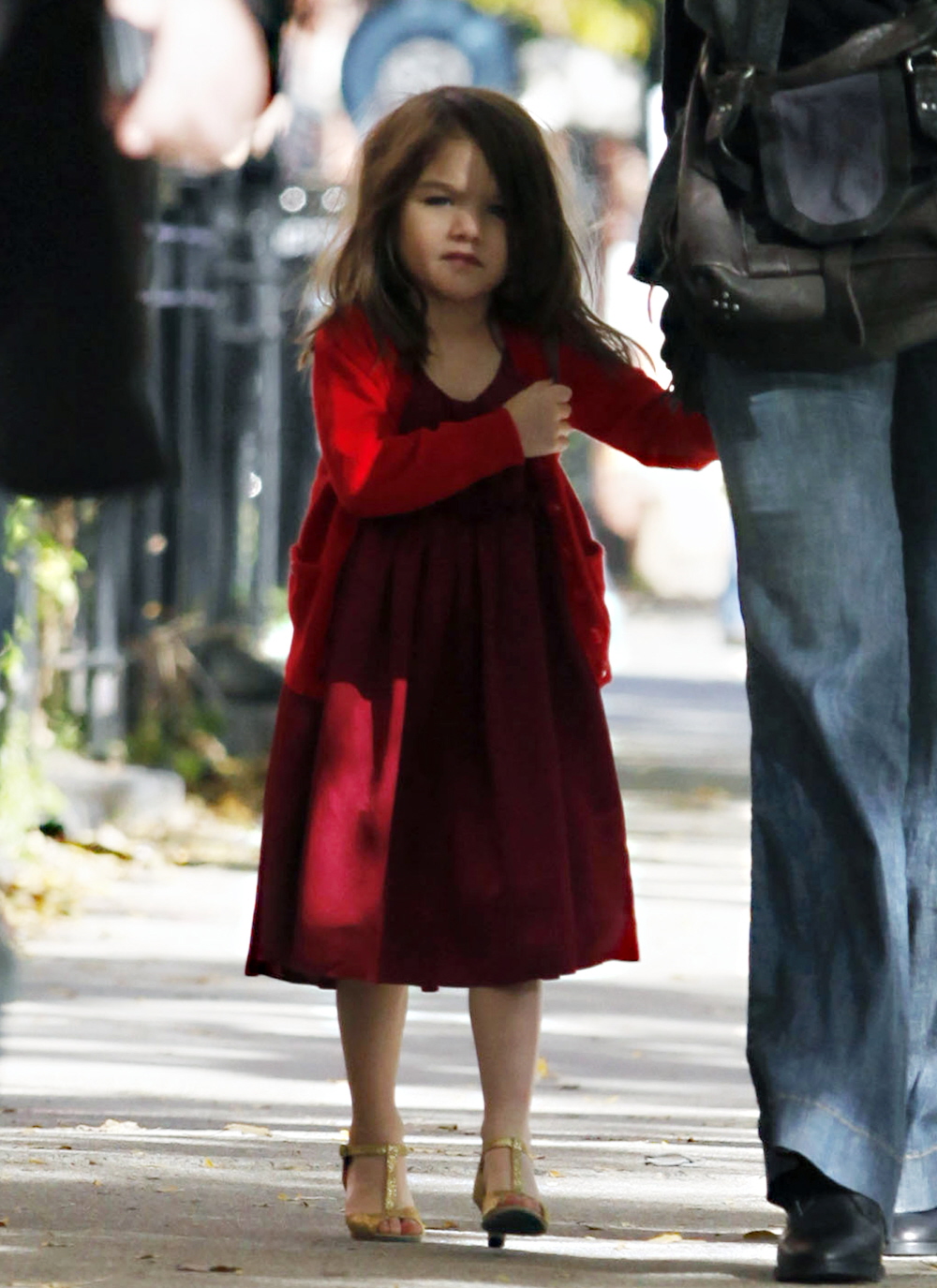 Katie Holmes went out solo on Sunday night, attending the Dizzy Feet Foundation's charity event. Not only did Katie look young, happy and pretty at the event (without a Xenu-sized monkey on her back), Katie actually dared to have an opinion! About something that she's been criticized for! Why, I never! Katie addressed the complaints that she's destroying her daughter's fragile body by letting Suri wear high heels. Now, first of all – Suri doesn't real wear high heels, they're more like kitten heels or pumps. Secondly, Katie is telling those judgy moms to hush, saying "They are actually ballroom dancing shoes for kids. I found them for her and she loves them." Crisis averted?
Katie Holmes revealed it was her own footwear that inspired her daughter's decision to wear high heels.

"She, like every little girl – she loves my high heels," Katie told Access Hollywood at the Dizzy Feet Foundation at the Kodak Theater in Los Angeles on Sunday.

Since Suri first was spotted in public in her child-sized kitten heels earlier this fall, a debate was sparked on the Web and in parent's magazines over whether they could present a risk to the child's growth.

But Katie revealed the heels her daughter with Tom Cruise sports are actually supportive.

"They are actually ballroom dancing shoes for kids," Katie said. "I found them for her and she loves them."

Katie stepped out at the Dizzy Feet event over the weekend in support of the organization she founded alongside "So You Think You Can Dance" judges Nigel Lythgoe and Adam Shankman and "Dancing With the Stars" judge Carrie Ann Inaba, which aims to help underprivileged young people realize their dreams of becoming professional dancers.

"I've been a fan of dancing my whole life," Katie said of her early love of dance. "I met with Nigel and he asked me if I wanted to be a part this… in starting this."

And while on the podium at the event, Katie revealed the event has received over 90,000 donations, enabling them to help nine students with scholarships to various dance schools.
[From Access Hollywood]
Personally, I don't mind pictures of Suri looking like "hell in heels". You know what I mean? Suri has a bright, engaged little face, and I'm sure she's a pistol in person (re: a brat). I'd imagine Katie letting Suri wear kids' heels is one of the more normal things about Suri's life, so God bless. Katie probably just goes along with it to avoid tantrums, so I'm not going to judge. And Tom can't say no to Suri's shoe requests because he wears high heels too. Ah, Xenu. There's always a catch!
Katie and a kitten-heel clad Suri in Boston on October 26, 2009. Credit: Fame.