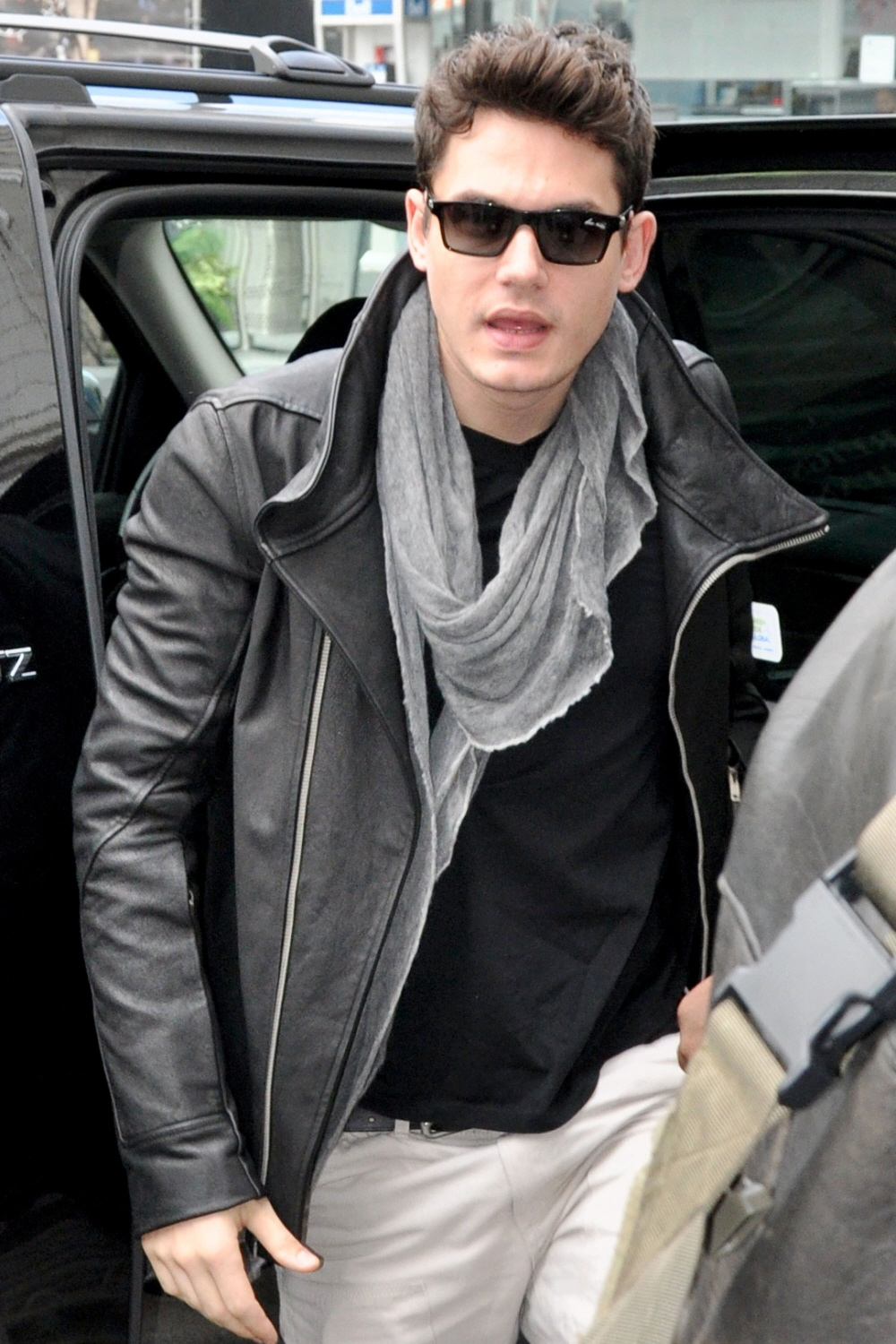 The first version of this story was "John Mayer is probably nailing Lindsay Lohan". But in later versions, the story changed. Since I like the first version, I'll bring you that one as a starter. Apparently, John Mayer and Lindsay Lohan were hanging out a few night ago, and E! claims Lindsay's "sights" were set on Mayer. Her "sights" being "her cracked out glassy eyes". E! has a source who claimed: "She would follow his every move. He would dance with the waitresses and then come back. She was way into it." After their night of dancing and drinking and flirting, Lohan crack tweeted: "@johncmayer shhhhhhhhhhhhhh butter-face J". Yeah. I don't know what it means either.
Anyhoodle, later versions of this story are still spinning. Actually, I don't know if these stories are from the same night, or if Mayer and Lohan hung out several nights in a row or what. But now sources are claiming that Mayer has reunited Samantha Ronson and Lohan. Because that's what douches do. They reunite mentally unstable drug addicts with their enablers, and expect to be called a "good guy". First, here's People's take:
Lindsay Lohan and John Mayer were both hanging out with Samantha Ronson, who was deejaying at New York nightspot Butter. Mayer arrived first with his male posse in tow, and the singer scoped out the scene and stopped to flirt with female revelers. He also greeted Ronson at his table, though she soon headed over to the deejay booth. Then Lohan arrived and started chatting up Mayer. While Lohan was definitely there to see Ronson, according to an onlooker the two didn't really interact much, though there were at the same table all night. "You could tell they were there together and both talking to John Mayer," the onlooker says. "They all stayed at the same time talking until past 3 a.m."
[From People]
Gatecrasher has more details about the reunion. They make it sound like Lohan had a temper tantrum to Mayer, and he tried to calm her down by getting Samantha to come over:
Lindsay Lohan and Samantha Ronson may be getting back together – with the help of an unlikely friend. John Mayer was spotted playing relationship counselor to the exes when they ran into each other at NYC hot spot Butter on Monday night. And Mayer may have worked a miracle.

"Lindsay and Sam didn't arrive together," says a partygoer. "Lindsay walked in, and the two said a quick hello, but then Linds went to the table where John was sitting."

According to the source, Sam eventually came over to the table but sat far away on the opposite side – much to LiLo's dismay.

"Lindsay looked upset that Sam hadn't come over to her, and she started whispering to John, who looked like he was trying to calm her down," says the snitch. "She looked pretty angry. Then John got up and went to talk to Sam."

We're not sure what he crooned to the famed deejay, but it must have been pretty convincing: Ronson got up with Mayer and went over to La Lohan just a few minutes later.

The source notes that after Mayer's intervention, the tumultuous twosome spent much of the night talking and laughing. La Lohan even ended the evening looking content – and (dare we say it?) stable.

"Lindsay seemed happier than she has in ages," the spy says. "Sam eventually got up and deejayed for a while, and Lindsay kept standing up and looking over to the deejay booth, smiling."

In between watching Ronson, Lohan hung out with the likes of movie critic Ben Lyons and singer/songwriter Blake Ian.

Mayer, having done his good deed for the week, ducked out before Linds and Sam did – but not without a hug from LiLo and a more-than-friendly goodbye from a scantily clad blond.

"Lindsay and Sam both stayed past 3," the partygoer says. "They didn't leave together, but they definitely ended the night on good terms."
[From Gatecrasher]
Yeah… I'm not prepared to consider Mayer's actions a "good deed". I was happy that Samantha finally got away from Lindsay. Many more people need to get away from Lindsay. If people continue to enable her and treat her like she's anything other than a drug addicted mess/jewel thief/insane brat, she'll never get help. And personally, I just enjoyed Lindsay's crazy crack tweets begging Samantha to pay attention to her. If it doesn't happen on Lindsay's Twitter page, it doesn't happen!
John Mayer in Toronto on November 23, 2009. Samantha and Lindsay together, back on July 30, 2009. Additional photo of Lindsay on December 1 at LAX. Credit: WENN.