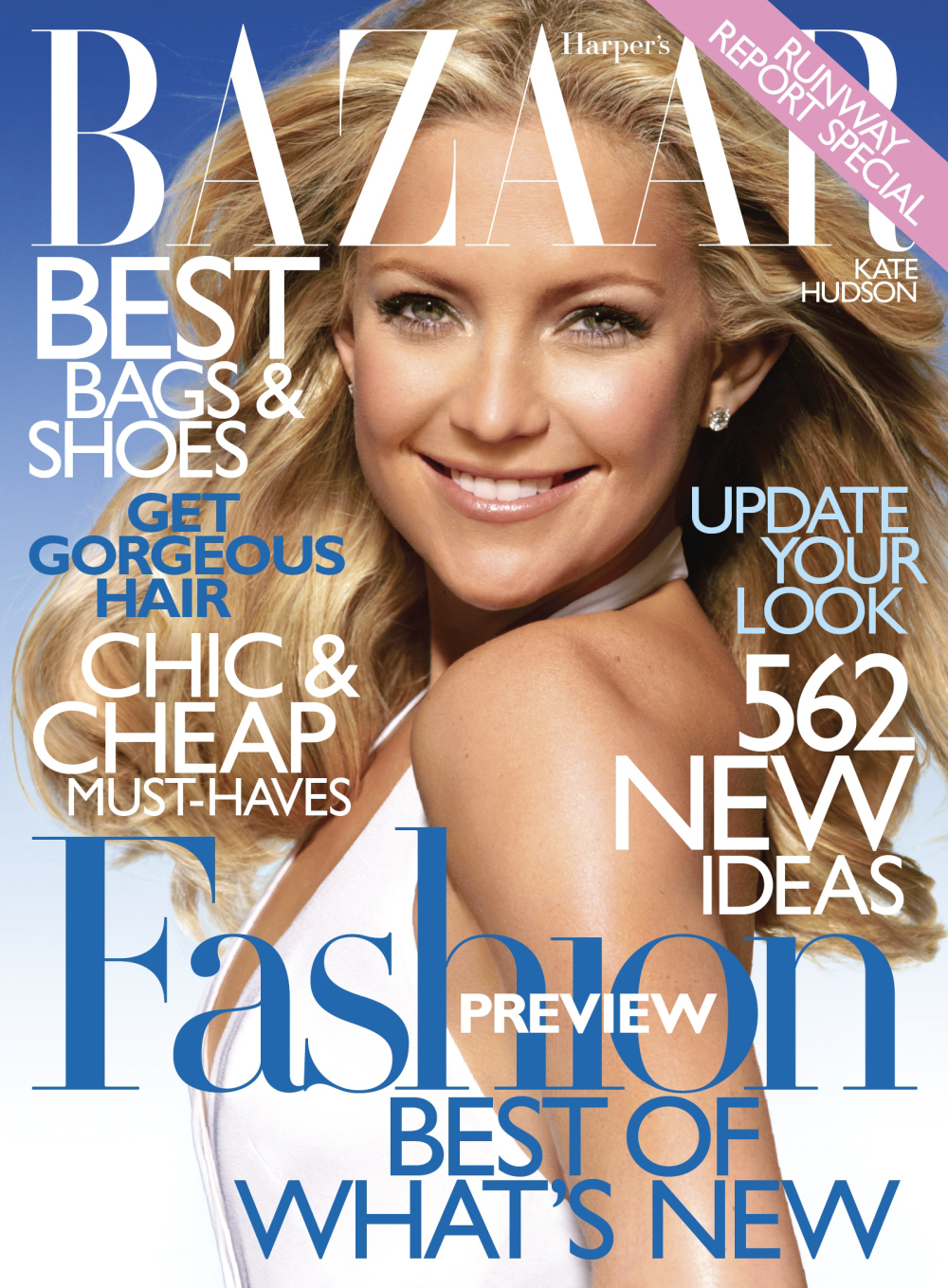 I know many of you can't stand her, but I actually like Kate Hudson. Yes, she got a new guy every two seconds, and she introduces every one of them to her son, and that's not very good. But! I admire how upbeat and positive she is, and I like that she never bitches and moans about anything – she's very professional, she never bad-mouths anyone or anything, and she seems like a lot of fun. Anyway, Kate's new interview in the January issue of Harper's Bazaar is no different. She seems a little defensive, but still upbeat. She doesn't really want to talk about her relationship with Alex Rodriguez, but you can tell she would love to gossip about him with her girlfriends. She also says "I'm not needy" as if battling that portrayal of herself specifically from the tabloids. I actually believe that she's not particularly needy. Here are the highlights from Bazaar (complete article here and photo spread here):
On failed relationships: "No matter how many times my heart breaks, I'll never be any different."

On why heartbreak is worth the risk: "I'd rather hang out with a person who's done everything than who's done nothing. It would suck to die and not have experienced my life, really. I mean, I think you should keep your eyes open. Blinders are fun for a second, but they have to come off eventually. And I believe it's important to get to know people, to really get to know them."

On pregnancy, engagement and break up rumors: "I'm not pregnant," she says. "I can't go two months without being pregnant, engaged, or breaking up because I'm too needy, which is always the one they love. I'm not needy. You kind of have to laugh it off, but it can kind of screw up other things around it."

On why she doesn't talk about her relationships: "I have a child, and there are people involved, and it's unfair to talk about somebody else, especially when you're not in that place yet to be discussing those things. If I was sitting here with a belly out to here, I'd be talking about what the relationship is and how important that is in my life right now."

On not feeling pressure from family or friends to avoid Alex Rodriguez because of his past mistakes: " I don't really have friends like that," Kate says. "My mother never shook anybody's hand. She has kissed and hugged her way through life. [My family had] an open-door policy. We were never afraid to bring the wrong person home. They were always open to our failures."

On the photo of her and A-Rod kissing: "There's a guy that's shooting probably 60 frames a minute. That was a sideswipe on the cheek. That wasn't even a kiss. I quickly kissed the cheek. And I remember one of the headlines the next day said, MAKEOUT SESSION. What is wrong with people?"

On Chris Robinson: "Chris is a great dad. I feel really lucky. When we first met, it was so immediate. I had no question in my mind I was supposed to marry him and have children with him.
[From Harper's Bazaar, January 2010 issue]
Oh, I like the cover image and photo shoot by the way. These photos are a lot better than Kate's last magazine spread, in Elle UK, where they made her look like a gristly body builder. Kate admitted last month that she lost a lot of weight by simply cutting out the beer, but just from looking at pictures of Kate over the past few months, I think her weight yo-yos all the time. Not anything major, but she's such a small girl that you notice when she gains five pounds. Anyway, I'm glad Kate is so happy – I really do think she and A-Rod will end up getting married, I really do. She's all over it. And she's good for him too!
Harper's Bazaar cover and additional photos by Peter Lindbergh, courtesy of Harper's Bazaar.