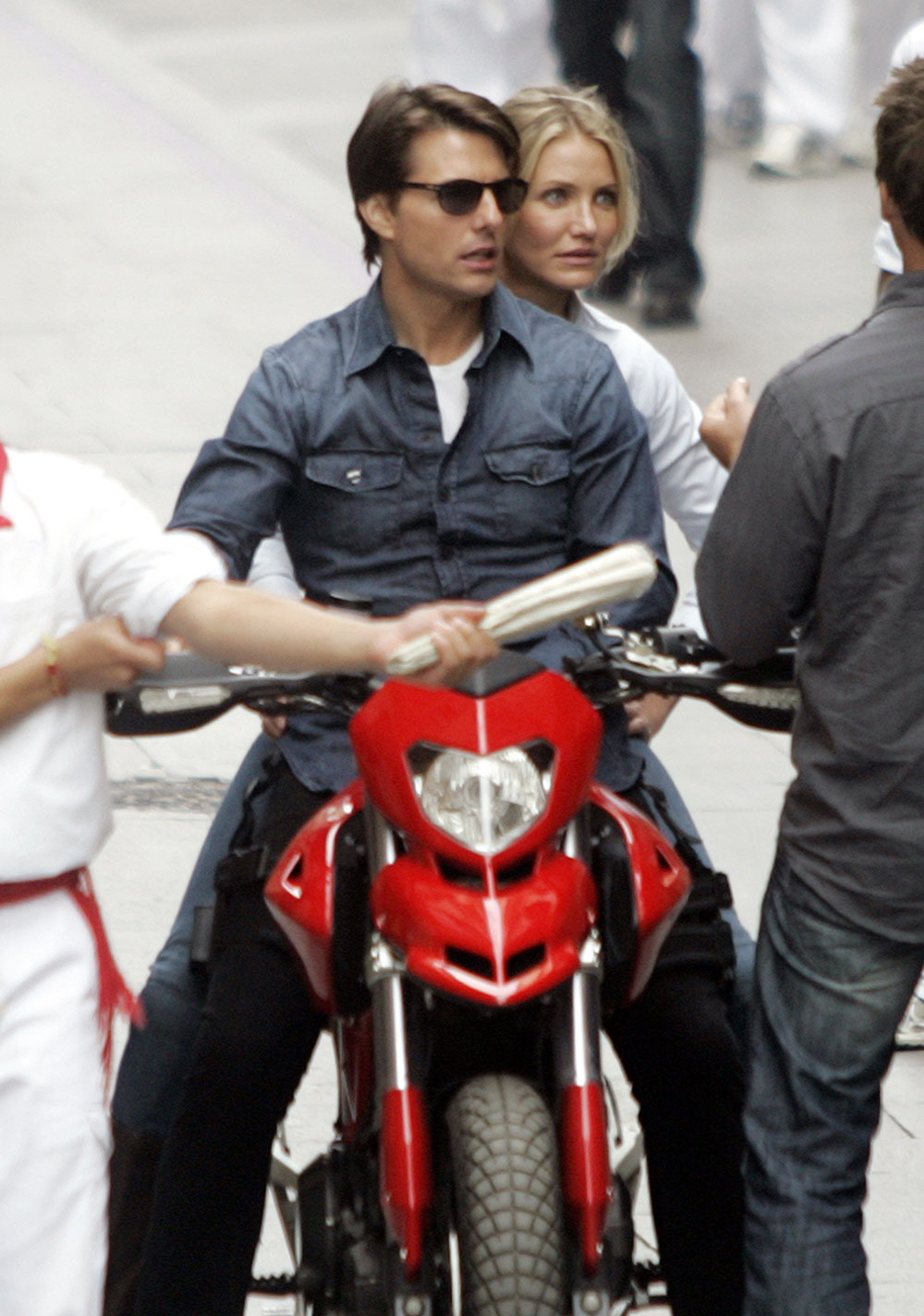 Cameron Diaz is currently working on Knight & Day, an action film with Tom Cruise that was previously titled Wichita. We've seen photos of Cruise all serious and adrenaline-pumped on the set looking like he's doing his own stunts – in wedge shoes. Cameron has confirmed to Entertainment Tonight that Tommy boy indeed does his own stunts and that he practically begs for more dangerous and action-filled scenes. Cameron said that Cruise is like a professional stuntman and then she added the key point in her anecdote – "What he does is, like, crazy." Is anyone else picturing the couch-jumping incident? He has to channel all that mad energy somewhere:
CAMERON Diaz says Tom Cruse makes an excellent stuntman.

The actress — who stars opposite Cruise in upcoming movie Knight & Day — insists the Top Gun star is the "best" when it comes to daring scenes.

"Tom was on top of the car, and I'm inside the car going: 'Ahhh! Ahhh!'" she said.

"And he's on the hood of the car flying through the air, you know, cabled to a car, jumping 20 feet across — I'm like: 'I want an action scene, you guys! 'I wanna fight! I wanna be on the hood of a car! Write it! Just write it in somewhere.'

"Tom is a professional stuntman. If he wasn't Tom Cruise the movie star, he would be the best stuntman in the business. He's phenomenal. What he does is, like, crazy."
[From ShowbizSpy]
The NY Post has more news from the set of Knight & Day that shows just how dangerous stunt work can be. In one filmed scene, Tom and Cameron fled on a motorcycle from real stampeding bulls (they're probably trained bulls, but still) in what looks like a recreated scene from the running of the bulls in Pamplona. A few days earlier, seven of the bulls got loose and hurt some passers-by although it sounds like none of the injuries were serious. Damn Tom, slow down.
In related Tom Cruise news, OK! Magazine, which is running a bizarre campaign to compete with Star lately, claims that Tom and Katie are doing fine and that they have reached an "Exclusive New Marriage Deal – $75 Million for Baby Number 2!" This is probably no more true than the other stories in competing rags about how Katie is moving out or leaving Tom. It's nice to see gossip magazines making up positive fake stories, though. I'll put this one on the imaginary shelf next to Kristen Stewart and Robert Pattinson's domestic bliss, Jennifer Aniston's pregnancy, and Jen and Brad's reunion.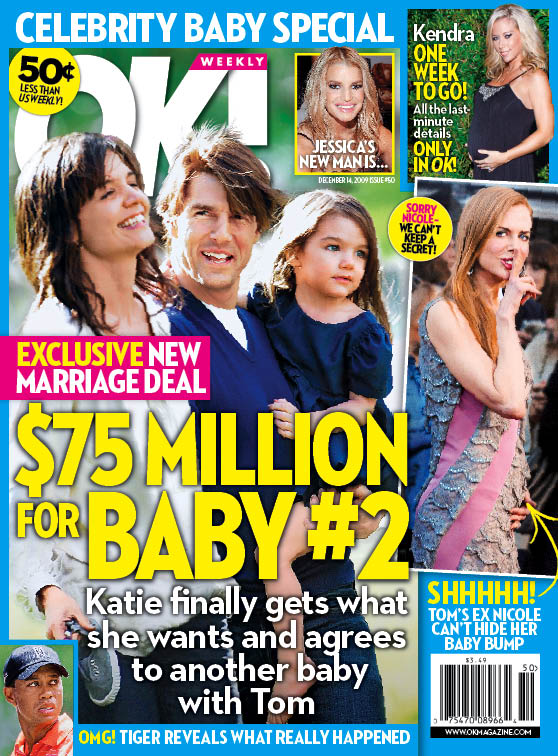 Tom and Cameron are shown on the Sevilla, Spain set of Knight & Day on 11/28 and 11/29/09. Look at Cameron's stunt double! Credit: ENF/Fame Pictures