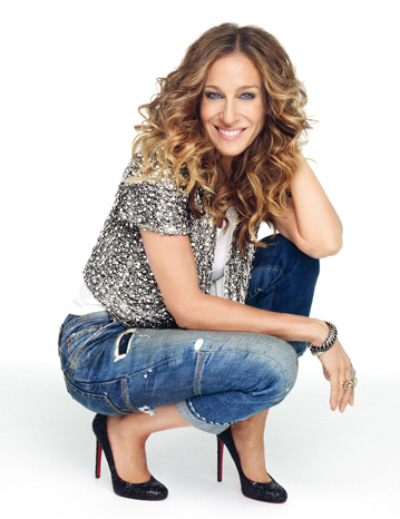 Oh, Sarah Jessica. This is not a great cover shot. But it's a million times better than her epically terrible December Elle cover, in which most people were too distracted by what appeared to be SJP's enormous honker. They didn't even notice she talked about dirty diapers, comparing them to smelling a fresh loaf of bread. So… I won't complain about the cover shot, but I will bitch about the entire theme of the photo shoot: SJP, carrying shopping bags and such, in front of hand-drawn images of New York. Um… we get it. You're Carrie Bradshaw. Now try something different.
Glamour's got the full interview up online (here), but I'll just do the highlights. Let's see… SJP is promoting Did You Hear About the Morgans? It's a rom-com costarring Hugh Grant. Something nice: they both seem to really like each other, and they've worked together before, on Extreme Measures. Something bad: the film looks horrible. What else? Oh, SJP describes the first Sex and the City movie as "brave". I have another word for it – "terrible". SJP also talks about her "regrets". Like the fact that she's been pulling 18 hour days on SATC just a few months after her twin daughters were born.
GLAMOUR: So let's get to your next film project: Sex and the City 2. How has Carrie evolved?
SJP: The first movie had a lot of sadness in it, and it was very brave about breaking the rules of romantic comedy. This one is very much the antidote for that: It's a romp. It's about the idea of women's and men's roles in marriage, and old traditions versus new ones. The story is really fun, but it's also about something.

GLAMOUR: I think movies present a romanticized ideal of love. But you don't get to see what happens after the film ends. What does love look like once you've been in a long-term relationship?
SJP: I think when you are younger, you get swept away by grand gestures…. When you have children and years invested, it's much more complicated. It's the day-to-day stuff: the kind of parent you are, the kind of partner you are. It's the little and big things as opposed to just the big things. But you are not meant to know that when you are younger, so I don't think anybody should regret the choices they made in their twenties.

GLAMOUR: And now you're a new mother again. Congratulations, and what's it like?
SJP: Nothing can really describe what it's like to have two new little girls. It's been very different than when James arrived, since our family expanded in an untraditional way. We didn't plan on having two, but were doubly blessed, and it's been just wonderful. [Tabitha and Marion] just turned four months old today! One would prefer to be held 24 hours a day, and the other is already suffering from type A issues. It's been amazing but complicated because of my current work schedule, which I have enormous regrets about.

GLAMOUR: How do you juggle it all?
SJP: It is the eternal conflict of every working woman, and I am not complaining, because I've done this to myself. And I have a wonderful, wonderful nanny who allows me to be a working person. The great challenge for me is to be all things to all people; I want to be a great mother, and I want to feel good when I'm at work. But it is hard.

GLAMOUR: So how would you characterize your own style?
SJP: I really love beautiful, well-made clothes. I don't shop [a lot], so I tend to have pieces for a long time. I like mixing vintage with newer designers.

GLAMOUR: Flash back to 1984, when you were in Footloose. What were you wearing then?
SJP: In the eighties, I was wearing a lot of work boots and oversize men's dinner jackets and floppy hats with flowers. I was making every mistake that was appropriate for the time. Eighty percent of pictures from that period deserve a cringe, but I don't because I enjoyed it!

GLAMOUR: How would you say your style has evolved over the years?
SJP: It's just simpler; I don't buy anything trendy. I used to be more easily seduced by some momentary idea of what was fashionable. Now I'm slightly savvier. I still have the same ideas in my head about what looks good on me and what doesn't. I still will not wear turtlenecks.

GLAMOUR: Why not?
SJP: I feel like I'm having a panic attack in them. I'm so short that the little bit of height I have is taken and consumed by the turtleneck. My son won't wear them, either!

GLAMOUR: What's your favorite store to find a bargain?
SJP: I still believe in thrift stores: It's the one place you can be assured of finding something very unique.

GLAMOUR: Once upon a time, thrift stores were all you could afford—you grew up very modestly.
SJP: I feel lucky because [my background gave me] an appreciation for sitting here and having this tea and drinking out of this cup. I am not blind to it. I don't want my children to feel they have a sense of entitlement. I want them to work hard and be challenged. That's hard to do when you have everything you need and want, so I am working on those values all the time.

GLAMOUR: Where do you see your life in 10 years?
SJP: Being so greedy, I would like more of the same. Most important to me is my home life and the well-being of my children. Everything as it is now would be thrilling.
[From Glamour]
Well, she gives a good interview. I liked the part about her trying to impart the working class values she grew up with onto her own kids. Call me crazy, but I don't see SJP and Matthew Broderick's kids being spoiled little brats, so in that area, they seem to be doing a good job. I also liked the part about her turtleneck-phobia. I'm like that now, too. I used to love turtlenecks, but then I began to realize that they don't compliment my frame whatsoever, and that I hated feeling strangled all the time. But I think SJP would look cute in a turtleneck! She should try it. She might be surprised.
Glamour photographs by Patrick Demarchelier, courtesy of Glamour online.