Sarah Jessica Parker hasn't had time to bond with her twins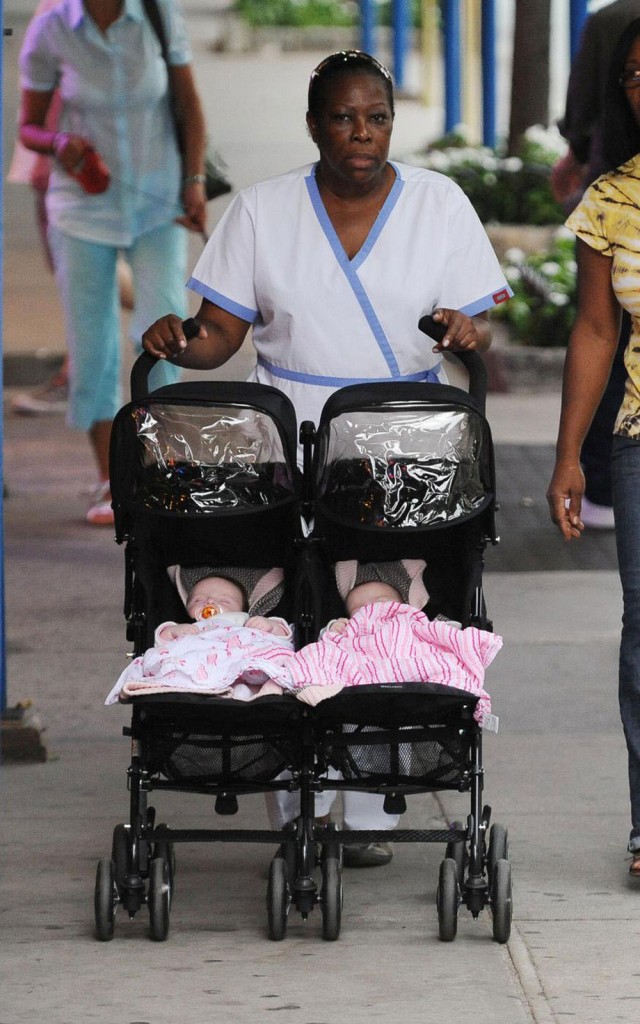 As many predicted, it seems like Sarah Jessica Parker has left her 3-month-old twins in the care of Matthew Broderick and assorted nannies. Before Tabitha and Marion were even born, several sources had SJP and Broderick fighting over their schedules and how best to care for the babies. When the twins came home, Life & Style announced that Broderick would be taking time out of his schedule to look after the twins, while SJP would work on SATC 2. Now Star Magazine is reporting that SJP had to go to work on Sex and the City 2 so quickly after twins Marion and Tabitha that she hasn't had time to bond with her babies. SJP is working 12 to 14 hour days, and she barely has any time to spend with her family:
Sarah Jessica Parker is so wrapped up making Sex and the City 2 that she's having trouble bonding with her 3-month-old twin girls, Marion and Tabitha.

"It breaks her heart, but she just doesn't have a lot of time," an insider tells Star, adding that the actress often reports to the movie's NYC set as early as 7 a.m. and doesn't finish shooting until late.

When done, SJP immediately heads to the West Village home she shares with her husband, Matthew Broderick, and their 6-year-old son, James, and the twins.

"She checks in on everyone; then it's off to bed where she looks over her script before passing out," says the insider.

Even on her day off, SJP works. She had a morning meeting, a business lunch and another appointment on Sept. 6.

"She's beyond exhausted," says the insider. "It's not ideal timing for her to have two babies at home, but she's doing the best she can."
[From Star Magazine, print edition, September 28 2009]
I do feel for SJP, because it must be difficult to keep that kind of schedule. But I don't feel too badly, because it's not as if SJP is just some average working mom with no control over her schedule. The thing is that the twins were born via a surrogate, so a lot of time and forethought went into their family planning, and the timing of it. And SJP is an executive producer on SATC 2 – she could have easily changed the filming schedule, pushing it back so she could have more time at home. No one is forcing her to keep this schedule – she could have said no. It really would have been that simple. My conclusion is that her first priority was getting SATC 2 filmed and ready for a summer 2010 release, and not on bonding with her babies.
Sarah Jessica Parker is shown on the set of SATC 2 on 9/9/09 and 9/16/09. Credit: Fame Pictures. Her twins are shown with their nanny on 9/6/09. Credit: Hector Vallenilla/PacificCoastNews.com
Written by Kaiser

Posted in Babies, Matthew Broderick, Sarah Jessica Parker, Sex and the City

- Mariah Carey lip synced on American Idol [CDAN]
- Colin Firth is looking good [Lainey Gossip]
- Internet celebrity charged with murder! [D-Listed]
- What is Paz Vega wearing? [Go Fug Yourself]
- New bachelors on The Bachelorette [Reality Tea]
- Goodbye to The Office [Pajiba]
- Bachelor Sean's fiance cheats on him [Evil Beet]
- Britney Spears out with her man [Popsugar]
- Nina Dobrev works it [Popoholic]
- Cindy Crawford needs to lay off the 'tox [Celebslam]
- Who said it: Carrie Bradshaw or The Dalai Lama? [Buzzfeed]
78 Responses to "Sarah Jessica Parker hasn't had time to bond with her twins"