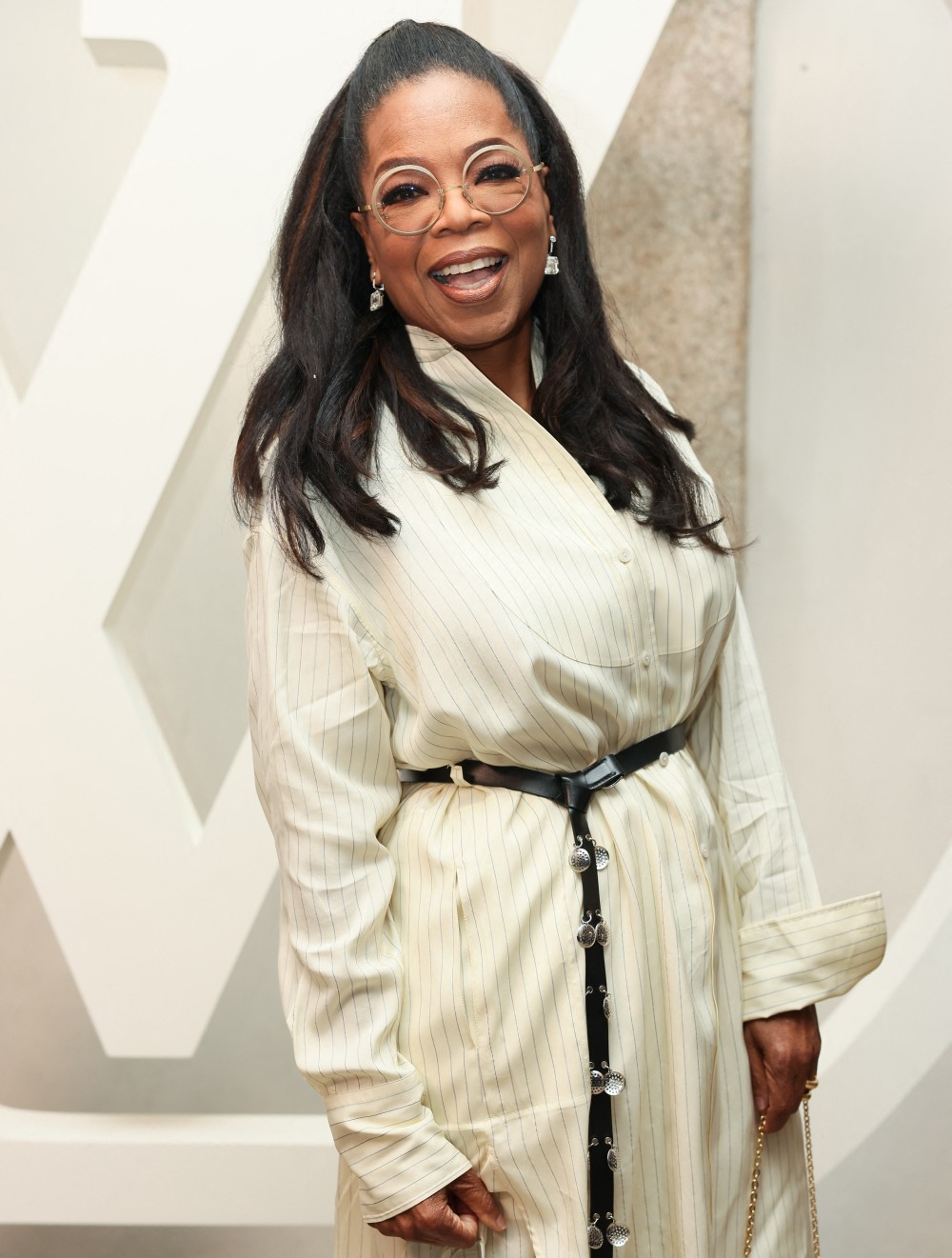 Oprah Winfrey seems to split her time between Santa Barbara and Maui, Hawaii. Oprah owns a huge estate in Maui, and she was there when wildfires ripped through a historic community last week. The death toll stands at 96 today, and the news out of Hawaii keeps getting more and more grim. Since Oprah was on site, she's been talking to reporters on the ground and calling Gayle King at CBS with updates. I guess people forget that Oprah was a journalist, back in the day, and her journalistic instincts kicked in. There were widespread reports that she tried to bring a camera crew with her while she was visiting one of the shelters but she was turned away. But Maui officials have actually stepped in and clarified what actually happened:
Oprah Winfrey had been reportedly turned away from visiting a shelter for survivors of the wildfires in Hawaii and Maui officials are clearing up the situation.

"To clarify, Oprah was able to visit our shelter and we thank her for instructing media journalists and camera crews to remain outside," reads a statement shared on Facebook from the County of Maui. "We welcome Oprah to continue to uplift our community's spirit and give her aloha to victims of the tragic disaster. Her visit inside of the shelter today was truly heartwarming and we appreciate her understanding of our policy of having no camera crews or reporters accompanying dignitaries and celebrities in our emergency shelters. Mahalo."

It was reported that the media mogul had arrived with a CBS News crew at the War Memorial Complex in Wailuku but was denied entry. However, after Winfrey instructed cameras to wait outside, she was able to spend time with survivors.

"Out of respect for those who have come to seek safety and shelter at emergency shelters, our policy remains that no media are given access," read the statement after Winfrey and the camera crew were not given access to go inside the facility. "We welcome Oprah to continue to uplift our community's spirit and give her aloha to victims of the tragic disaster and appreciate her understanding of our policy of no camera crews or reporters in our emergency shelters. Mahalo."
It sort of sounds like she brought a camera crew and asked if they could come inside, she was told no and then she said "okay" and told her crew to stay outside of the shelter. This wasn't her sole visit to one of the emergency shelters either – the BBC was on the ground last week, and their reporters spoke to her as she was handing out pillows and care packages to survivors. She also promised to make a "major donation."
Oprah Winfrey, a Maui homeowner herself, is meeting with wildfire evacuees and providing them with much-needed supplies amid the "overwhelming" devastation. https://t.co/V6q9xmz9Rh pic.twitter.com/ByulxOvYSJ

— CBS Mornings (@CBSMornings) August 11, 2023
Oprah, who owns a home on Maui, says: "At some point I will make a major donation after all the smoke and the ashes have settled here and we figure out what the rebuilding is going to look like."

The video comes after Oprah visited a shelter in Wailuku with a camera, but was… pic.twitter.com/T2tUtjdHTD

— philip lewis (@Phil_Lewis_) August 14, 2023
Photos courtesy of Cover Images, Avalon Red.

Oprah Winfrey attends the premiere of Apple TV +'s "Sidney" at the Academy Museum of Motion Pictures on September 21, 2022 in Los Angeles, California,Image: 725112936, License: Rights-managed, Restrictions: , Model Release: no, Pictured: Oprah Winfrey, Credit line: – / JPI Studios / Avalon
LOS ANGELES, CA – SEPTEMBER 21: Oprah Winfrey attends the premiere of Apple TV +'s "Sidney" at the Academy Museum of Motion Pictures on September 21, 2022 in Los Angeles, California.,Image: 725236151, License: Rights-managed, Restrictions: , Model Release: no, Pictured: Oprah Winfrey, Credit line: Jeffrey Mayer / Avalon
Louis Vuitton Cruise Collection 2024 presentation held at Palazzo Borromeo in Isola Bella, Italy. Featuring: Oprah Winfrey Where: Isola Bella, Italy When: 24 May 2023 Credit: Abaca Press/INSTARimages **NORTH AMERICA RIGHTS ONLY**