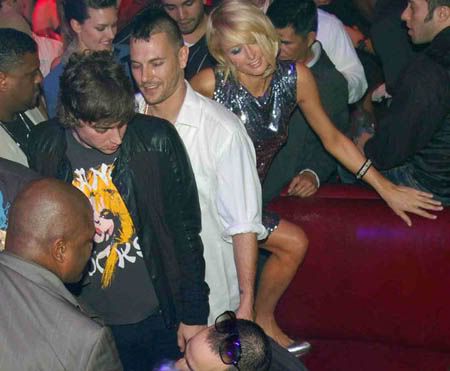 Paris Hilton and Kevin Federline were at the same parties two nights in a row this weekend in Las Vegas, and different reports have them together one night, and Paris striking out with K-Fed the next.
The divorced dad-of-four dissed Paris Hilton during a December 30 party at Pure nightclub in Las Vegas. The celebutante, who was hosting the pre-New Year's Eve celebration, shimmied up to Kevin in a sequined dress and made her move — only to be rejected by the newly single stay-at-home playboy.

"Paris whispered some pretty sweet and enticing words in Kevin's ear," a Federline family insider told PageSix.com. "She basically asked him where he was staying and if he wanted to visit her in her own suite." According to the source, Kevin passed, but he said, "It will not be so easy to deny her next time."
[From PageSix]
People reports that Paris and K-Fed were at parties together both Saturday and Sunday night and say that they "hung out in Hilton's room Saturday after leaving the club." That's People Magazine's code for drunken sex.
So Page Six says that Paris tried to get K-Fed to go back to her room on Sunday, but was denied. Maybe you can assume that K-Fed got some of that Saturday night but decided to pass on seconds.
There are photos of Paris all over a "mystery guy" on Sunday as well as looking friendly with Brody Jenner Saturday night, so who knows what was really going on between her and K-Fed. The mystery guy thing wasn't much, though, as a video of Paris singing while she hangs over him shows.
If K-Fed denied Paris' second attempt, it's probably because he doesn't want the publicity. He was married to Britney and his most recent girlfriend starred in a sex tape with Colin Farrel so if Paris isn't good enough for him that's really saying something.
Meanwhile TMZ reports that K-Fed cleared out the club when he started rapping, and if you watch the video it does appear to be true. People start leaving in droves once Federline picks up the mic.
Thanks to Splash News and WENN for these photos.