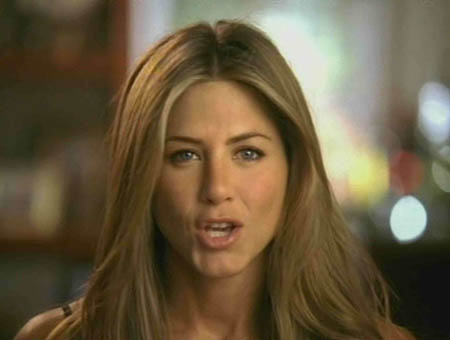 Jennifer Aniston is in Los Cabos, Mexico with Courteney Cox, Courteney's husband David Arquette and their daughter, Coco. Last year Aniston enjoyed the post-holiday season in Los Cabos along with the Cox-Arquettes and their mutual friend, Sheryl Crow. This year Crow stayed home and it looks like Aniston brought a date. OK! Magazine reports that she boarded a private jet from Burbank with a goateed fedora-wearing "mystery man," who joined her on the balcony of her hotel in Mexico for drinks along with Courteney and David:
Outside the terminal, the party was picked up by a chauffer-driven white Cadillac Escalade, sent to greet them by their resort. After a 30-minute drive through the Mexican desert into Los Cabos, Jen, Courteney, David and the mystery man were spotted on the balcony of their rented beach home, chatting, drinking and dining at a table overlooking the gorgeous, windswept Sea of Cortez.

"Early that evening, Courteney, dressed in a cute jogging outfit, ran wind-sprints along the sand, as David and Coco accompanied her," the eyewitness says. The trio "looked very happy and relaxed to be there. Coco was having a blast out on the beach. David looked pretty happy to be away from the hustle and bustle of L.A. He and Courteney were holding hands as they all walked together. And it seemed like the Arquettes may have been giving Jen and her friend some alone time. They weren't seen leaving the house that night."
[From OK! Magazine]
Maybe the unknown single guy is just a friend of the Cox-Arquettes, or maybe he was Aniston's date. She is rumored to be in a so far short-term but serious relationship with actor Jason Lewis, and since he's so handsome and recognizable we can probably assume that it wasn't him.
OK! reports that Courteney, David and Jennifer have all enjoyed a joint vacation in Los Cabos for the past four years.
There's a rumor that I'm inclined to believe that Jennifer Aniston is pregnant. There's a story in The National Enquirer that she told friends and family that she's expecting. It's based on little more than "insider reports," though, and there are no supporting details other than hearsay. I was hoping for some more evidence from the Enquirer, but now that I've read the article I think they might be bluffing based on photos of her. She does look pregnant to me, though.
Aniston's rep has simply said "she's not pregnant," but time and more photographs will tell. Will she raise her baby with a different man like Heidi Klum did with Seal? Was she just wearing a deceptively baggy shirt and was her face looking a little puffy from recent surgical procedures? I'm thinking she's pregnant, and that it's going to be a big deal.
Aniston is shown in an ad for St. Jude's Children's Research hospital from November, thanks to Splash News.