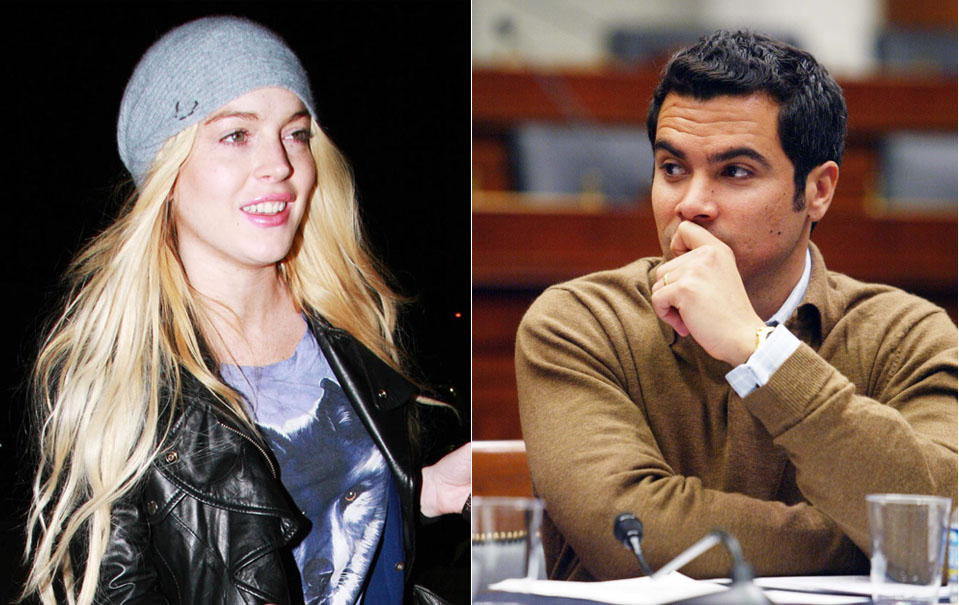 Yesterday, CB talked about the rumors (originating from an Us Weekly report, via Jezebel) that Lindsay Lohan and Cash Warren (Jessica Alba's husband) were full-on making out at a party. Us Weekly finally released their report online, and there are a few more interesting details in there, like some stuff about Cash and Jessica's marriage being "shaky" (I'd say so… he's making out with a Lohan) and how Lindsay might be "falling" for Cash:
There were barely any celebrities at West Hollywood hotspot Villa the night of November 19 — which might be why Lindsay Lohan and Cash Warren immediately gravitated towards one another.

Film producer Warren, 30, was partying without Jessica Alba, his wife of one and half years and mom to his daughter Honor, 18 months. "When he goes out with friends, he gets into trouble," a pal says of Alba's husband in the new issue of Us Weekly.

Indeed. Soon after discovering one another at Villa, Warren and Lohan "ignored friends and just chatted." The real trouble began half an hour in. "Lindsay and Cash started making out," an onlooker tells Us.

"Lip on tongue," the eyewitness continues, "It was raw. They were not shy!"

Another Villa patron that night gasped, "It was a shock to see the two of them kiss, but it was real."

For her part, Lohan tells Us that the account is "absurd. He is married. I wouldn't dare kiss him."

But pals of both Lohan and Warren — who share a love of nightlife — insist otherwise. Those close to Warren and Alba worry that their marriage is already on shaky footing.

"Jessica is not as into Cash as she used to be," one source says.

And the ever-fragile Lohan "becomes easily attached to everyone she meets and gets close to," one friend says. Adds another: "she's falling for [Cash]."
[From Us Weekly]
There are two interesting addendums to this story. First of all, Lindsay denied it in her typical cracked out fashion, writing: "Cash Warren is a BUSINESS partner, nothing more, nothing less. And I have NO interest in anything but focusing on my career/work, as well as my family, and getting everyone holiday gifts! Eeeks-stressful!" Yes, Lindsay's defense is that she and Cash are "working" together. Which is more likely, in all honesty – that Lindsay Lohan has a job, or that she made out with a married man in front of a full bar? Yeah.
Next up, People Magazine just released their publicist-written version of events, straight from the denials of a "source close to Alba and Warren". Meaning "Jessica Alba". Meaning "Jessica Alba is going to shank a Lohan."
Did Lindsay Lohan make out with Jessica Alba's husband Cash Warren at an L.A. lounge recently? Not a chance, a source close to Alba and Warren tells PEOPLE.

"The reports are totally untrue," the source says, denying that Lohan and Warren got amorous at Villa on Nov. 19 as some online sites have reported. "They never hooked up."

True, the two know each other "professionally," the source says, "[but] they are friendly – that's it."

As for Alba and Warren, "the rumors are hurtful but they're just so ridiculous," the source says. "They are very happy together and busy being parents. They're looking forward to spending the holidays together with family."

Reps for Lohan and Warren could not be reached for comment.
[From People]
Personally, I could never really stand anyone in this uncool Bermuda Triangle. Jessica Alba has permanent bitchface, she can't act for sh-t, and she always just strikes me as an unpleasant person. Part of the reason for that is she reminds me so much of a girl I knew in college who looked just like her, and was one of the biggest snots I'd ever met. As for Cash, well… he just seems like a typical Hollywood loser. He doesn't really do anything other than spend his wife's money and screw around on her. Allegedly. And Lindsay? Well, I will say that I don't think Lindsay has "fallen for" Cash. I think she loves Sam Ronson, and Lindsay's just hooking up with men to get Sam to pay attention.
Here are some pictures of Jessica, looking snotty and miserable, with Honor and Cash on December 1 and November 27. Credit: Fame.