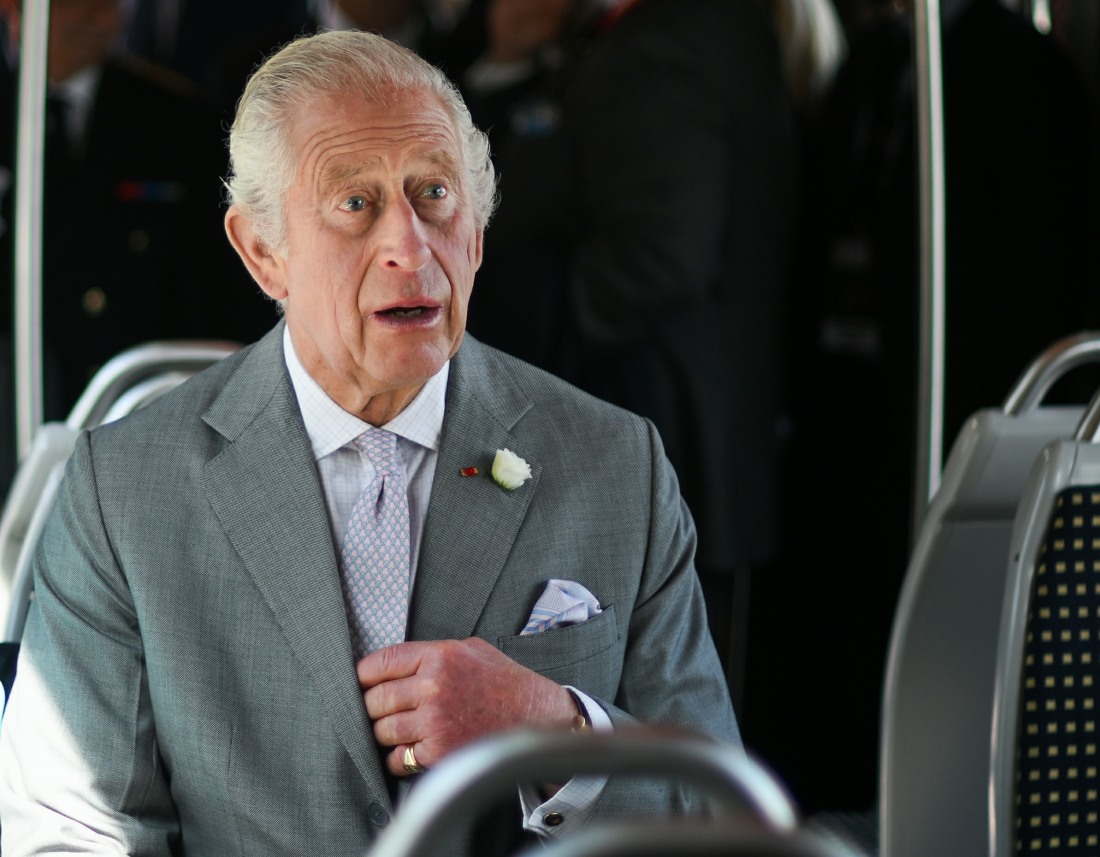 (This is Part 3, chronologically, in a three-part series of palace briefings which happened this weekend.)
On the back of a "successful" tour of France – only his second foreign tour as monarch – King Charles faced a weekend full of headlines about Prince Harry. You see, Charles's courtiers went on a lil' briefing spree to the Telegraph and the Sun about Harry's request, weeks ago, for a room in Windsor Castle for one night as he traveled through England to attend the WellChild Awards. Harry's father turned down his request, claiming that no rooms were available in the 1,000-room medieval castle. Charles also suggested that Harry hop on a plane to Balmoral and spend one night in Scotland. Harry turned him down. All of this – ALL OF THIS – was leaked by Buckingham Palace, not Harry. Now Buckingham Palace's courtiers have run to Roya Nikkhah at the Sunday Times to cry about how Charles can't stand that there's so much focus on the family soap opera. But really, this piece is about something else – Charles is dithering about whether he should remove Harry as Counsellor of State. Some highlights:
Family problems persist: The Duke of Sussex was refused accommodation on the royal estate when he returned to the UK over the anniversary of Queen Elizabeth's death and then rejected an invitation to stay with his father at Balmoral. The news, reported by The Sun, once again shows a King whose public work is widely admired but whose private problems continue to make headlines. A source close to Charles said: "It frustrates him that personal issues intrude on the public duty. He'd much rather the focus was on his work, not the soap opera of the private life."

The counsellor of state issue: His decision to keep Harry as a counsellor of state — one of seven members of the royal family who can deputise for the monarch if he is abroad or unwell — has created a dilemma. By law, counsellors of state are required to have a UK domicile but Harry has no home here after stepping back from official duties. In June Charles asked the Sussexes to vacate Frogmore Cottage, a gift from the late Queen. Dr Craig Prescott, an expert in constitutional law, said: "We are really in uncharted waters here, the Prince Harry situation is not something the law easily allows for. The idea of the second son of the King choosing a life away from royal duties is not something the law has thought about and I can imagine that Buckingham Palace would be concerned by that. The King had the chance to remove him with the counsellor of state legislation last year, but chose not to."

Why William had to rush home from New York: In November Charles asked parliament to add Princess Anne and Prince Edward to the list. It is understood the King's decision not to rip off the band-aid and remove Harry and Andrew is because he does not want to escalate family tensions, and believes it is unlikely that either would ever be required to deputise for him. However, last week courtiers were keen to ensure that William returned to the UK from his solo trip to New York on Wednesday morning, before Charles and Camilla departed for their state visit to France on the same day.

One plan involves leasing a royal property to Harry: According to well-placed royal sources, courtiers have discussed leasing a property on the royal estate to Harry and Meghan to try to resolve the counsellor-of-state conundrum. One option understood to have been considered is accommodation at Kensington Palace, where the Prince and Princess of Wales have a home and their private office. They spend few nights there, having moved their family to Windsor. A friend of Charles's said: "The King can see that to remove Harry as a counsellor of state would be seen as an act of antagonism and he does not want to do that. If, as a consequence of that, somewhere on the royal estate needs to be earmarked as a pied-à-terre for his son, that seems a reasonable thing to do." The suggestion is hotly disputed by Buckingham Palace. A spokesman said: "These claims are not true."

Whether Harry would even want a home in Britain: A friend of Harry's said the Sussexes would like another home here: "Not having anywhere isn't overly helpful, there are friends and hotels but I know they would like to have somewhere. Meghan has decided that coming back more is not what she wants to do, but Harry would like to. Having a base in his home country, despite everything that has happened, is appealing. There is work to be done here in terms of the charities and there would be opportunities in the future where he'll want to be here a bit more. If they could have kept Frogmore, they would have done, it was the perfect set-up for them. When he last stayed there, he did a whole load of clearing out and he was sanguine about it but pretty sad." The friend said if Charles offered the Sussexes a home on the royal estate, "it would be an ever-so-slightly softening of relations".
Nikkhah also reports that Nottingham Cottage, once the Sussexes' London base, is now the residence of a member of "the Royal household." Meaning… some courtier or flunky lives there now. Curious. Anyway, it's breathtaking to watch Charles shoot himself in the d–k, leak the shooting to everyone and blame it on Harry, slowly come to realize that he shot himself in the d–k, and now try to unshoot his d–k. "Oh you mean it actually made sense for Harry to maintain a home in the UK? Why didn't anyone tell me before I evicted my son because I was mad about his memoir?!?" Again, why was Charles so insistent on the Frogmore eviction? Just pettiness, nastiness, vindictiveness? Or was it something else? I know some of you theorized that William is living in Frogmore now. I doubt he is, but if he is… well, that's genuinely insane. It would also explain why the eviction happened in the first place, and why the Sussexes can't have Frogmore back. As for the idea of a Kensington Palace "pied-à-terre," well, that's one way to get Buttons and Peg back to London – they'll book it back to KP if there's a chance that Harry has a little one-bedroom apartment there.
Also: notice that this is all about the Counselor of State issue and NOT about a grandfather wanting to ensure that his grandchildren have a safe place to stay in the UK. Like… Charles really, really couldn't care less about Lili and Archie. He doesn't care about them, he doesn't care about seeing them, he doesn't care if they're safe.
Photos courtesy of Avalon Red, Cover Images, Backgrid, Netflix and Misan Harriman for the Sussexes.