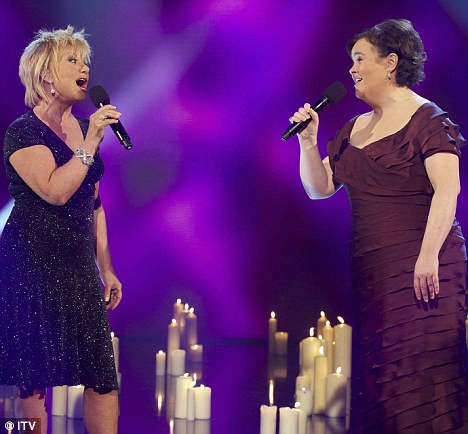 Remember how Susan Boyle was asked by Simon Cowell during her "Britain's Got Talent" audition who she aspired to be as successful as and she said Elaine Paige? The crowd kind of moaned and the video cut to a lady mouthing "Elaine Page" and shaking her head incredulously. Then Susan started to sing and the crowd – and world – was captivated. Page is known as the queen of musical theater in the UK and has a career that spans over 40 years.
Now Susan has the number one album and chart-topping success to rival her idol. She also had the chance to meet Elaine Page during a visit to The Today Show in July. Boyle was recently surprised by a visit from Paige again, during a taping of British TV special "I Dreamed a Dream: The Susan Boyle Story." The two performed an impromptu duet to Paige's "I Know Him So Well."
As if a hit album and worldwide adoration weren't enough – Susan Boyle has achieved her dream of singing with her musical idol.

The Scottish singer, 48, looked overcome with joy as she teamed up with Elaine Paige to sing the latter's hit duet I Know Him So Well.

The pairing was kept secret from Miss Boyle until shortly before the performance, which was for a TV special that charts her rise to fame this year.

Afterwards, the Britain's Got Talent runner-up said: 'I never thought I would see myself standing on the same stage with such an icon from West End theatre, let alone singing with her as an equal.'

Miss Paige added: 'It was a pleasure to finally sing with Susan, she was a delight to work with and I think we more than did justice to one of my favourite songs.'

The Scottish singer has previously admitted singing along to Paige's music, alone, in front of her bedroom mirror, equipped with a hairbrush for a microphone.
[From The Daily Mail]
I looked for the video of this and found out that the special doesn't air on British TV until this Sunday, December 13. There's something so disarming about Boyle and you can understand why her album is such a best seller. She's the ultimate underdog with the silver voice, discovered late in life and given a chance to shine. We're still listening to you Susan, and seeing your success helps us dream our our own dreams. (Yes that was cheesy as hell, but I watched her damn audition video for the twentieth time and got all teary-eyed again.)
There are also cute videos on YouTube of Susan answering fan-submitted questions. In some videos she gets kind of flustered and her accent is so heavy at times I had trouble understanding her. Here's a link to a video of Susan briefly talking about the Britain's Got Talent tour. (There are more videos of Susan answering fan questions to the right under the "related videos" column.)