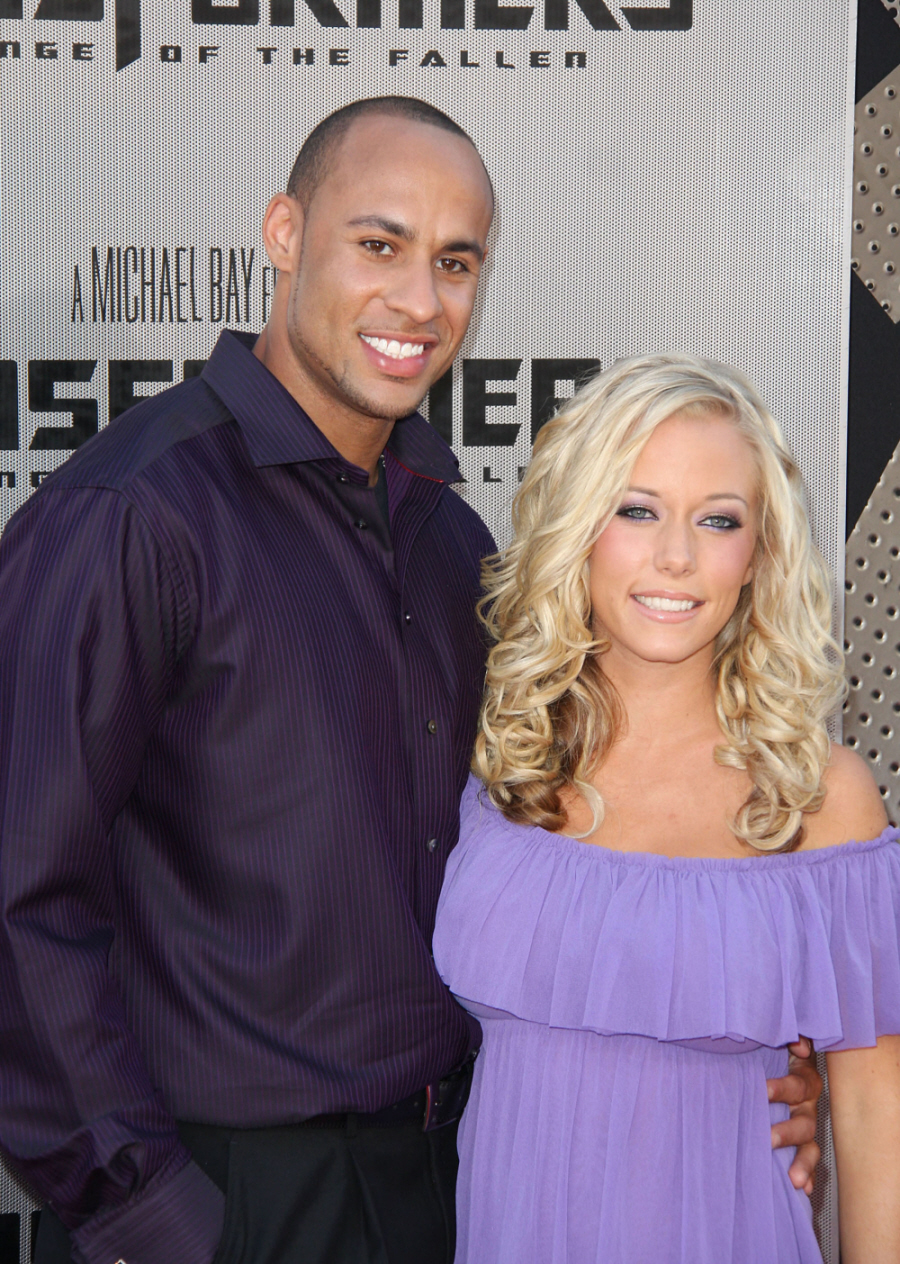 Kendra Wilkinson went into labor yesterday, and she gave birth to a son early this morning via C-section. Kendra and husband Hank Baskett have confirmed that they are naming their son Hank Baskett IV, and the baby weighs 9 pounds, 5 ounces. Kendra gave birth in Indianapolis. Kendra had previously told US Weekly that the baby was unplanned: "We always hinted to each other that we wouldn't mind having kids soon. We weren't trying, but we didn't use a condom that night." Kendra also admitted that her first pregnancy was very emotional, and that she was amazed by how much her boobs grew. The couple tells E! News that everyone is happy and healthy, and it sounds like everything went well:
Look what Kendra Wilkinson found under the tree this year!

The E! star and her NFL-player hubby Hank Baskett welcomed their first child together, son Hank Baskett IV, at 12:37 a.m. Friday in Indianapolis.

The wee one was delivered via C-section, weighing a robust 9 pounds, 5 ounces. (He is a football player's son, after all.)

"We're happy and healthy and enjoying every second with little Hank," the proud parents exclusively tell E! News.

Hank, 27, and Kendra, 24, swapped vows in June in a glamorous ceremony at the Playboy Mansion, where the bride called home for four years—and where she met Hank (at the Playboy Scramble) in 2008.

Two of Kendra's bridesmaids and former Girls Next Door costars, big spender Bridget Marquardt and Peep Show star Holly Madison, have also been eagerly awaiting the arrival of their pal's little boy.

"I can't wait to meet little Hank!" Holly told E!. "I am so excited for Kendra and Hank. They are going to have the best holiday ever!"

"This is what I call a Christmas gift that will keep on giving (and taking…lol)!!!" Bridget said in an email to E! News. "I wish both of them and little Hank Jr. a lifetime of joy and happiness! The only things I wonder…Can I help plan the birthday parties and how will they top this gift next Christmas???"

Added Kendra's other onetime roommate, Hugh Hefner: "I send my love to Kendra, Hank and the baby on this memorable day."

And they'll take it.

After Hank was picked up by the Indianapolis Colts, the couple and their two dogs, Rascal and Martini, relocated from Philadelphia and are now living in the same gated community as Indiana Pacers star Jermaine O'Neal, though they plan on house-hunting in L.A. so that they can live there in the off-season.

"I never in my wildest dreams thought that little Hank would be born in Indianapolis," Kendra told the Indianapolis Star.

"People come up to me, but it's very different," she said of living in the decidedly low-key (lower than L.A., at least) capital city. "They're not all up in my grill. They're very caring. Everybody's been so helpful."

Not that living in a town full of kind strangers has changed the former Playmate's ribald sense of humor.

"I told Hank, 'Do you know what you're getting in your stocking this Christmas?'" she joked. "Not coal—well a little bit of that—but condoms. A whole lot of condoms. I want a little girl. In a couple of years."
[From E! News]
Congratulations to Kendra and Hank and little Hank! Though I make fun of the old "Girls Next Door" I don't wish them ill, and I like how Kendra seemed to really calm down and take a step back once she got together with Hank. Granted, I may feel that way because I stopped paying attention to her, but she wasn't as in-your-face about everything. I hope she's happy in Indiana, and I am genuinely happy for her!
Kendra and Hank at the 'Transformers 2' premiere in Los Angeles on June 22, 2009. Credit: WENN.