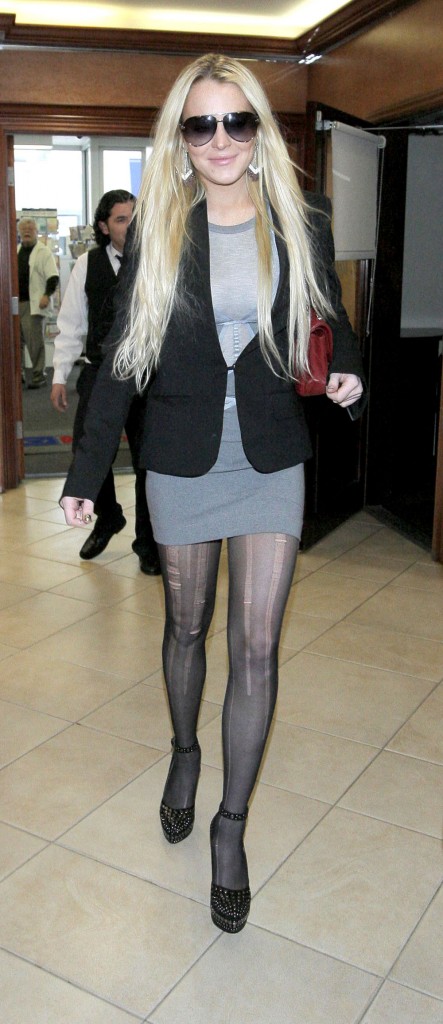 A judge overseeing Lindsay Lohan's 2007 DUI conviction has ordered that she attend six months of weekly alcohol education classes starting in the new year. Back in October, Lohan appeared in court to explain why she hadn't yet completed her probation requirements. Instead of throwing a thick, hard legal book at Lohan (I'm sorry if that sounded dirty, I was going for strict), the judge ruled that Lindsay could have an extra year to complete her probation. Why didn't Lindsay get the same judge that sent Paris Hilton to jail for over a month for driving on a suspended license? That would have only been fair.
Anyway, Lindsay has now been ordered to start alcohol education as soon as possible and have it completed by July. It sounds like a small price to pay for two DUI incidents in one year, including a high speed chase in a stolen car with unwilling passengers pleading for their lives.
Lindsay Lohan may have been "in compliance" with the terms of her DUI probation, but a judge ordered the star to step up her alcohol education program classes, Usmagazine.com confirms.

I am going to order [that] this has to be done. It's been long enough," Judge Marsha Revel said at L.A. Superior Court in Beverly Hills on Tuesday.

Lohan, 23, who did not appear in court, must now start "attending every single week" in order to fulfill the more than six months of program time necessary by Revel's deadline of July 15, 2010.

"This has to be a top priority whether she has a job somewhere else or doesn't or something else comes up," Revel said. "This has to be done once a week."

The judge reiterated that Lohan's other projects should not take precedence over her alcohol education program.

"Right now, the other things will take second place and this will take first place," Revel said. (The next hearing date to assess Lohan's progress has been scheduled for Feb. 18.)
[From US Weekly]
It's very hard to keep up with all of Lindsay's legal issues, but back in March there was a warrant out for her arrest because she violated probation by ditching alcohol education classes. The warrant was eventually dropped once her lawyer showed that she was attending once in a while. Lindsay was unable to successfully complete the terms of her alcohol classes due to "personality conflicts" with the teacher, who reported her for missing three out of 21 classes.
That was in March, and Lindsay was ordered back then to enroll in a new class. Then she was told again in October in court that she would have to take classes and here we are in December yet she still hasn't done it. Tell me again how it is that Paris Hilton got 45 days in jail for one barely over the limit DUI and two counts of driving on a suspended license while Lohan hasn't seen the inside of a cell yet. Someone really needs to throw Lohan in jail if she doesn't complete her probation requirements. It's been over two years.
Here's Lohan outside Baldi restaurant after the launch of her new leggings collection for 6126. Lohan's leggings retail for $60 and up and she's wearing tights that are ripped to hell. What kind of promotion is that? Credit: WENN.com and one headshot from Fame Pictures