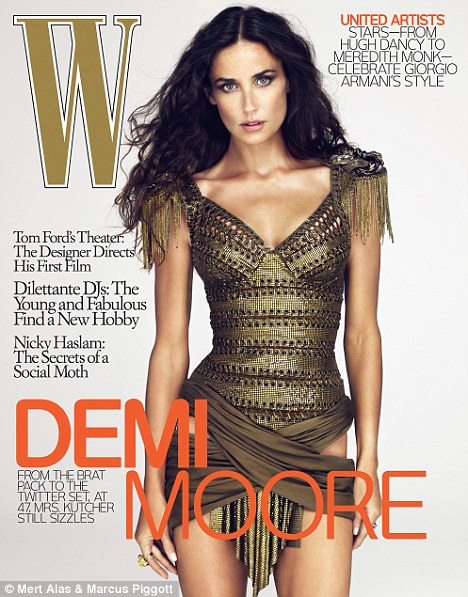 Last month, photographer Anthony Citrano pointed out that Demi Moore's December W cover was Photoshopped clumsily and that she looked like she was missing a chunk of her left hip. In response, Moore called the allegation "bullsh*t" on Twitter and posted what she claimed was the original, unretouched photo. W Magazine admitted that the photo had been altered but that it was "nothing out of the ordinary." They later confirmed that "no one at the magazine did any retouching of the image of Demi Moore that was sent to us [by the photographers]." The photographers, Mert Alas and Marcus Piggott said there was "absolutely no retouching on her hips, waist or legs." That might be partially honest – it looks like Demi's head was just pasted on to a 26 year-old model's body. In that case, they didn't retouch Demi's body, they retouched model Anja Rubik's body with Demi's head pasted on it. (See image below.)
Fast forward to a month later, and Demi's lawyer has sent a threatening letter to Citrano (link leads to PDF file) telling him that he must remove "all the false and defamatory statements about my client and the cover photo as well as any accompanying pictures of the W cover" and issue a "retraction and apology" or "be exposed to substantial liability." In response, Citrano points out that there are subtle differences between even the photo Moore claims is the original and the resulting W cover. He says he's not backing down and that it's ridiculous to go after him for stating the obvious. It's also pretty ripe that Demi Moore, who regularly Tweets about her personal life, including foreplay with her husband, would try to shut down one guy's opinion on the Internet. Is her lawyer going to go after all the commenters on her "original" Twitpic who say it's fake?
On Tuesday night, I received an aggressive and threatening letter from Martin Singer, Demi Moore's attorney. It is marked "Confidential Legal Notice – Publication or Dissemination is Prohibited". However, since Mr. Singer and I have no confidentiality agreement, and it provides essential context to the matter at hand, I have decided to publish it.

I'll start by expressing how bizarre it feels to be immersed in a controversy that should be no controversy at all. The question of whether a celebrity was over-retouched is not one I am particularly proud of spending my mental cycles on.

When I originally pointed out (in a friendly, lighthearted way) a simple retouching blooper, I had no inkling of the total shitstorm that would follow. It gained momentum quickly, and I commented to several media outlets on the matter, always sure to frame it fairly: I have no problem with digital retouching (do it all the time), no problem with Demi Moore (she's a beautiful woman), think the image is a great shot (kudos, Mert and Marcus) – I simply thought the missing hip-chunk was funny. I thought we could all laugh about it for the day (maybe tack it up on a retoucher's wall of shame) and move on to the far more important things. We are all human; we all make mistakes (me, more than my fair share.)…

So I knew sitting idly by while my veracity was attacked was not an option, especially in light of the huge reach of Ms. Moore's words and my sincere belief that I was right. So after sleeping on it, I put my money where my mouth was and offered $5,000 to a charity of her choosing if she proved it really was the original. Unsurprisingly, my offer fell on deaf ears. In the following weeks it quieted down, and I thought (and hoped) it was over – until I received Mr. Singer's letter.

I spent several days considering how to respond. On one hand, I do not want a fight over something so pointless; but on the other, my personal reputation is under attack.

Mr. Singer: I did not insinuate that your client was untruthful or hypocritical. I did not imply or infer that the photo was manipulated at her behest. I simply said that the photo had very obvious signs of clumsy retouching, most particularly what appeared to me (and thousands of others) to be a missing chunk of hip.

And I absolutely stand by my statements.

I also have a very hard time understanding what is "defamatory" about describing an image as retouched. Digital retouching is an important part of modern publishing and photography workflow. I doubt a single image has graced a major magazine cover in the past decade without being altered in some way. Ms. Moore's implication that her image went straight from camera to cover is incredible, whether she believes it or not. Simply put, this never happens.
[From ZigZagLens]
If you don't like getting called out on the Internet, don't go posting all your personal information online. This woman says she's never had any plastic surgery whatsoever. Maybe her assertion is like the photographers claiming they didn't retouch "her hips, waist or legs." It all depends on what your definition of plastic surgery/retouching is.
Photo below thanks to PopCultureMadness