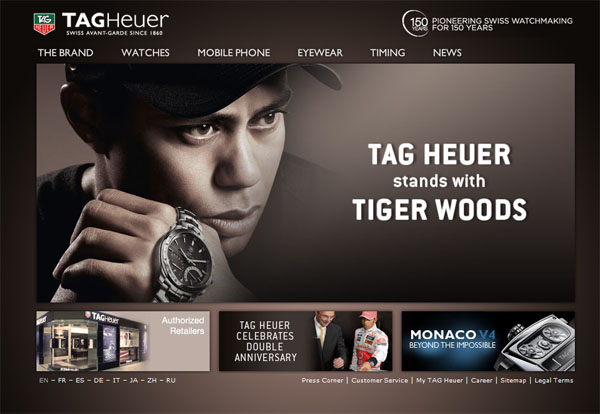 Luxury watchmaker Tag Heuer has confirmed that it will not drop scandalous golf star Tiger Woods from its ad campaigns entirely. The Swiss company put up an image on their website stating that they "stand with Tiger Woods." They mentioned in a brief press statement that they'll cut back Tiger's ads but won't dump him entirely.
TAG Heuer confirms today that it will continue its relationship with Golf n°1 Tiger Woods but will respect his desire of privacy by modifying his role in the coming months' marketing programs.

Tiger Woods became a TAG Heuer brand ambassador in 2002. The relationship between the leader in prestigious sports watches and chronographs since 1860 and Golf virtuoso Tiger Woods has always been extremely professional and productive.

"The partnership with Tiger Woods will continue," said Jean-Christophe Babin, President and CEO of TAG Heuer, "but we will downscale the use of his image in certain markets for a period of time, depending on his decision about returning to professional golf. We will continue to actively support the Tiger Woods Foundation."
[From TagHeuer.com via TMZ]
As TMZ points out, The CEO of Tag Heuer previously said that they probably wouldn't work with Tiger. "We recognize Tiger Woods as a great sportsman but we have to take account of the sensitivity of some consumers in relation to recent events." Compare this thoughtful statement to Nike's chairman, who called the scandal a "minor blip" that "the media is making a big deal out of."
I checked out prices for Tag Heuer watches, and the average price seems to be around $1,200, with prices as low as $600 and as high as $3,800. These are watches for people who can afford them, primarily rich older guys who won't be quick to condemn Tiger for getting some on the side. Maybe some lawyers got involved and reminded Tag Heuer that there's no morality clause in their contract.
Tiger Woods is really ubiquitous and I didn't notice how much stuff he endorses until after the scandal hit. I was buying my son a Wii game for Christmas when I saw the unintentionally hilarious cover for the Tiger Woods PGA tour featuring Tiger making an "O" face. That game will probably remain on the shelves for a while and maker Electronic Arts has said "its business strategy with the golfer remain[s] unchanged." Tiger has been dropped from campaigns with Gillette, and Accenture. Gatorade discontinued their Tiger Woods drink. AT&T is "evaluating its relationship" with him.
This huge scandal isn't just affecting the mega-rich guy who made more in endorsements than any other sportsman in history. It could also help sink public and corporate interest in the sport of golf. There's a great editorial in yesterday's LA Times in which writer Dan Niel concludes that "the branding opportunities of professional golf have been utterly vacated by Tiger Woods' philandering." Young, attractive "good guy" Tiger heralded a new popularity for the sport and his massive embarrassing affairs could help sink it. Who will be the face of golf now?