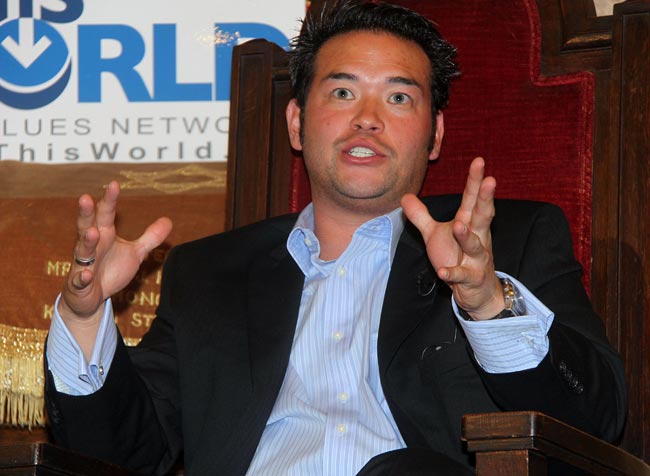 Jon Gosselin's apartment was trashed this holiday right around the time that his now ex girlfriend, Hailey Glassman, was moving out. Items like a television and Wii console were allegedly stolen and clothing and furniture were shredded. There was a note attached to one of the doors with a knife calling Jon a "cheater" and signed by Hailey. Jon of course immediately notified the press of the damage to his place, and the best part of this story is the over-the-top statement from his lawyer about how emotionally damaged and hurt poor "folk hero" Jon is:
"Jon Gosselin called me this afternoon on the occasion when he entered his apartment in Manhattan and was horrified, disheartened and saddened to observe the devastation of his furniture, clothing and personal belongings, which were apparently slashed with a butcher knife by a very troubled and sick perpetrator," his attorney, Mark Jay Heller, tells E! News…

Gosselin is not taking the break-in lightly. Heller tells us the New York City Police Department investigated the ransacking, collecting fingerprints and a handwritten note that had been "affixed to Jon's bedroom dresser by a butcher knife."

And Gosselin and his representation have big plans for the author of the nasty note.

"The note will be forensically analyzed by a handwriting expert," says Heller. "At this time, I will not release the contents of the note or the signatory; however, both Jon and I have determined that the perpetrator must be vigorously prosecuted on felony charges."

The NYPD confirms the claims, explaining that they have investigated a complaint of criminal mischief, which is defined as any kind of damage to property, but have no suspects at this time.
In addition to an irreplaceable 100-year-old Ming vase, Gosselin's clothing, sheets, luggage and furniture were found slashed throughout the apartment. However, Heller explains that it's the emotional aftermath impacting the former TLC star the most.

"The greatest damage from this vicious, mean-spirited and heartless crime was perpetrated not on Jon's property and possessions, but on Jon Gosselin himself, who experienced a traumatic, emotional, roller coaster ride having just shared a joyful family gathering with his children." Continues Heller, Gosselin "was devastated by such a cruel and cold-blooded act that was apparently intended to cut to his heart."

Hurt feelings aside, Gosselin reported multiple objects missing from his dwelling as well, including a television, Nintendo Wii, CD player and several kitchen appliances.
[From E! Online]
See how they're focusing on the note as the key piece of evidence? Here's what I think happened. I think Hailey left Jon a note calling him a cheater and that she possibly attached it to a door with a knife. If she didn't use a knife as a thumb tack then Jon thoughtfully did it for her. Then Jon got the wise idea to wreck the place and claim Hailey did it, using the note as circumstantial evidence.
The police have already questioned Hailey and her parents. I'm sure investigating the theft and damage of Jon Gosselin's property is at the top of the NYPD's "to-do" list this holiday season.
This week's National Enquirer reports that Jon Gosselin is four months behind on his rent and that he has been secretly pocketing Hailey's share while failing to pay the landlord. This news that the apartment was ransacked seems to come at a convenient time for Jon, who owes Hailey $90,000 plus her half of the rent that he stole. He's also now responsible for $13,000 a month in child support which he can't afford.
The Enquirer says that Jon may be suicidal and that he says things like "I can't pay my rent. What have I got to live for?" This account is consistent with stories that Jon told nanny Stephanie Santoro that he had nothing to live for and was "going to end it all." Coupled with his probably willful destruction of his apartment with the intent to frame Hailey, it's all kind of pointing to desperation. I hope he gets some help if it's as serious as it sounds. Here are the relevant quotes from The Enquirer:
"He hasn't paid the rent on his NY City apartment for four months, and they're getting ready to toss him out," said the insider. "Hailey had been paying half the rent, but Jon was so desperate for cash that he pocketed the money. When Hailey found out, she hit the roof!…"

Pals fear the chilling incident [in which Jon was seen shooting a gun outside on his property] indicates Jon may be considering suicide as a way out. "After he fired that gun, Jon said he was so angry that he just had to shoot something," the source divulged.

"He said, 'I can't afford my apartment. I can't pay my rent. What have I got to live for? Nothing! I don't even want to go on anymore.'"
[From The National Enquirer, print edition, January 4, 2009]
Hailey Glassman has protected her tweets on Twitter, but some of her subscribers report that she's accusing Jon of stealing the rent money. It sounds like she talked to the Enquirer.
Glassman is now dating a boxing promoter, Damon Feldman, who she met while she was refereeing female boxing matches. (Here's a link to photos of the two of them together.) The guy is quoted in this week's Star Magazine as saying Hailey is "very classy" and that it "would be cool" if their relationship got more serious, adding "you never know." Hailey really knows how to pick 'em.
In response to the story that Hailey trashed Jon's apartment, her lawyer has issued a statement calling it a publicity stunt. "It appears to be a huge publicity stunt. The police investigation is still ongoing and we are sure the investigation will reveal that someone is trying to frame Hailey." Agreed.
Header photo from 11/1/09. Credit: Diane Cohen/Fame Pictures. Photo below via Citypaper