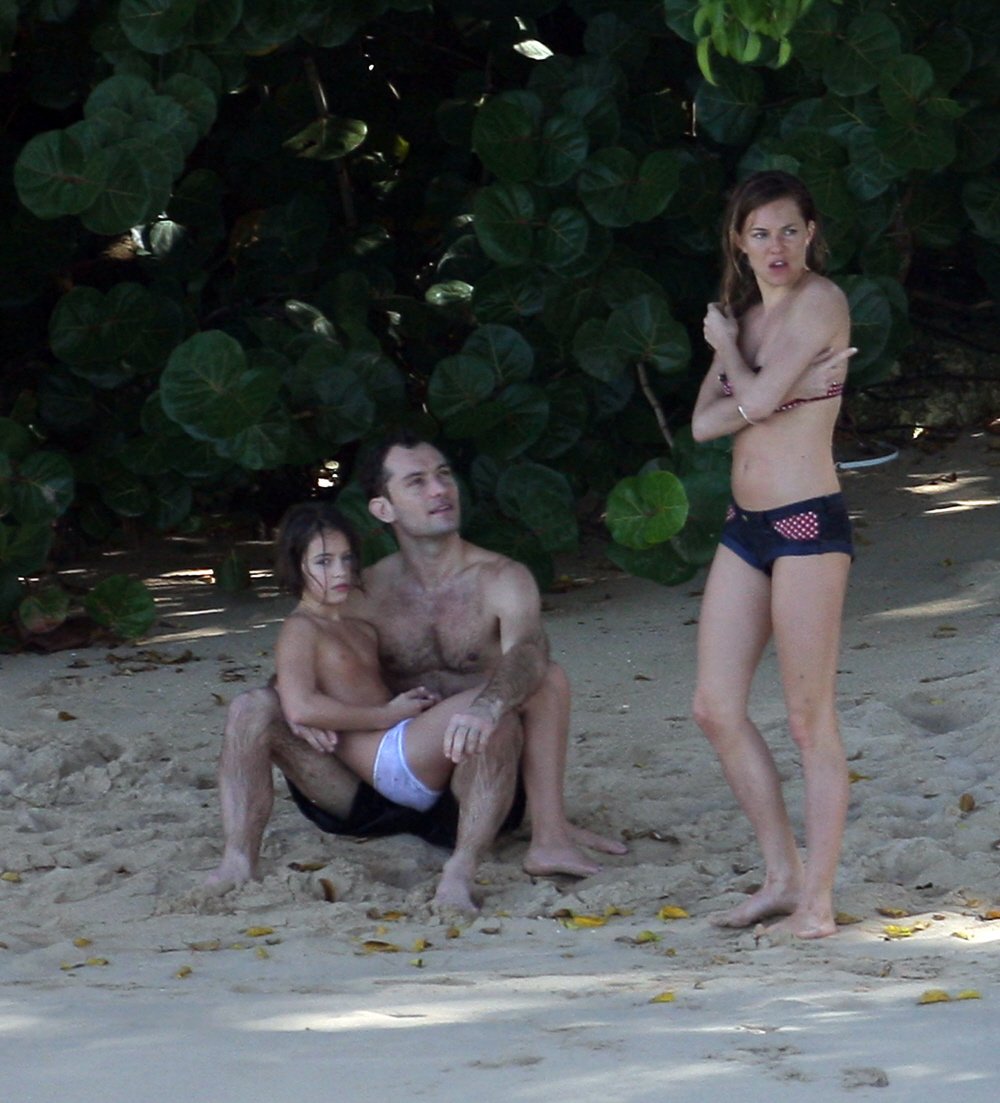 Here are some new photos of Sienna Miller, Jude Law and Jude's kids on holiday, sans Jude's ex and baby-mama Sadie Frost. God only knows where Sadie is. Probably sipping a mojito somewhere and preparing for a nap. I have to say, it is nice to see Jude and Sienna back together. They make sense together. It's like revisiting a simpler, prettier time.
Anyway, Jude and Sienna are back on, fueled by a steady stream of alcohol, food and… let's say blonde highlights. They've been dating again for something like two months. They haven't really been clever about it, if they were trying to avoid publicity, which I doubt. This whole "their privates are soul mates" is the jumping off point for this report from Star Magazine – apparently, their reunion might have involved quite a bit of unprotected sex, and Sienna had something of a pregnancy scare:
Jude Law and Sienna Miller's back-on romance was tested by a pregnancy scare, Star has learned! The couple have been moving full steam ahead since they reconciled in early fall after three years apart. They're planning to live together in Jude's new $6.9 million NYC apartment and have even discussed getting engaged again.

But in mid-November, "Sienna realized she was late, and she freaked!" an insider reveals. "They're still working things out, really, and she was afraid that getting pregnant would ruin everything."

"Jude was really supportive. Sienna even took the home test at his place," says the source. "It was a false alarm. She was likely just late from the stress of her Broadway show."

After weathering that together, Jude and Sienna are stronger than ever – and are now in serious nesting mode.

"Fixing up the new place is a total collaboration. Jude is making sure Sienna puts her touch on everything," says another source. "He's really big on having state-of-the-art electronics everywhere, but things like the sunken whirlpool tub and walk-in shower were her idea."

Best of all, with three cozy bedrooms, the apartment has plenty of space for when the pair do decide to start a family. Adds the insider: "The timing wouldn't have been great for Sienna to get pregnant just yet. But part of her hoped she was."
[From Star Magazine, print edition, January 4, 2010]
Do you like the part where Star says Jude "let" Sienna take the pregnancy test at his place? What a gentleman, right? I wonder what the plan B was for that one. And something tells me Jude was sweating bullets for that one. God knows he isn't ready for yet another child he can conveniently forget about. But this has gotten me thinking… what would Sienna and Jude really do if and when she gets knocked up? Would Jude stick around? Probably, for a little while at least. Even though I'm happy Jude and Sienna are back together now, though, I don't think it's going to last. They've got other loins to conquer.
Jude Law, Sienna Miller and Jude's kids on holiday in the Caribbean on December 27, 2009. Credit: INFphoto.com.