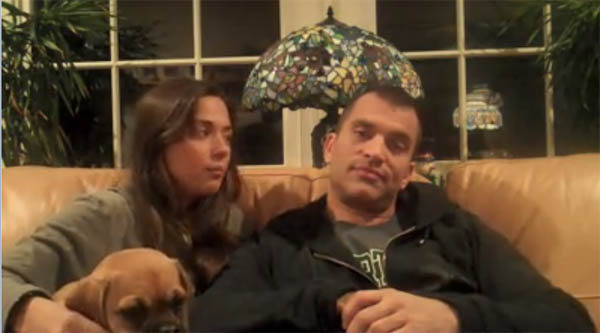 When I first saw this story, I was like "Johnathon Schaech who?" Schaech, 40, is an actor and director who used to be married to Christina Applegate, which is what I eventually dimly remembered him for. The guy is now making some minor headlines for proposing to his girlfriend, 26 year-old actress Jana Rae Kramer from One Tree Hill. He recorded a video of his proposal to Kramer, the lead-up to it and their thoughts on the matter and posted it on facebook so that it's publicly available and not just for friends.
My first impression from watching the video is that there's something creepy about Schaech. Maybe it's the dumb short mohawk he's sporting, which makes him look menacing like Puck from Glee. It's more his smug attitude and the way he looks at the camera and seems to gloat. He's arrogant, but I also get the impression that he really loves Kramer and wanted to make the proposal special for her.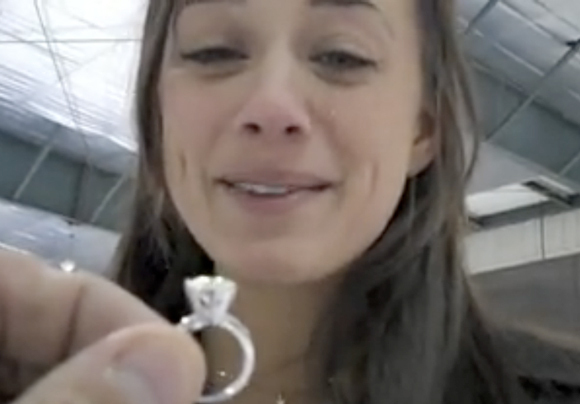 There's also the weird way that the proposal is edited and presented, with the two sitting on the couch and recounting the event like they're on a reality show. Puck, I mean Schaech, has his own film company so maybe he's trying to share his special moment in the way that he's comfortable with. It still comes across as a private moment that should have been saved for friends and family, but is being packaged for our consumption. Is that what he intended to do by posting the video to Facebook? Did he screw up by making the video public or is that what he meant to do?
Schaech proposed to Kramer by renting out an ice skating rink while they were in his hometown in Edgewood, Maryland. He was pretty awkward and couldn't skate, but still managed to get on one knee to present her with a ring. Kramer started crying and told him that the ring was gorgeous. The moments in the ice skating rink are touching, but it's the cheesy couch discussion that kind of ruins it for me.
Is this a douche move by someone looking for attention or a sweet moment that a guy in love wanted to share with the world? (Please watch some of the video first and you'll see why I'm asking.) While I find Schaech full of himself, that doesn't mean that he's not genuine. Again, he has his own film company with a friend and probably does a lot of his own editing and production. What seems over-the-top to us could just be something he takes for granted as part of his work.
Thanks to Huffington Post for the heads up!