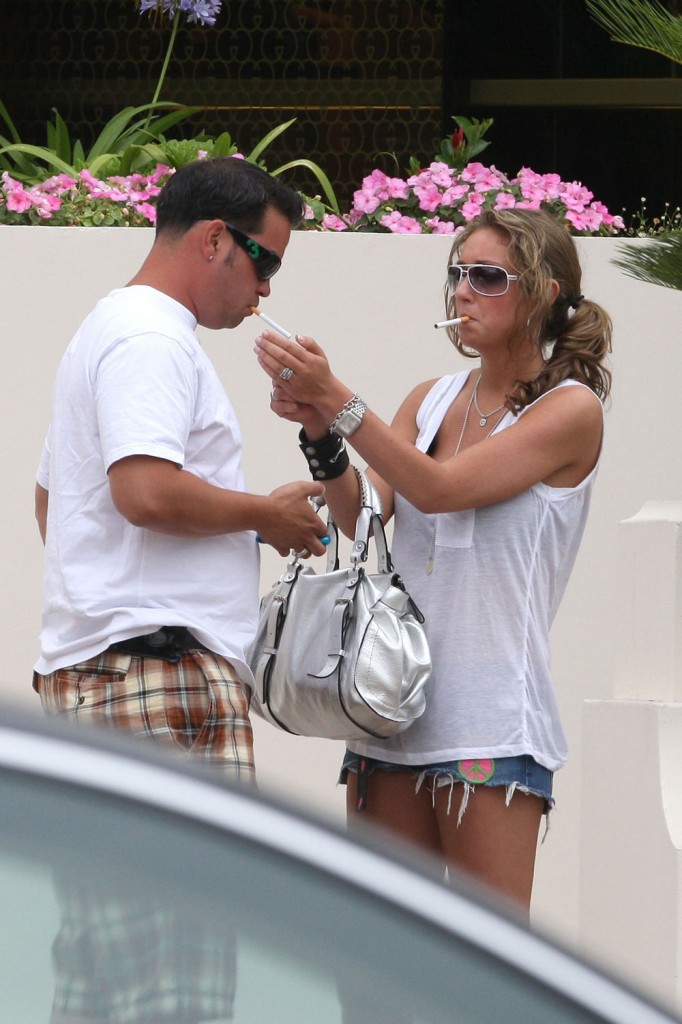 The he said/she said debate is still going on in the case of Jon Gosselin's stolen and damaged NYC apartment. Yesterday we learned that Jon's place was wrecked right around the time that his ex, Hailey Glassman, moved out. There was a note supposedly from Hailey affixed to one of the doors with a knife and calling Jon a "cheater." His clothing and furniture were shredded, stuff was broken and other things, like a TV and Wii console, were missing. Some of the missing items may have been legitimately removed by their owner. Hailey's lawyer admits that her client removed the TV, and says that it was hers in the first place. Unlike the ridiculous rhetoric spouted by Jon's lawyer, Hailey's lawyer is pretty matter-of-fact. While Jon's lawyer claims point blank "Hailey is going to jail" and that his client "feels like he was raped" Hailey's lawyer says there are no charges yet and that "It is irresponsible to put out there someone is going to jail when the person is not even a suspect":
Hailey Glassman's attorney admitted to RadarOnline.com that security footage will show Jon Gosselin's ex girlfriend removing a TV and other items from his apartment.

But Stephanie Ovadia said Glassman did nothing wrong and simply removed her belongings from the apartment she shared with the former Jon & Kate Plus 8 star.

"We're not denying Hailey took the TV," Ovadia told RadarOnline.com in an exclusive interiew. "We are not denying she took her belonging out of the apartment. She is moving on with her life and taking her belongings.

She moved all her belongings out so there will be security video showing her carrying items out of the apartment."

Glassman moved out last week. Jon called police Saturday and said he found his apartment ransacked with clothing and other items slashed, plus a note from Hailey speared to a wooden dresser with a knife.

His attorney Mark Heller told RadarOnline.com: "Hailey Glassman is going to jail. It's a simple as that."

But Ovadia said that comment was irresponsible and Hailey, "is not even a suspect."

She also said she has no information about a letter left in the apartment allegedly signed by Hailey. "I don't know anything about a letter. I don't have a copy of a letter," Ovadia told RadarOnline.com.

Amazingly, despite all the accusations, Ovadia says Hailey has no bad feelings toward Jon…

But Ovadia was insistent that Heller had gone too far stating Hailey will be arrested. "You can't, as a lawyer, become personal," she told RadarOnline.com. "Our service is to defend our client. It is irresponsible to put out there someone is going to jail when the person is not even a suspect, they have not been convicted and there isn't even a judge appointed in the case."
[From Radar Online]
My first impression of this case was that Jon had wrecked his own apartment for sympathy and publicity, as Hailey alleges. Most people agree with me, and in a poll on the Huffington Post nearly 51% believe Jon wrecked his own apartment, with the rest of the people divided between "Hailey" and "joint effort." ("Joint effort" makes sense as there were stories that Hailey and Jon conspired to get more attention with Hailey claiming "emotional abuse" in her appearance on The Insider.)
Now that I've read her lawyer's carefully-worded statement, along with the fact that Jon's LV shoes were ruined, I have to say that there is a creeping doubt that Hailey might have trashed the place in a fit of rage. Hailey is only 22 and she might have let thoughts of revenge get the best of her. (Remember, "revenge is a dish best served cold.")
Hailey's now ex-hookup, that skeezy-looking boxing promoter she was photographed kissing up on, has talked to Radar on her behalf. He said, in part, "In my opinion she has been set up because she was definitely over the guy… she comes from a really good family and I don't think she's the type of person to smash up a place." I'm not so sure either way. She was dumb enough to get involved with Jon Gosselin in the first place.
Photo credit: Bauergriffinonline