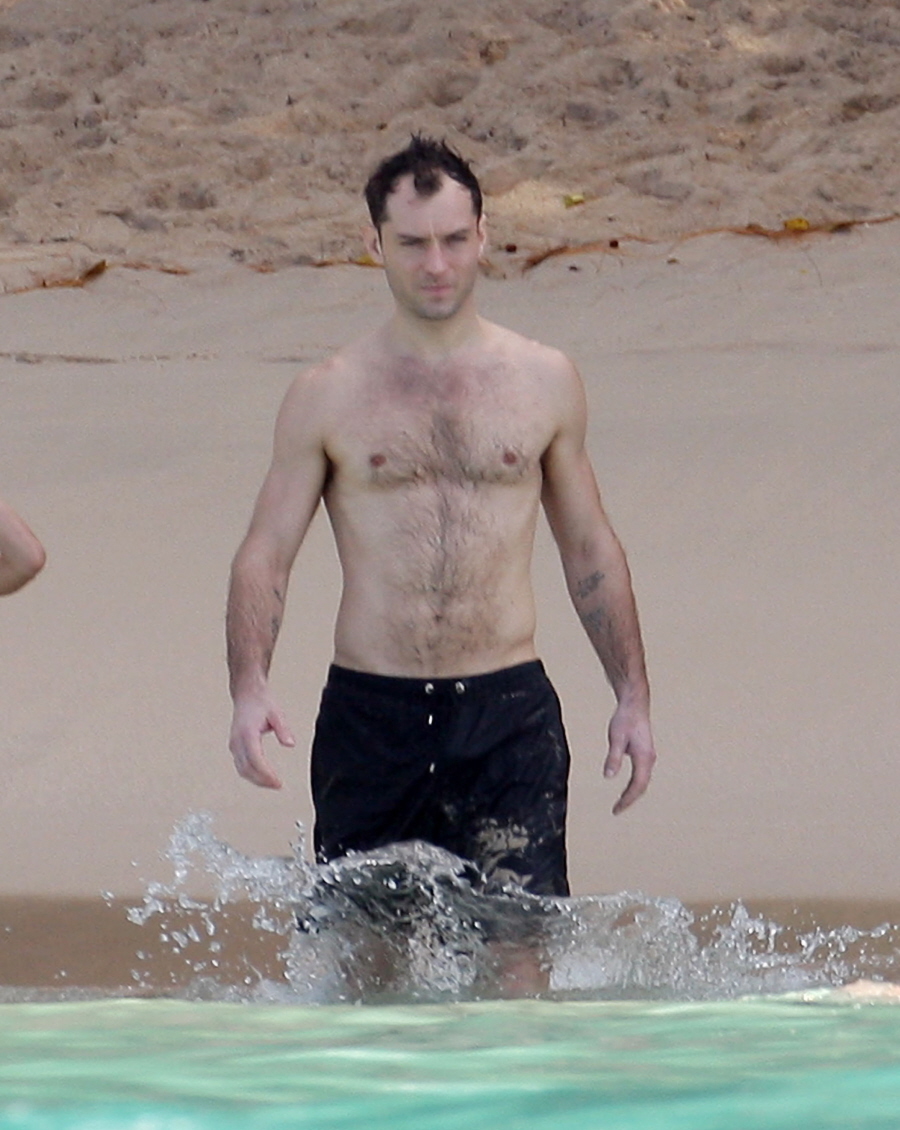 Jude Law has been having a surprisingly good few weeks. He's back with Sienna Miller, who is probably the closest thing Jude has to a soulmate. His supporting/lead turn as Dr. "Hotson" Watson was rewarded with a huge box office, and a Sherlock Holmes sequel is now pretty much definite. And he didn't take too much of a hit when he managed to forget his fourth child (with random baby-mama Samantha Burke) while on The Late Show. Oh, and he still hasn't met his fourth child. So does that make it a good month? I have no idea.
Anyway, as part of Sherlock's promotion, Jude sat down for an interesting interview with Parade Magazine. I've never really heard Jude talk this way – he discusses how he's never had any luck being a "good boy" and that "women like bad boys." Jude also acknowledges what I think of as his self-defeating nature – just when his career in back on track, he screws up in his personal life. Jude says: "People seem more interested in setting someone up as this bad person, and that disheartens me a little. We all mess up, but we're equally capable of making it better, of healing wounds." Aw. Now I feel for him a little.
Sherlock Holmes gave him his start.
"My first job or second job was on TV in the Sherlock Holmes TV series. I played a stable boy. It was much more staid and cerebral, nothing like what Robert and I do. We play Holmes and Watson getting their boots dirty and their knuckles sore and it was fun. I was very confident in Guy's vision of how he wanted to attack this beloved legacy with a contemporary twist. If we felt a little pressure that was good thing. It just amps you up a bit."

Bonding with Downey.
"Robert and I really did have a rapport. It was very much like Holmes and Watson, who were a team. We all have friends in our lives who dare us to do and go places that we wouldn't necessarily want to go in our lives. But when you do, after you experience it, sometimes you feel more fulfilled. And the two of them together are exactly that. That's what they did for each other. And there was some in that in my relationship with Robert."

As for relationships with the opposite sex…
"I think women like bad boys. That's been my experience. I just think it's kind of a given. You know, at a certain age you figure out what works for you and being a good boy never worked for me. And if you're a bad boy, they like it. But, eventually, you have to grow up and realize relationships are hard work. It's like cultivating anything. They need attention."

So cut him a little slack about his past.
"People seem more interested in setting someone up as this bad person, and that disheartens me a little. We all mess up, but we're equally capable of making it better, of healing wounds. It's just a matter of keeping your head on straight. There's a downside to every life. There's a downside to every career. And the downside to my career is the attention I get for what I do. But you learn to deal with it. It's like a fly buzzing around your head. You just have to learn to ignore the fly."

What's really important.
"Being a daddy is what counts. I've been busy rehearsing that in real life for more than 10 years. I used to sleep until noon, but it's not so bad to have to get up at 7 and give them breakfast. My daughter made me realize that if there's anything that's going to make a man of you, it's having your will broken by a little girl."

Recovering from Hamlet.
"There's nothing that prepares you for reading it for the first time, when you realize you're playing the part. But once you get on stage you feel better. Kenneth Branagh directed me and he's played Hamlet four times. He told me, 'The first thing you realize, when you take on the role of Hamlet, is that you are Hamlet. There is no character Hamlet. Every actor who plays Hamlet is themselves, so Hamlet becomes you.' That sounds kind of terribly romantic and exciting, but also bloody terrifying. But I have to say Kenneth was right. It was daunting, and I'm ready for a rest, but it was great to be back on stage, especially on Broadway."

Some advice he took to heart.
"My dad used to tell me that if I was going to be late for something, then I have to enjoy being late. I think it means if you're running late, don't get uptight and worry about it, sit back and enjoy the day until you get to the place you're going. So I always thought that was a great piece of advice."
[From Parade]
I want to like Jude, you know? When I'm watching him in films, sometimes I'm just blown away by him. He was/is a very talented actor, but I just wish he didn't come across so skeezy in interviews and in life. I mean, "bad boy"? Seriously? What are we, 13 years old? Grow up and man up. If he's going to stay with Sienna, that sounds like an okay plan. It might keep him from impregnating random women… except probably not. Sigh… oh, Jude. I will continue to have mixed feelings about you.
Jude Law and Sienna Miller on holiday in the Caribbean on December 27, 2009. Credit: INFphoto.com