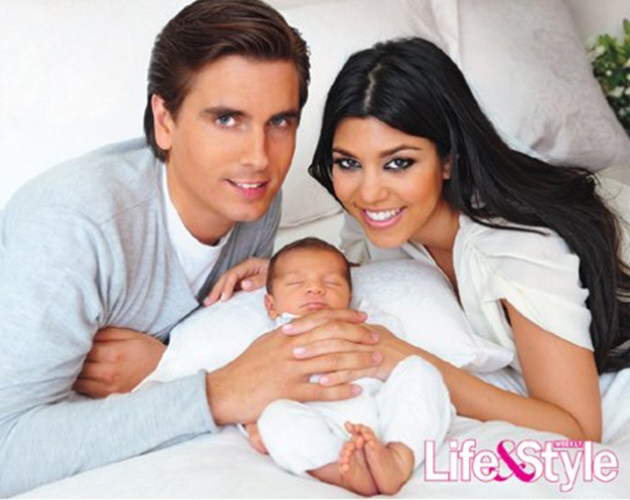 Kourtney Kardashian gave birth to baby Mason Dixon (real name: Mason Dash Disick) mid-December, and astonishingly enough, she didn't pose for a magazine cover two seconds after giving birth. She must have waited a full week, week and a half maybe. Which is progress, I suppose. Anyway, Kourtney and baby Mason made the cover of this week's Life & Style. Baby-daddy Scott "I could puke on myself and still be good looking" Disick didn't make the cover shot, but he poses with the baby inside. Kourtney and Scott are also interviewed, and PopEater has a preview:
Just weeks ago, Kourtney Kardashian and boyfriend Scott Disick welcomed their son Mason into the world — and now everyone is getting a chance to see their bundle of joy. PopEater is proud to exclusively debut photos of Mason given to us by our pals at Life & Style, as well as exclusive excerpts from their interview with Kourtney talking about all aspects of being a new mom.

On Being Parents: It feels amazing. It's just so indescribable. You don't get how good being a parent feels until it happens to you.

On Labor: It was surprisingly easy and just an incredible experience. I always thought your first is supposed to be really hard, but it was easy. I have an amazing doctor. He actually delivered me! The room environment was just so relaxing, and everyone I wanted to be there was there.

On Having Another Baby: Right now I'm obsessed with Mason and want to give him all my time. But being with him has definitely made me think about having another one! Kim and I are 18 months apart. Growing up, we did everything together. It would be nice for Mason to have a little brother or sister that many months apart too.
[From Life & Style via PopEater]
Kourtney also discussed Mason's seemingly branded name (considering the store she and her sisters own is called "Dash"): "Dash is not for my clothing store, as some people have suggested online. That would be stupid. Dash is short for Kardashian, and it was my father's nickname." Okay, that's a little bit better. Now I get the reference, but I still think of this baby as "little Mason Dixon".
Also… CB mentioned this, and I'm not sure what to think. At first glance, CB thought Mason did not look anything like Scott Disick. Which is interesting, considering there's some undercover baby-daddy drama, and Mason's daddy might be Premo Stallone. Or maybe somebody else. But we might just be bitches, because it looks like Mason got his mom's dark coloring, and might end up taking after the Kardashian genes rather than the super-attractive "barf-covered-and-still-hot" Disick genes.
Life & Style images courtesy of PopEater and The Hollywood Gossip.