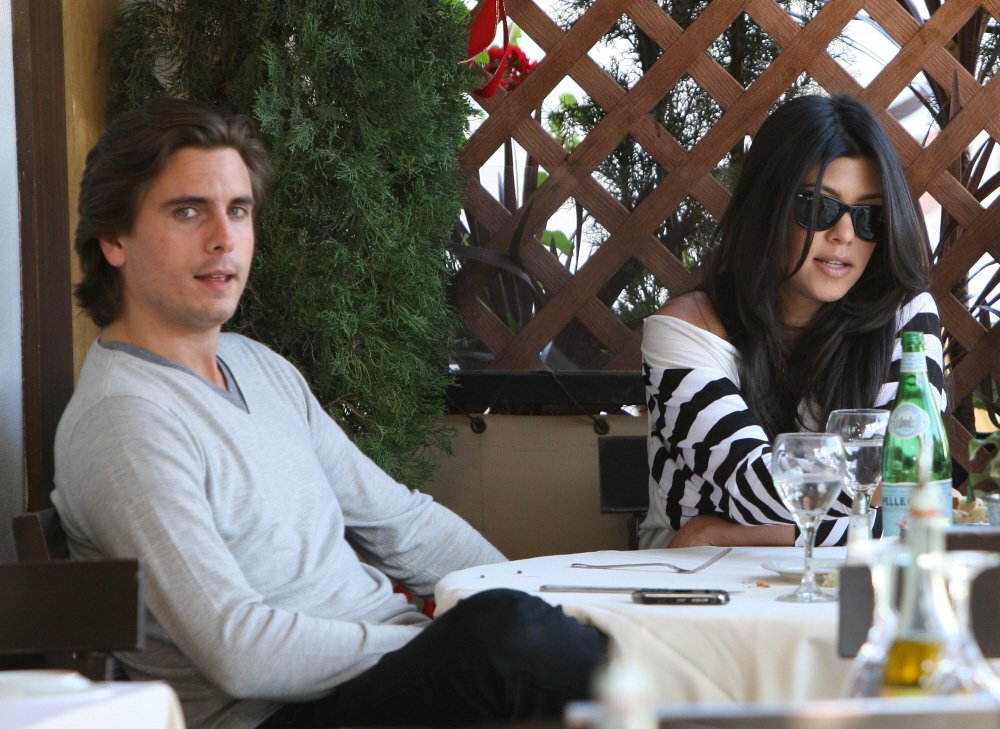 Earlier this week, Kourtney Kardashian gave birth to the Mason-Dixon line (real name: Mason Dash Disick), and we all breathed a sigh of relief that we would no longer need to hear every single detail about Kourtney's pregnancy. But that was before we got some baby-daddy drama up in this bitch. Hurrah! Star Magazine is reporting that Mason-Dixon's daddy might not be the limp douche known as Scott Disick. Apparently, during that sketchy time when Kourtney and Scott were "broken up" (when she got pregnant), Kourtney might have been hooking up with a dude named Michael Girgenti. He's an aspiring rapper who goes by… wait for it… Premo Stallone. Best. Rap. Name. Ever.
Friends of Kourtney Kardashian and boyfriend Scott Disick may want to reconsider buying a monogrammed gift for the couple's new son, Mason Dash Disick, who was born Monday. That's because a handsome young model has come forward to claim that he — not Scott — may be the daddy!

In our Dec. 28 issue, we report that Kim's big sister had a fling with Michael Girgenti — a 23-year-old model and aspiring rapper, who goes by the stage name of Premo Stallone.

A close friend of the Kardashian sisters confirmed they'd been intimate, saying: "Kourtney hooked up with Michael twice while she and Scott were on the outs. He's definitely been mentioned as a possibility for being the father of her baby."

Though a rep for Kourtney insists Scott's the dad, when Star asked Michael if there's a possibility he fathered the baby, he replied: "You could say that, yeah."

Just what were Michael and Kourtney doing together nine months before Mason's birth? What about the kinky pictures of the two of them? And was it just coincidence that Scott and Kourtney were split at the time they were taken? Pick up the new Star today for the full story, and find out what Kourtney's sisters think!
[From Star Magazine]
Here's the thing – I think it's possible that Kourtney was hooking up with Premo Stallone and maybe a few other guys when she and Scott were broken up, yet still screwing. But I'm not going to accuse her of lying about the baby-daddy. I hope that she's smart enough to do the backwards math and figure out who she was screwing and when, and be able to properly place the correct baby-daddy. But, you know, things happen. Sometimes you sleep with two guys within the same baby-making time frame. Sometimes three guys. Sometimes a football team. And no, I'm not talking about myself! I'm just not into judging Kourtney for this. It's not like she's trying to trap Scott into marriage with the line "Of course Mason Dixon is yours, baby!" Oh, wait. I totally believe she is doing that!
Kourtney Kardashian and Scott Disick out and about in LA on December 10, 2009. Credit: WENN.