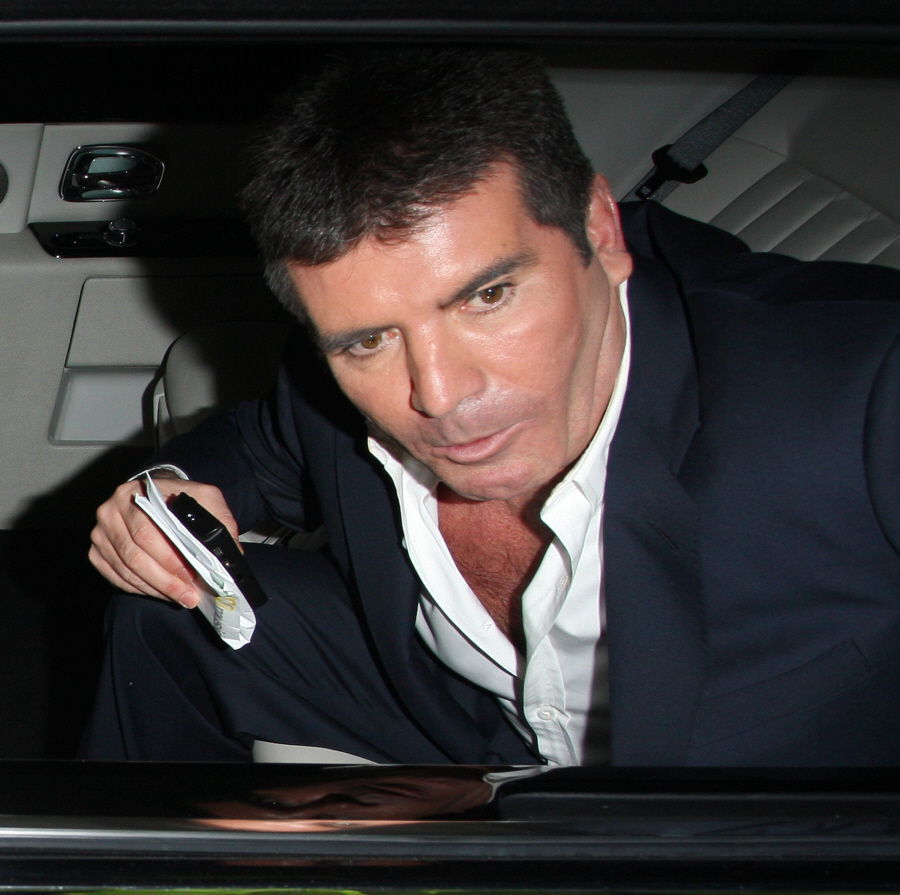 It looks like those rumors last month that British judge Simon Cowell might be leaving "American Idol" are true. Reports are coming in that the show's producers are already making plans for Cowell's departure after this season. Idol producers are supposedly downplaying Simon's presence on the show this season, opting instead to focus more on the contestants and new judge Ellen Degeneres.
'Idol' Is Downsizing Simon

Sources tell me that producers of 'American Idol' have a plan on how to make sure the show survives if Mr. Simon Cowell does in fact leave at the end of this upcoming season.

"Expect to see less and less of Simon this season. The focus is going to be back on the contestants and less on Simon's harsh criticisms of them," an insider tells me. "They also will be spending more time focusing on Ellen once she gets through her first few weeks live from Hollywood."

That might not be such a bad idea. Watching millionaires make fun of kids' appearances and laughing when they leave the room feels is so last century to me. After all, many shows have not only survived hosts leaving — they have thrived. (Katie Couric, anyone?)

FOX, never one to beat around the bush, tells me: "FOX has no comment."

The brilliant Adam Hanft, CEO of marketing firm Hanft Projects, agrees. "Ideas outlast their hosts. It was and is true for the 'Tonight Show' and 'The Today Show' and it's proved true for '60 Minutes.'
Randy Jackson spilled some beans on the upcoming season in an interview with Billboard magazine. But the "Dawg" remains skeptical on Simon's departure. Yeah, like anyone tells Randy what's going on.
Though DeGeneres won't be part of the "Idol" judging process until the Jan. 12 premiere on Fox, Jackson expects her to be a "fun" addition to the show. He adds that he and returning judges Simon Cowell and Kara DioGuardi enjoyed having guest judges for the regional auditions in June and July and call-backs in August and September, a corps that included Mary J. Blige, Joe Jonas, Shania Twain, Katy Perry, Avril Lavigne, the Spice Girls' Victoria Beckham, Neil Patrick Harris and Kristin Chenoweth.

"They all really did their thing," Jackson recalls. "Of course, Mary J. Blige was really amazing. I was impressed with Joe Jonas; I didn't really know how he would be, but he was great. Shania was brilliant…Even Neil Patrick Harris and Kristin Chenoweth, who were both from the theater world, were really amazing and had great things to say."

Jackson was also surprised by what he heard in front of the judges table during the audition process. "I think generally what happens is whoever wins that season, you get more and more of that. But this season's a little different. I would've thought you'd have a trillion Adam Lamberts show up, or a trillion Kris Allens. But that's not what happened. It was very interesting. This is a whole different bunch."

Jackson says he'll miss Paula Abdul this year — "She started this thing with us. It's a sad thing…not to have her there." — but noted that DioGuardi seems more comfortable after having an "Idol" year under her belt. "I think she's got a different grasp on understanding what it is and what happens and how to do it," he says. "It's one of those things, like golf or tennis; it looks easy on the outside, then when you try and actually hit the ball you go, 'Whoa, OK, it's a little different than what I thought.' But, yeah, she's having a good time."

As for rumors about Cowell leaving "Idol" to bring his British "X-Factor" to the U.S., Jackson says that "I won't believe it 'til I see it. I haven't spoken to him about it. You just never really know; there are a lot of alleged things going on, but who knows, right? We'll see what happens."
I think we're witnessing the beginning of the end of American Idol. While the departure of Paula Abdul was probably a good thing- the woman was strung out on some kind of chemical and could barely utter a sentence half the time – the addition of Kara DioGuardi and the loss of Simon might be too much for the show to recover. At the end of the day, the show should be all about finding the best talent, but even that aspect is becoming increasingly mediocre. Isn't last year's winner, Kriss Allen, pretty much a watered-down version of John Mayer? I predict that this year's ratings will be high, at first, and then plummet as the season goes on. People will tune in to see Ellen Degeneres debut as a judge, but quickly lose interest.
Simon Cowell in London on December 13, 2009. Credit: WENN.