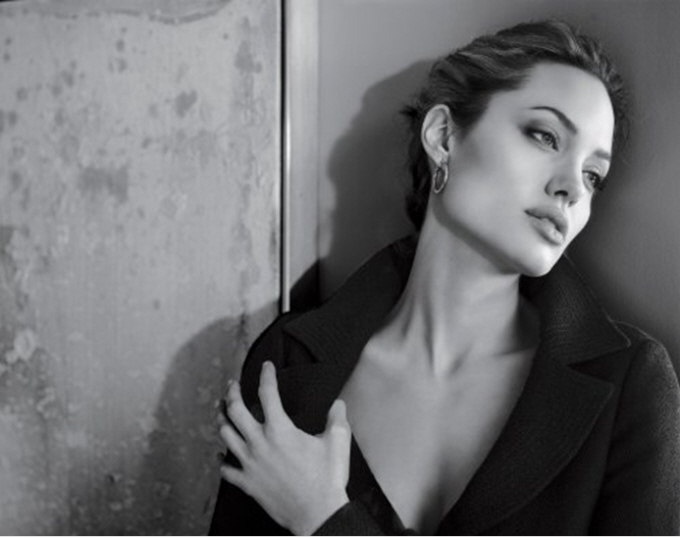 Back in 2005, Angelina Jolie signed a three-year contract to become the face (and figure) of St. John, the brand known for affordable knitwear, conservative suits and fake-looking pearls. Rumor was that Angelina got $12 million for the contract, and that she used the money to fund something or other children's charitable something (I'm not sure, and I don't really feel like looking it up). The ad campaigns – all black-and-white images – were shot by Mario Testino, and honestly, I found the ad campaigns to be lovely. Like, some of the prettiest pictures of Angelina that I've ever seen. The styling was a little hit-or-miss, as they sometimes seemed to want Angelina to be seen as some kind of English-garden-lady, but overall, the campaign was successful, in my mind, just from an aesthetic point of view.
I remember back in 2007 and 2008, when Angelina's contract was coming to a close (and she stopped wearing St. John everywhere), there were rumors that Angelina wasn't getting another contract because she didn't improve sales that much. Either that, or she didn't want to spend another three years in those high-necked knit suits, whatever. I kind of thought the St. John drama had passed. Not so much, because now the "chief executive officer" of St. John is claiming that Angelina was dropped from the brand because she "overshadowed" it:
There will be no more glamour shots of Angelina Jolie or images of a vacationing Kelly Gray for St. John going forward. "[Jolie] overshadowed the brand," said chief executive officer Glenn McMahon. "We wanted to make a clean break from actresses and steer away from blondes and cleanse the palette." This led to hiring model Karen Elson, who was shot by photographer Greg Kadel in a bare studio for the spring campaign. "We needed to show a modern point of view of St. John," McMahon added. "We have evolved."

The ads, directed by executive vice president of design George Sharp, will launch in the February issues of Vanity Fair, Harper's Bazaar and Vogue. McMahon said the print media buy is up slightly and he is in talks about digital outreach, spending on which he predicts will be up 15 percent.
[From Women's Wear Daily]
I really feel like St. John is having a "duh" moment. As in, "duh, what did you think was going to happen when you hired Angelina Jolie as your model?" Of course she was going overshadow it. She overshadows everything, sometimes good, sometimes bad. She posed for pretty pictures, she represented the brand for years without complaint, and now suddenly she was "overshadowing"? But I do get it. Personally, I like the movement to put more models back into ad campaigns rather than a string of celebrities and actresses. Although I don't find this new St. John model all that interesting to look at (below). She looks like a budget Tilda Swinton, doesn't she?
Angelina Jolie's St. John ads, courtesy of Google Images.