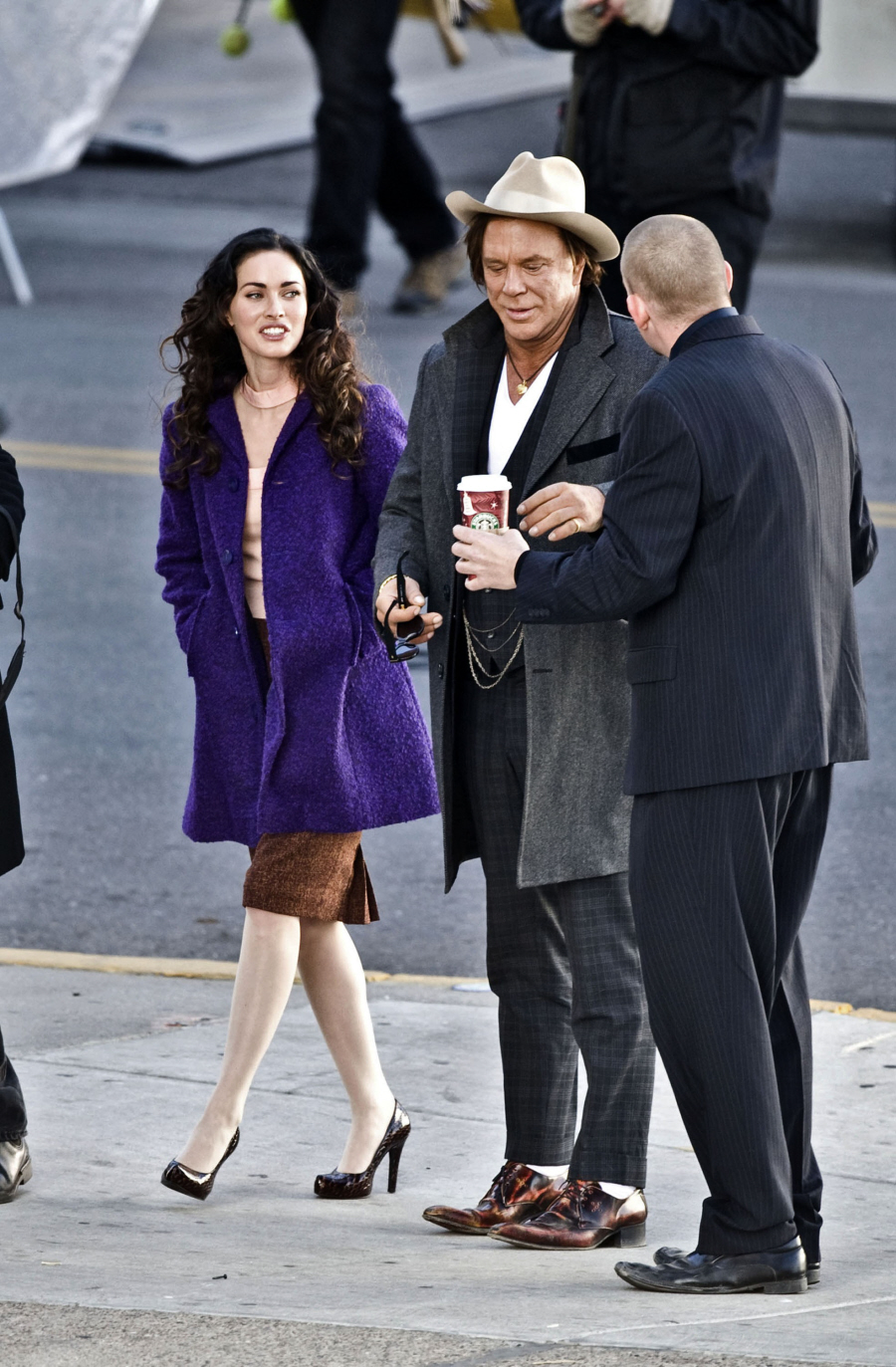 The short answer is "no." As in, "No, Megan Fox is not trying to get her claws into Mickey Rourke, they're just working together and they filmed a kissing scene the other day for Passion Play, but Megan will probably bad-mouth him at a later date in an interview in which she'll mention that Mickey thought she was insanely sexy and complicated and bipolar, and then she'll name-drop Angelina Jolie and spread her legs for whatever camera is around." Here's more from The Daily Mail:
She wouldn't be the first younger woman to fall for Mickey Rourke's charms. But although Megan Fox was spotted kissing the veteran actor yesterday there was no need for her on-off boyfriend Brian Austin Green to worry.

The two were filming scenes for their new movie Passion Play, in which Megan plays an angel sent to help Mickey's trumpet player character redeem himself.

For once Megan covers up her curves in the shots, wearing a pencil skirt, blouse and purple coat.

At one point Mickey, 57, climbed into a truck, kissing Megan on the cheek.

At 23 Megan is just a year younger than Mickey's rumoured fiancée, Russian model Elena Kuletskaya. But Megan has made it clear she only has eyes for former Beverly Hills 90120 star Brian. She treated the actor to a classic 1966 Mustang Fastback after she found it on internet auction site eBay. The couple have been dating on and off for five years.
[From The Daily Mail]
You know what the this film was initially going to be like? A make-up and effects-heavy film where Megan would be a caged circus freak with angel-like wings growing out of her back. It seems Megan will no longer have to spend hours in the makeup truck getting fake wings put on – she must have gotten them to write that out. The idea probably went nowhere and they just decided to put Megan in a dress and hoped she would shut up.
Is anyone else disappointed with Mickey Rourke? He's better than this. He shouldn't have to play the lead opposite Megan Fox, the reigning "worst actress of the year." He needs a better agent.
Megan Fox and Mickey Rourke on the set of 'Passion Play' on January 9, 2010. Credit: Bauer-Griffin.