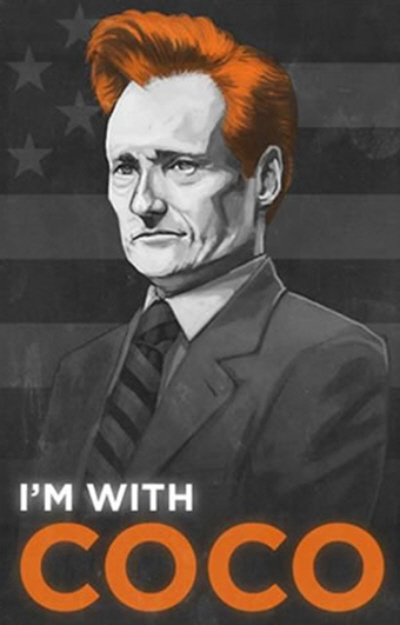 The rumor mill is still churning in overtime at the end of an already horrible week for NBC. First up, the rumor for the past day or so is that Conan O'Brien's last day on the Tonight Show (and on NBC in general) would be January 22. Many sources reported that after not being able to come to any kind of deal, that Conan was pretty much going to leave without a "see you later." Fox News Pop Tarts reported that was "absolutely devastated" when telling his staff that he was leaving, probably because many of his staffers were from New York, and had uprooted themselves, their families and their lives to move to LA to work on the Tonight Show. A source said: "Conan gave a speech to all of his staff and he broke down crying." Yet another source said that "Conan and Jay are both embarrassed and hurt…. Conan is making a smart stand. NBC is dealing with a very messy mistake. Somebody is going to go; somebody's feelings will get hurt."
However, the official word from NBC and Conan is that he will not be stepping down, at least not on January 22. Conan's rep tells Us Weekly: "Not true… He has a scheduled hiatus the week of January 25." And yet! In yet another breaking news report, TMZ claims that NBC has signed Leno to come back to the Tonight Show, for it's original hour-long program. This, of course, has been denied by NBC. My guess: Conan's contract it still valid, and if NBC tries to sign Leno to the Tonight Show with formally dealing with Conan's contract, Conan could sue NBC for lots and lots of money.
Meanwhile, remember the ballsy open letter Conan sent out, refusing to take the 12:05 slot? Well, insider Hollywood sources are now claiming NBC chief Jeff Zucker threatened Conan, saying something along the lines of: "'I'll keep you off the air for 3 1/2 years if you don't take this deal." Which is kind of funny when you think about it, because Zucker is A) a moron and B) not really as powerful as he would like to think.
As the media war rages on and on, it's Conan (and to a lesser extent, Jimmy Fallon) who come out ahead in the PR war. Leno has never been beloved, but I'm kind of surprised that so many people are so flatly pro-Conan. The "I'm With Coco" movement has begun in earnest, and the general consensus is that Leno should sack up (for lack of a better phrase) and just bow out with grace, leaving the late-night programming to Conan and Fallon. Even Rosie O'Donnell thinks so – she says that Leno has "bullied" his way back into "college" so he can relive his glory days. Or something.
The "I'm With Coco" image courtesy of Collider, image created by Mike Mitchell.