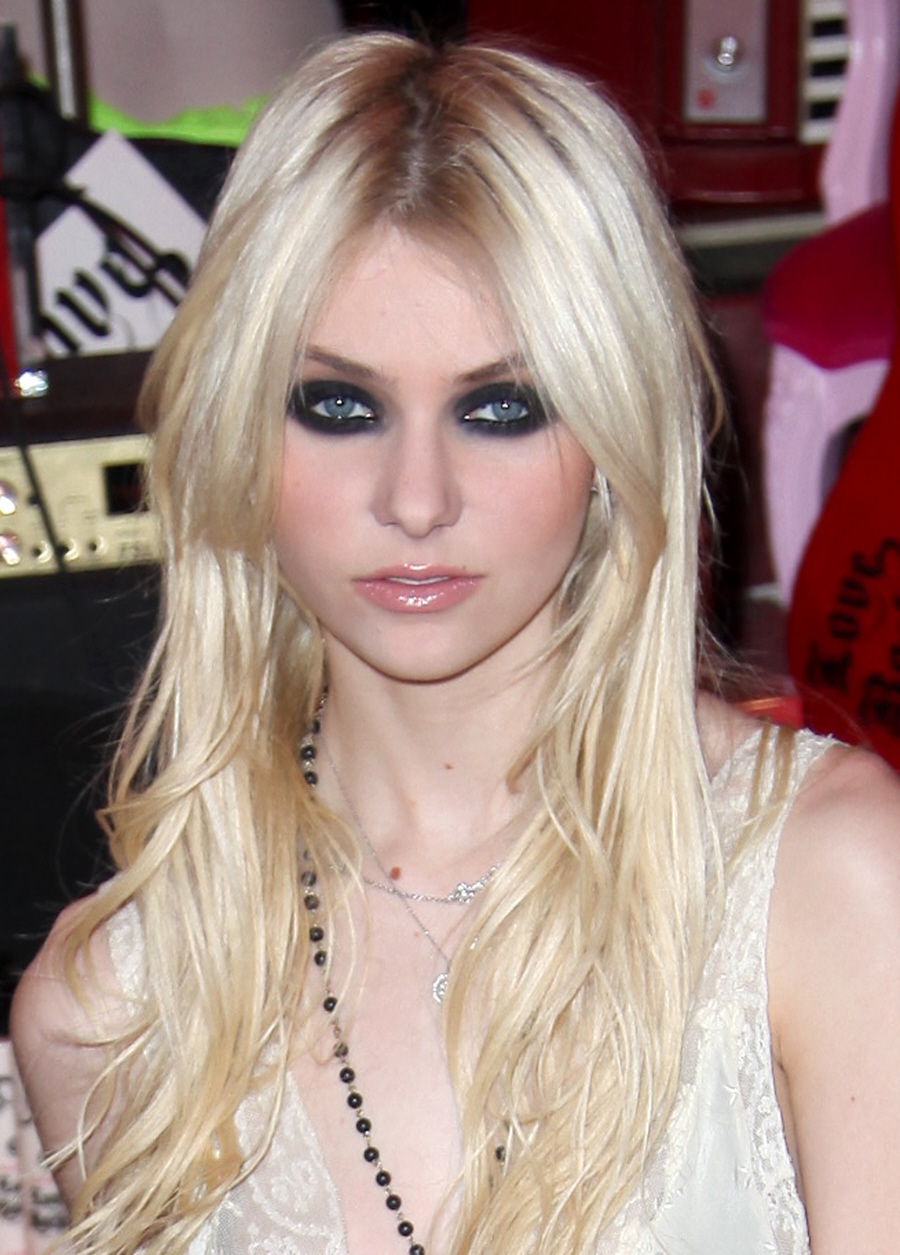 Now, I think it's pretty much established that 16-year-old Taylor Momsen is a little pantless brat that wears too much eye makeup and wants to be the next Lindsay Lohan. But did you know that she's also so vapid and self-absorbed she can't even feign interest in a major international crisis? Oh, yes. These are photos of Taylor promoting her new perfume "Love Rocks" at the Victoria's Secret in New York, and when OK! Magazine asked her about the Haiti earthquake, Taylor's response was: "Um, right now I'm trying to just finish my record and getting through the last season of Gossip Girl for right now. So not so much thinking about that." Ugh.
While the rest of the world is expressing their concern for the people of Haiti while they struggle to recover from the 7.0-magnitude earthquake that has taken the lives of hundreds of thousands and left many more without food, shelter or medical care, Gossip Girl star Taylor Momsen tells OK! that, well… like, she's just too busy right now to even pretend to care about the situation.

Last night, OK! caught up with the leggy teenager at the Victoria's Secret store in NYC's SoHo district, where she was promoting her new fragrance, Love Rocks. And when asked if she's planning to follow the lead of stars like Wyclef Jean, Brad Pitt and Angelina Jolie, who are making high-profile donations and pleas for help, Taylor told OK!, "Um, right now I'm trying to just finish my record and getting through the last season of Gossip Girl for right now. So not so much thinking about that."

But before you think she's both clueless and heartless, Taylor added, "But it's awesome that everyone is ya know working towards a good cause."

One topic Taylor could talk about more easily discuss was her new scent. "Well, I like that the scent is a little bit tougher than a lot of the other Victoria's Secret scents that have been out," she explained. "Ya know, it's just a little bit more masculine which I like a lot. And the packaging looks really pretty on a vanity I think. And I like the little spray, what's that called? An atomizer. I like the little atomizer."

So she knows what an atomizer is, but can't manage to act like she cares about one of the biggest catastrophes in recent history. Good to know she's got her priorities straight!
[From OK! Magazine]
I suppose I could give her credit for not even pretending to care just because it's fashionable or because people expect a modicum of interest in the devastation and deaths of millions of people. Taylor doesn't roll like that, and maybe she should be applauded for not pretending or not saying something that would make it even worse, like "Oh, yeah, the Middle East is such a mess, y'all." I get that Taylor is a privileged little girl who thinks that she's the center of the universe – many 16-year-olds are like that. But there are plenty of 16-year-olds who watch CNN and can think beyond themselves too. I think what offended most was not the part about "not so much thinking about that" but that her first instinct in response to a question about Haiti was to give a little self-promotion to her album and her television show!
Besides that, who wants to smell like Taylor Momsen? What does "Love Rocks" smell like exactly? Vapidity and eyeliner?
Taylor Momsen promoting her perfume in New York on January 14, 2010. Credit: WENN.