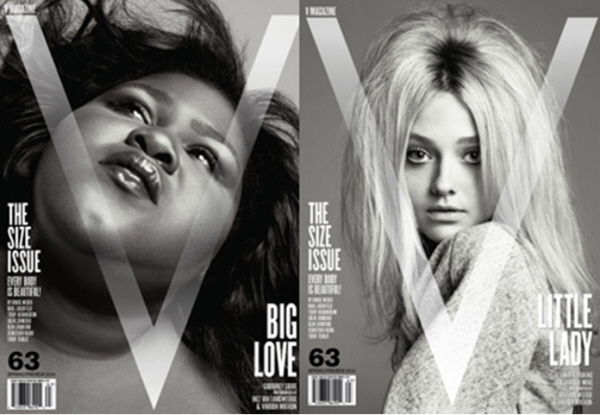 Aren't these two gorgeous covers? They are the covers that V Magazine has put out for their February "size issue". It's in this size issue that CB talked about a few weeks ago, with the un-airbrushed plus-sized models looking fabulous. We haven't been showing Gabourey Sibide enough love, and little Dakota Fanning has grown on me so much in the past year, it's kind of fabulous that they've put these two women on their cover. The interview excerpts are kind of basic, though – Dakota talking about being a size zero, and Gabby talking about how there are very few plus-sized role models for young actresses.
We've already brought you a few glimpses from inside V magazine's provocative "Size Issue," featuring a bevy of plus-size models, and now we have the view from the outside.

To celebrate women of all shapes, V chose size zero actress Dakota Fanning, 15, and Gabourey Sidibe, the 26-year-old critically acclaimed plus-size star of "Precious," to grace its two contrasting covers which hit newsstands Jan. 14.

Both young ladies were shot in New York City by husband-and-wife photo team Inez van Lamsweerde & Vinoodh Matadin, with Fanning wearing a corset over a sweatshirt, both by Alexander Wang, and Sidibe showing a bare décolletage.

In one of the accompanying cover stories, Fanning — who holds the distinct and enviable titles of being both a "Twilight" star and a real life varsity cheerleader — admits she's getting increasingly more into fashion these days.

"Now that I'm getting older, I'm finally getting to the point where I can fit into those things," she says of her favorite labels Elizabeth & James, Chanel and Marc Jacobs. "I've always been really small, really short and I'm finally starting to be able to wear a 0 without having to take it in like five inches."

V also talked to Fanning's "Twilight" co-star-slash-BFF Kristen Stewart about her friend.

"Dakota is an astounding human being, incredibly intimidating and one of the smartest people I've ever met," says Stewart. "She's become one of my best friends. We're so comfortable together that we have a second language."

The two also share a very special moment — a makeout scene, in fact — in the new rock biopic, The Runaways. When asked about the kiss, Fanning played it cool.

"It's passionate — they were just as close as two could get," she says of her and Stewart's characters.

Sidibe also sat down for an interview with V, where she talks about her plus-size hero and "Precious" co-star, Mo'Nique.

"Growing up there weren't a lot of actresses and singers that looked like me," says the New York born-and-bred actress. "There were no real times that I thought maybe I can do it, until Mo'Nique came along. She's a plus-sized woman who didn't care about one day being skinny. All my life I've been hearing that I'll never amount to anything until I am skinny. She disproved everything that everyone has ever told me."

Sidibe has garnered major Oscar buzz for her performance in "Precious" and is working on her second film, "Yelling to the Sky," alongside Zoe Kravitz.
[From Stylelist]
Dakota also reveals that the only drug she ever does is "crushed B vitamins" on the set of The Runaways. Dakota said: "Kristen and I were, like, our hair is gonna grow a lot from these." She's such a cutie. I'm actually looking forward to seeing The Runaways, K-Stew's lip-biting and all. But I still haven't seen Precious. I'm unprepared for it, it looks like it would leave me utterly devastated.
The two V Magazine covers courtesy of Stylelist. Additional pics courtesy of Just Jared.