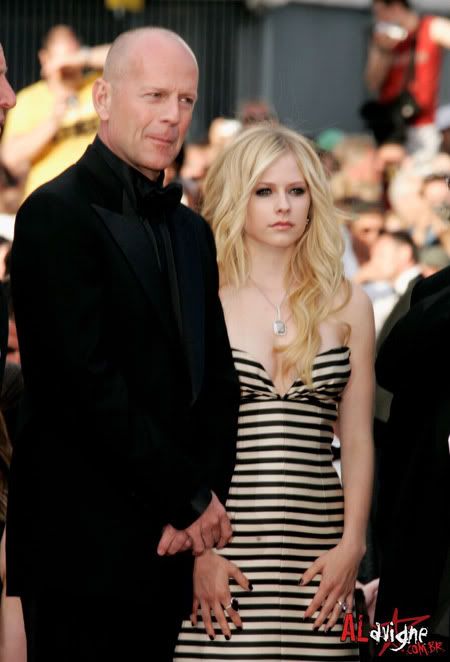 We've been trying to figure out if Avril Lavigne is pregnant, or if she just has a little tummy and loves wearing stripes. In the pictures of her at the showing of "Over the Hedge" at Cannes, she looks somewhat pregnant in a striped dress. In a photocall for the film, she wears a slightly loose striped blouse and it's hard to tell. What do you think? Here are our other posts about Avril's upcoming wedding to Deryck Whibley and supposed pregnancy.
– Who's got a bump? 4/05
– Avril Lavigne to Marry Deryck Whibley this summer 4/06
– Avril Lavigne tries to distract from her baby bump 4/13
– Avril Lavigne looks more pregnant 4/28
– Candids of Avril out with Deryck 5/17
Avril is the voice of possum "Heather" in "Over The Hedge," which is getting positive reviews and is doing well at the box office. It is at number two in the US behind "DaVinci Code."
In a press conference for the film yesterday, she talked about the difficulties of voicing an animated character:
The actors also talked about the difficulties of doing voiceover work as opposed to appearing on camera. Lavigne admitted that she kept banging the microphone by accident because she was gesturing as though she were on screen.
"It's hard to be running or to be falling down the stairs and have to make that come out of your mouth but stay still," she said.
Nolte joked: "I didn't know what was going on at all."
But co-directors Tim Johnson and Karey Kirkpatrick said Nolte did his homework and came in with a thick stack of research on bears.
Willis, who worked on the project for 18 months, said he found it "very difficult to work without props, to work without cool clothes, to work without the other actors.
"It wasn't until I saw the final film and heard people laughing, actually laughing, that I felt we were on the right track," he said.
Here is Avril with Bruce Willis and Nick Nolte at Cannes. Thanks to ALavigne.com.br for the high-res pictures.