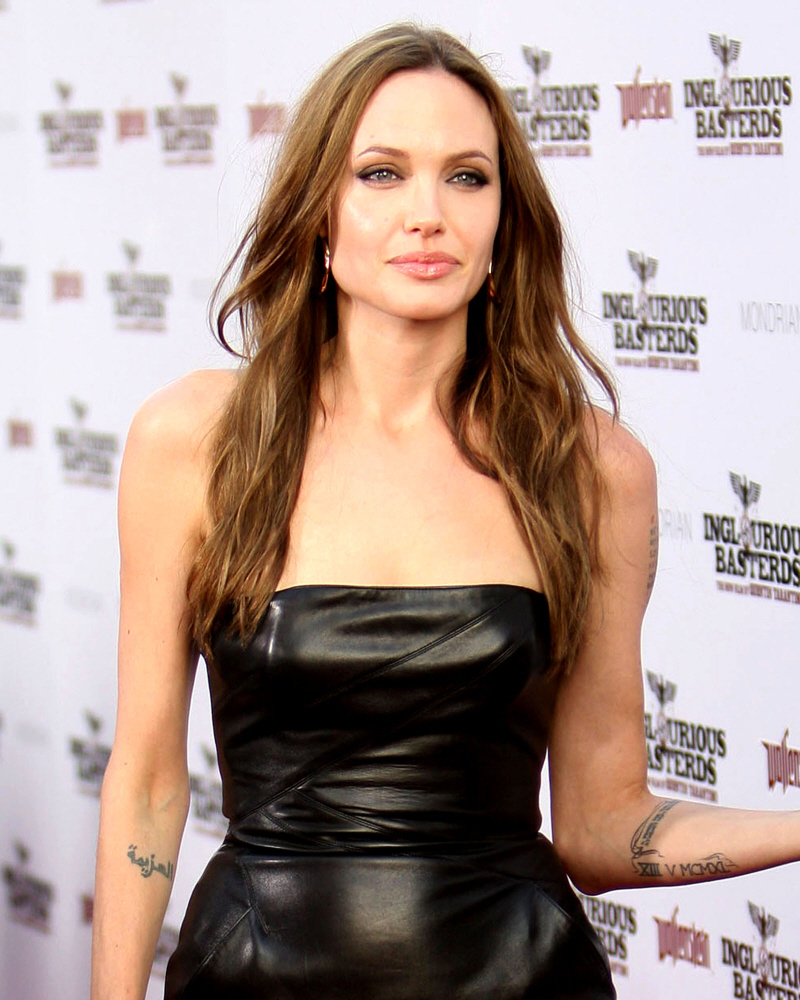 All of a sudden, Us Weekly seems to be compiling a list of things, people or places that Angelina Jolie "hates". I guess to Us Weekly, Angelina must be some kind of Karl Lagerfeld-esque troll who rails on and on about hating the sun, fatties, mirrors, potato chips, models who were never in Paris, feminists, children, human contact and love. Previously, Us Weekly has reported other "exclusive" stories about Angelina's list of hate, which includes stuff like Barack Obama and dressing Shiloh like a girl. Anyway, this time around Angelina "hates" New Orleans. At least according to an insider's account of Angelina repeatedly yelling "I hate New Orleans!" Here's more:
The Big Easy is nothing but a big headache for Angelina Jolie. She and her partner, Brad Pitt, purchased a home in New Orleans in 2007 — but an insider tells Us Weekly that an irked Jolie "calls it 'his house.'"

It seems that the resilient Louisiana city isn't Jolie's cup of tea, and it threatens to drive a wedge between her and Pitt, 46. "Brad loves spending time in New Orleans, but Angie doesn't," the source divulges in the new issue of Us Weekly. "They fight because of it…she keeps yelling at him that she hates New Orleans and never wants to go back."

Friends say Pitt is devoted to the Mardi Gras burg because it allows him to indulge in his passions for architecture and environmentalism (he established a foundation to build 150 "green" homes in the wake of Hurricane Katrina). If the actor had his way, he'd love settle down in the southern town with Jolie and their six kids.

But Jolie "gets really bored" there, and would prefer staying at Chateau Miraval, their 1000-acre, $70 million estate in Provence, France — and continue traveling the world. Yet Pitt has lost the globetrotting bug. "He's tired of it!" the source says.
[From Us Weekly]
It does seem like their New Orleans home would be more his than hers, just because he's a Southern-Mid-Western boy (Missouri, so hard to classify) with roots in the region, and because of Make It Right NOLA, and because… well, Brad just seems to belong in new Orleans, doesn't he? Some people just belong in certain cities, like Oprah in Chicago, or Paula Deen in Savannah. I can see how Angelina might feel that New Orleans isn't "her city" but do I believe that she's screaming "I hate New Orleans"? Not really. This whole thing might just be about Brad taking Maddox to the Saints game in New Orleans last weekend, while Angelina stayed in LA with the girls.
UPDATE: Ugh, I don't feel like putting this in a separate post, but apparently Angelina just released a statement pledging her support of SOS Children's Villages in Haiti. SOS had been raising more than 300 children in Haiti, and had been supporting more than 4000 kids in Haiti, and "that was before the earthquake," Angelina notes in her statement. She goes on to say: "Now the needs for orphaned children are almost incalculable. As a long time supporter of SOS, I have visited many of these unique villages personally. I can vouch for their commitment and care for the children," Jolie says. "As the Haiti situation unfolds, and we all focus in on ways to help these desperate children — I ask you to please learn more about and consider supporting SOS Children's Villages." Angelina has been a longtime supporter of the SOS program, and even sponsors a village in Jordan I think. In December, she and Brad donated $100,000 to the American SOS branch, and if you'd like to donate nationally or internationally, you can go the SOS site here.
Angelina on August 10, 2009, in LA. Angelina & Maddox shopping in New Orleans on November 30, 2008. Also, photos of their house in the French Quarter. Brad in New Orleans on December 2, 2008. Credit: WENN. Additional photos from PicApp.