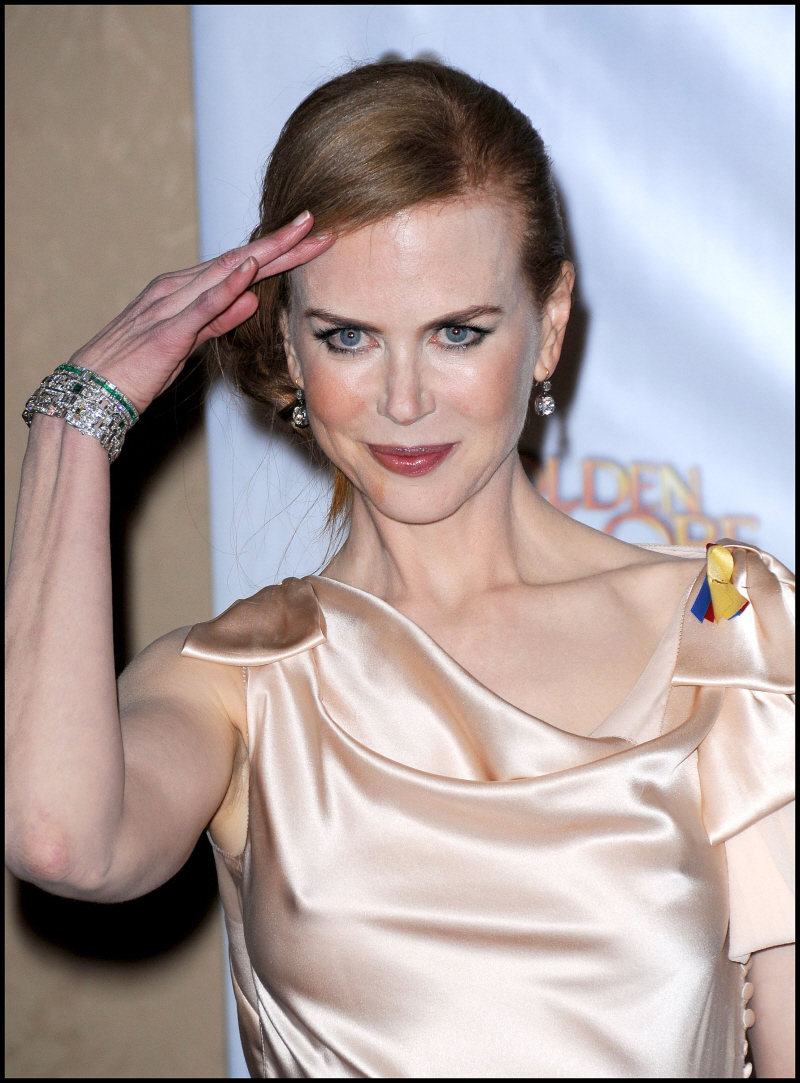 Even though Nicole Kidman's face still isn't moving, I've been feeling some pangs of affection and adoration for her. She's been showing a little personality lately, and her hair is back to bright red, and hey, we've got to start somewhere. Next up on my list for Nicole would be for her to stop doing that to her face. Whatever it is. Botox? I have no idea. My guess is that it's something more hardcore than simple injections of Botox, but I don't know for sure and people hate when I guess.
Anyway, Star Magazine has this interesting little mini-tidbit about some of the roles Nicole was up for recently… that she didn't get. Apparently, some Hollywood producers are really afraid that if they hire Nicole, they're just going to get some stiff, frozen performance:
Blame it on the Botox? After bad reviews for her stiff performance in the flop musical Nine, Nicole Kidman has been dropped from three films: Bel Mai, Monte Carlo, and a remake of the Marilyn Monroe classic How to Marry a Millionaire.

"Nicole's not aging gracefully, and it's hurting her chances in Hollywood," says Michael Levine of LCO, a public relations firm.

But it's not all bad – Nicole is set to star in The Danish Girl, playing the first man to get a sex change operation.
[From Star Magazine, print edition, February 1, 2010]
Now, is it because of the frozen face, or because Nicole has been a consistent box office flop for several years now? Which came first, the chicken of the egg? Because I think the audience started to leave Nicole around the time she started doing that junk to her beautiful face.
I also did a little research to see if Nicole was actually attached to these projects at some point. At one point, this past fall, she was attached to Bel Ami (with Robert Pattinson), but ended up pulling out/being fired last November. Monte Carlo is a project Nicole was not only supposed to star in, but produce. And it's still listed on Nicole's IMDB page, so who knows? And as for the How To Marry a Millionaire remake, Nicole is still tentatively attached to that too, according to IMDB. But I hope that one doesn't even get made. I love the original. How the f-ck could you do better than Marilyn, Lauren Bacall, and Betty Grable? Seriously?
Nicole at the Globes on January 17, 2010. Credit: WENN and Fame Pictures.