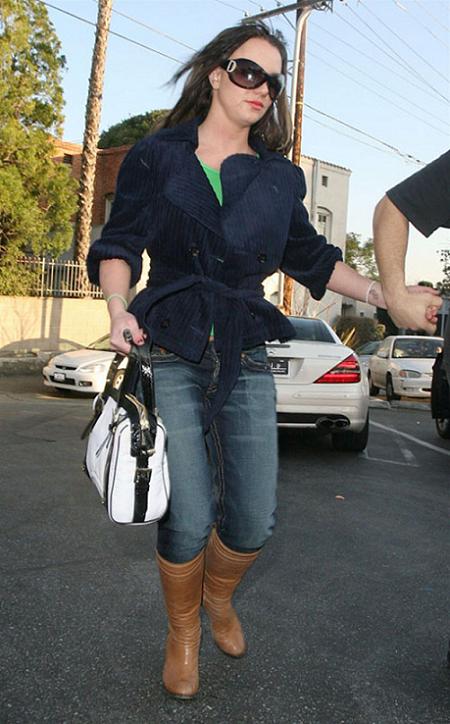 Did anyone ever figure out exactly what so called Britney Spears' "cousin" Alli Sims real relationship to Brit is? There were a lot of accusations that they weren't really related, and the press has stopped mentioning any familial relationship when discussing Sims. Alli – who hasn't been seen in a while – says her relationship with Brit is great, and Britney's doing just fine.
"She does seem happy," Sims told PEOPLE at Saturday's Hugo Boss/Glamour Studio Glam suite, of Spears, 26. "I'm sure obviously she's going through some things, and a lot, right now. That definitely gets to you. I'm not saying that everything is fine," Sims, 26, says. "Obviously, she's worried about stuff, like we all are. She's hanging in there. I'm not worried. She'll get back. She'll be fine."
[From People]
Assuming Britney Spears will be fine is like assuming a St. Bernard is going to come flying through your window. It's not 100% completely out of the realm of possibility, but the odds of it happening anytime soon are pretty slim. The St. Bernard has to WANT to fly through your window. Everyone else hoping it'll just magically happen won't increase the likelihood.
Sims says she and Spears are still really close and absolutely nothing is wrong with their relationship. She even claims she and Brit have never had so much as a tiny fight. Yet she slams Brit's creepy-ass boyfriend Adnan Ghalib. Would you really do that to someone you were on good terms with?
"He's been around, what, three weeks?" Sims tells PEOPLE. "I heard about it just from friends who watched it. I don't really see the point of that. … I only know him from him following us around for eight months. I don't personally know him. But I don't like that vibe."
[From People]
This morning Barbara Walters told "The View" audience that she'd received a call from Sam Lufti, who's now calling himself Britney's manager. Lufti told Walters that Britney is in "treatment" for her mental health issues. I was hoping "in" was the operative word there – meaning she had gone to some kind if of facility. But it's more that she's seeing a psychiatrist. Which is still great, I was just hoping she was going whole hog.
Barbara Walters received a call from Britney Spears's manager and "very good friend" Sam Lutfi, the TV host told her cohorts on Monday's The View – reporting that Lutfi said the pop star was seeking help for what Walters termed "mental issues which are treatable."

"She has been to a psychiatrist," Walters, 78, said, recounting Lutfi's explanation over the phone. "She, I assume, is starting some kind of treatment." Walters also reported that Spears was having trouble sleeping and was suffering from "mood swings," but that she was back in touch with her mother, Lynne Spears. When those at the table challenged the veracity of Lutfi's report, Walters's response was, "I don't know if anybody is telling the truth or not telling the truth." But she noted, "He has been with her constantly. He seems to be enormously supportive."
[From People]
Hey, Britney Spears getting some sort of treatment is better than nothing. And with her level of crazy, you probably have to take baby steps. Actually that's not true, with her level of crazy you should be institutionalized. But because Brit's got money and power, she seems to be able to do whatever she wants. And considering how reticent she's been to make any positive changes in her life, baby steps towards psychiatric care is a really big deal. Though to be honest, I'm hoping someone gets her into a straight jacket by the end of the week.
Picture note by Jaybird: Here's Britney Spears at a gas station buying soda after she went to Petco pet store to buy a bird and birdcage with Sam Lutfi. January 20th. Images thanks to WENN.